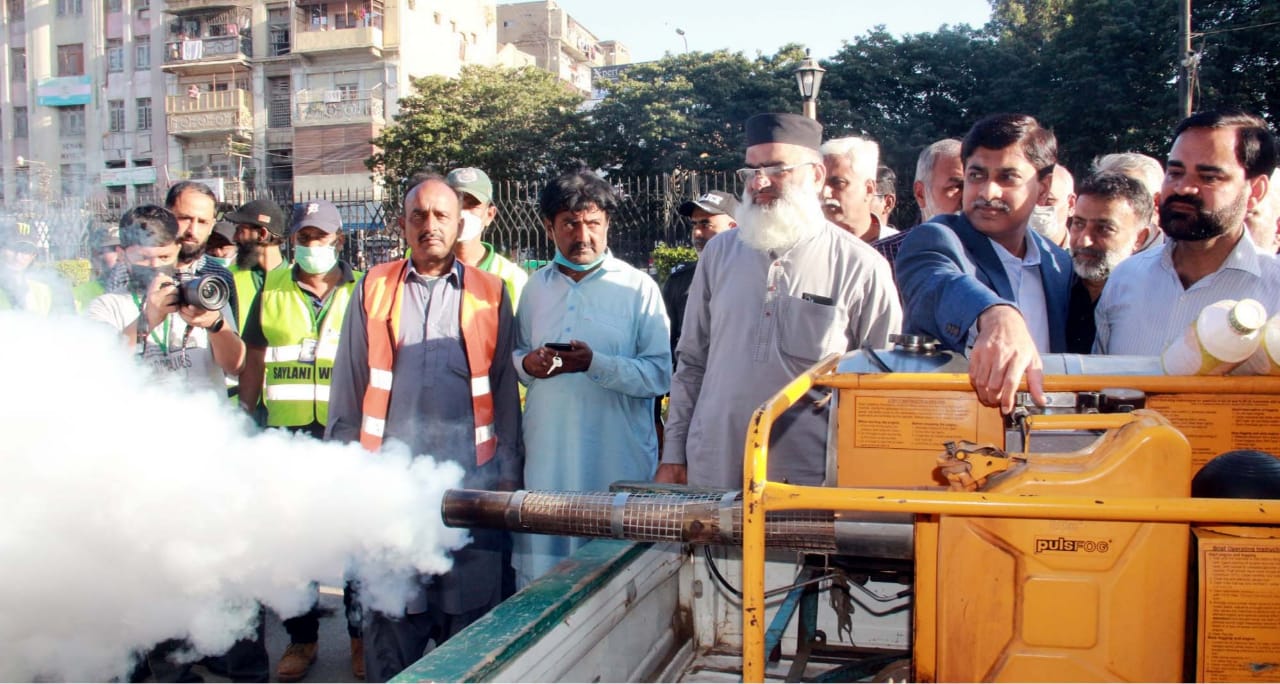 By Our Web Reporter
KARACHI–Administrator Karachi Laiq Ahmed has said that a full spray campaign is being launched to protect the citizens from malaria and dengue which will continue for a month. To make the spray campaign effective, Sailani Welfare Trust has been enlisted. The participation of civil society and welfare agencies in the work of improving the city is welcome, he said while talking to media persons after inaugurating the spray campaign at the KMC headquarters here on Tuesday.
Arif Lakhani, Trustee of Sailani Welfare Trust International and other representatives were also present on the occasion. Administrator Karachi inaugurated the campaign by putting medicine in the spray machine. He said that 20 spray vehicles of KMC will be used in the spray campaign.
The KMC staff, which has been deployed along with the volunteers of the Tourist Welfare Trust, said that the purpose of involving the Tourist Welfare Trust in this campaign is to keep comprehensive and complete information on sprays in different parts of the city so that if If needed in any area, immediately send a vehicle and spray it.

He said that providing protection to the citizens from mosquitoes and other germs is an important and basic responsibility of the Karachi Metropolitan Municipality and therefore they want to do this work in the best possible way.
He said that the spray campaign has been started from the South and East districts. While spraying will be done in different areas for a week and then in other districts, a full schedule has been prepared for the spray campaign and efforts have been made to ensure that no area is left out of the spray.
Administrator Karachi Laiq Ahmed said that the stand of civil society and people with KMC in the payment of local body services is proof that due to its better performance, the Karachi Metropolitan Municipality has now gained their trust and hence it Reaching out for cooperation in every field, he said that not only in the spray campaign but also in improving the cemeteries and installing RO plants, the services of social and welfare organizations including Sailani Welfare, Edhi is being sought, JDC, Chhepa, Alamgir Welfare Trust, and other institutions, and our partnership with these institutions will continue. C officers and staff used to be criticized but now the same staff has refuted this criticism through their good deeds, all the employees have to do their part to keep the organization on the path of improvement because KMC is a public service organization and the citizens of Karachi have high expectations from this organization.
He thanked the Sailani Welfare Trust for participating in the spray campaign and hoped that the spray campaign would be a success. On this occasion, the representative of the Sailani Welfare Trust informed about the spray schedule and other details and said that to serve the city. Working with MC and will continue to provide services in such areas in the future