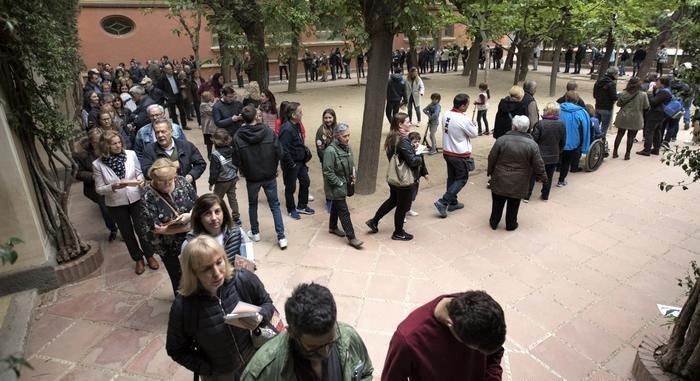 LAHORE MIRROR (Monitoring Desk)– In third consecutive Spanish election in four years held on Sunday, ruling Socialists are on course to be the biggest party, but have fallen short of a majority.
Votes were being counted in the national election – dubbed one of the most uncertain in Spain's history – that will see the far-right take seats for the first time since democracy resumed in 1982.
PM Pedro Sánchez's party is set to win under 29 percent and would need the support of left-wing Podemos and possibly Catalan nationalists to form a government.
For the first time since military rule ended in the 1970s, a far-right party is set to enter parliament.
Vox opposes multiculturalism, feminism and unrestricted migration.
With most of the results in, the party was on more than 10% of the vote, which would give it 24 seats in the 350-seat parliament.
The Socialist prime minister has presented himself as a bulwark against the far right's advance.
According to the results the Socialists are set to win 122 seats while their former coalition partner Podemos would have 42.
That would leave the two parties short of the necessary 176 for a majority, and requiring support from Catalan pro-independence parties and Basque nationalists.
The centre-left Catalan ERC was the big winner in Catalonia, with a projected 15 seats. Its leader, Oriol Junqueras, is in jail for his role in declaring independence in October 2017.
Mr Sánchez had to call the election when Catalan MPs withdrew their support last month.
Spanish media reported roughly a five percent surge in voter turnout over 2016, with the Socialist Worker's Party (PSOE) seen as the clear winner with a projected 116 to 121 seats in Spain's 350-seat Congress of Deputies, according to partial results. Turnout in Sunday's vote was about 75 percent.
PSOE's historical centre-right rival, the People's Party (PP), was estimated to win between 69 and 73 seats.
Unidas Podemos (UP), the left-wing party headed by Pablo Iglesias, was expected to win between 42 and 45 seats, Spanish network RTVE reported.
If UP agrees to a coalition with PSOE – which is likely – the two parties would be close to forming a government, with between 158 and 166 seats. Regional nationalist parties could help the left-wing parties form a government with an absolute majority of 176 seats.
The Vox party, which rode a wave of anti-Catalan, anti-immigrant rhetoric into parliament, was expected to win about 24 seats – the first time the far-right has had a say in national Spanish politics since former dictator Francisco Franco's death in 1975.
SOURCE: BBC NEWS AND AL JAZEERA