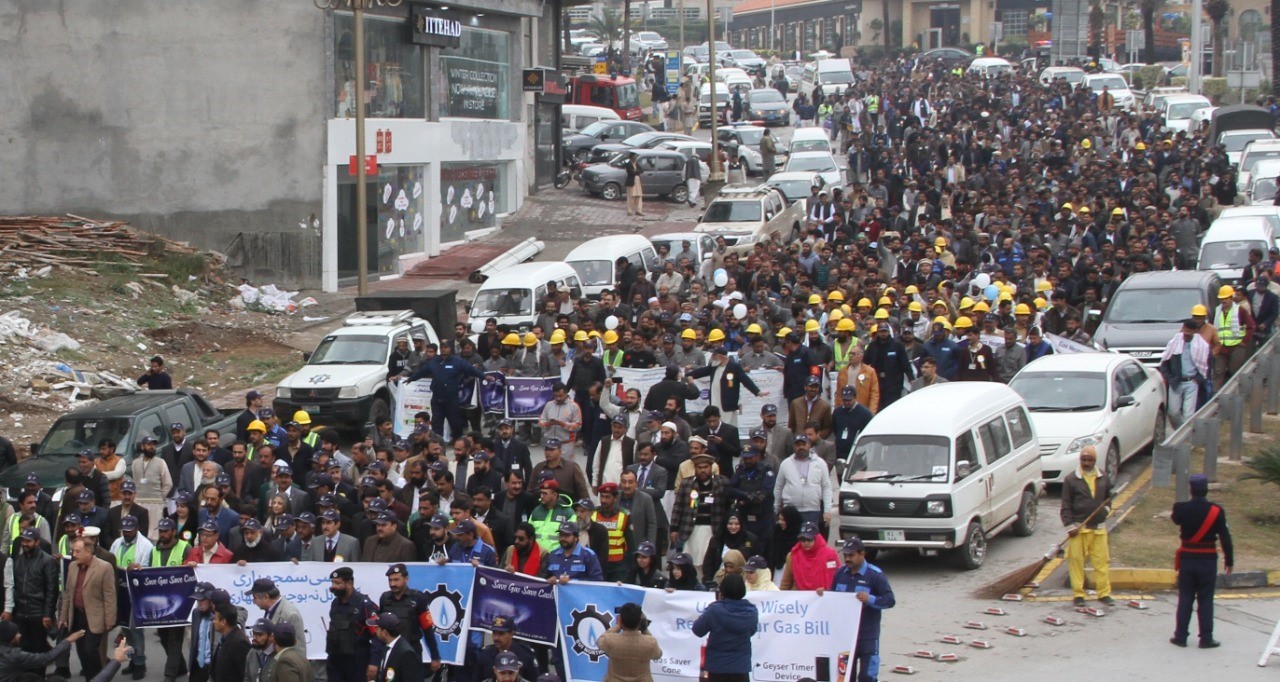 SNGPL Energy Conservation Walk Make Rawalpindi Residents Aware of Efficient Gas Use
RAWALPINDI– A walk on awareness on conservation of energy was organized by the SNGPL Rawalpindi region on Friday.
The participants actively joined the walk organized by the General Manager (Rawalpindi) with the support of CBA of SNGPL.
The objective of the walk was "Save Gas, Save Cash" since it is a fact that the country's natural resources are depleting day by day and our dependency on imported gas is increasing.
The walk was an awareness drive to the valued customers to make an economical use of the natural gas, use gas geysers intelligently, avoid space heating under the situation when the peak hours start in the morning and evening when the most of the consumers use gas for their kitchens and to use timer devices in the geysers. This will also facilitate the valued customer's monthly gas bills.
The message was conveyed by the chairperson Board of Directors, Ms Roohi Khan and Managing Director SNGPL, Mr. Amer Tufail.
They thanked all the participants at the end of the walk and appreciated General Manager Rawalpindi for making the event a real success.
Among participants who took part in walk were parliamentarians including Mr. Sheikh Rashid Hafeez, Mr. Haji Amjad, Chairman Board of Directors SNGPL, Managing Director SNGPL, Syed Jawad Naseem, Senior General Manager, Farrukh Bala GM, GM Islamabad, GM Rawalpindi, Incharge Media Affairs, representatives from Ministry of Energy (Petroleum Division), representatives of Municipal Corporation, members of civil society, residents of Bahria Town, students of schools and colleges, the executives and staff of SNGPL Rawalpindi, Islamabad and Wah Transmission, press and electronic media and Rescue 1122.
The General Manager Rawalpindi thanked all the participants for actively taking part in the walk that conveyed an important message to all consumers of SNGPL Rawalpndi to conserve the energy resources of the country.— PRESS RELEASE