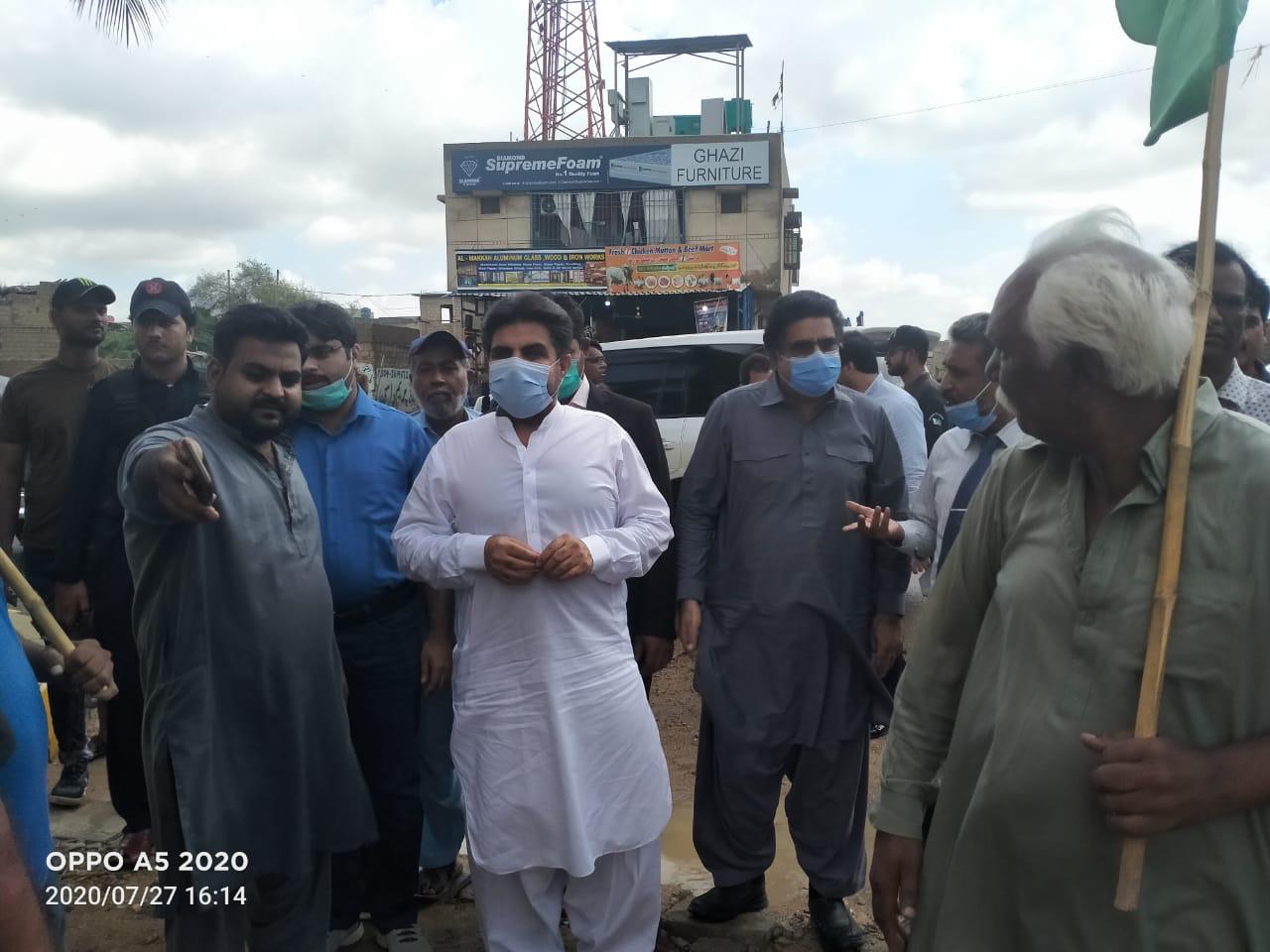 Sindh Minister Nasir Shah Examines Rain Impact on Karachi Roads, Streets
By Our Web Reporter
KARACHI–Sindh Minister for Information and Local Government Syed Nasir Hussain Shah has said that excess rainfall is manifested in the form of natural calamities. These views were expressed by Syed Nasir Hussain Shah while visiting different areas of the city during the rains.
Nasir Hussain Shah has been visiting various areas of the city for the last two days in which he accompanied by local government officials visited storm drains, choking points, underpasses and various important and sensitive places.
Talking on the occasion, he said that the record rainfall in the city is a completely natural process and the Sindh government has been implementing emergency measures for the last several months under a comprehensive and integrated policy in this regard. Whether it was cleaning the drains or devising a strategy of collective sacrifice, the Sindh government kept the elected local body leadership of the city on board at every opportunity.
In today's torrential rain, while the ministers of the Sindh government have been continuously serving the people since last night, some evil elements are merely slandering our character on their Twitter accounts and social media pages.
There is no doubt that the situation is not 100% but at least the Sindh government is in the field with its people in this difficult time. All our Local Government Officers including the Secretary Local Government, MD Water Board, MD Solid Waste are in constant touch with the people and staff and are engaged in measures against the abnormal rains caused by nature. We have no hesitation in saying that if the Sindh government had not taken timely steps to clean the storm drains, the situation could have been even worse.
He appealed to the people not to leave their homes unnecessarily, stay away from electricity poles and take care of themselves and their loved ones. The government of Sindh will not leave ground till the problems of the people are resolved.
Nasir Hussain Shah inspected the cleaning process of all storm drains of the city including Nazimabad, Liaqatabad, Surjani, Gulbahar, Orangi Town, New Karachi, North Nazimabad and inspected the sweeping process directly. He directed to make the relief activities more effective and efficient.
The provincial minister also met and talked to the people and issued orders on the spot regarding necessary matters.