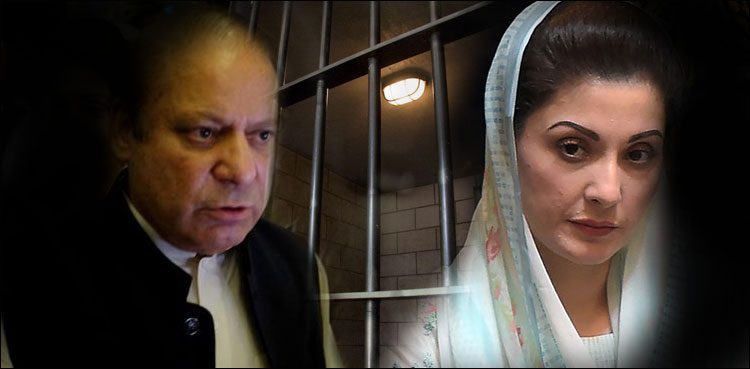 SC Moved To Declare Nawaz, Maryam Residences Sub-Jails
SC Moved To Declare Nawaz, Maryam Residences Sub-Jails

The petition was submitted by Pakistan Muslim League – Nawaz's (PML-N) Barrister Zafarullah Khan and stated that as the corruption trial against Nawaz is still pending, his residence can be declared a sub-jail.
A government constituted-team of doctors from the Pakistan Institute of Medical Sciences (PIMS) arrived at Adiala jail for conducting medical check-up of Nawaz on Monday.
The PIMS team, led by Dr Shaji Siddiqui and comprising Dr Naeem Mulk, Dr Anisa and Dr Amir Maqbool is tasked with re-examining Nawaz's medical reports and conducting a fresh check-up.
While the government reportedly plans to move Nawaz to PIMS, he has requested to be shifted to Rawalpindi Institute of Cardiology (RIC).
Nawaz is currently serving 10-year imprisonment sentenced by an accountability court in the Avenfield Apartments corruption reference filed by the National Accountability Bureau (NAB).
Earlier, during the meeting with his lawyers, Nawaz was perspiring profusely, a source familiar with the meeting.
Sharif, said the source, had a long history of heart problems and had already twice undergone procedures, including a bypass surgery. The source said that Sharif also suffered from hypertension, associated sub-normal kidney function, and other complications.
He cited eyewitnesses as saying that his physician was not allowed to accompany him when he was taken to Adiala jail.
According to him, doctors who examined Sharif at Adiala Jail knew about his critical condition, including heart disease and that the current weather – fluctuating between extreme humidity and heat – was inevitably going to adversely affect his health.
However, the jail authorities or "whoever is in control of these matters" chose not to provide him with an air conditioner that was "so necessary" because of his heart condition.