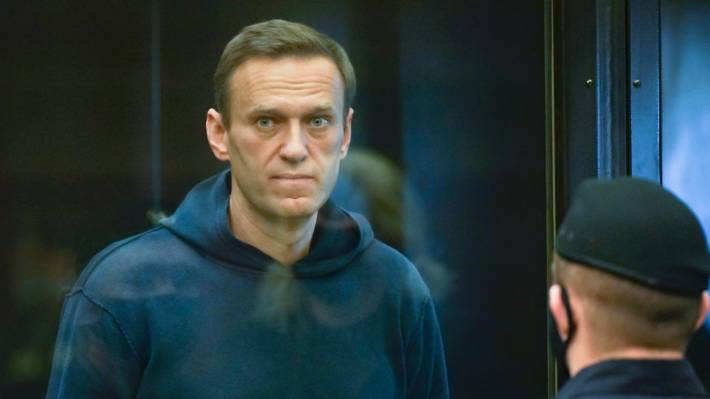 Russian Court Jails Putin Critic Navalny Despite Protests in His Favours
A Moscow court has jailed Putin critic Alexei Navalny for three-and-a-half years for violating the conditions of a suspended sentence.
He has been in detention since returning to Russia last month. He had been treated in Germany for a near-fatal nerve agent attack against him in August.
Thousands of supporters have rallied across Russia in support of Mr Navalny.
His suspended sentence for embezzlement has been converted into a jail term.
He has already served a year under house arrest which will be deducted from the total.
Mr Navalny greeted the news with a resigned shrug, the BBC's Sarah Rainsford in Moscow reports. In court he called President Vladimir Putin a "poisoner", blaming him for the attack.
His supporters called for an immediate protest and tried to gather outside court but the whole area was overrun with riot police. More than 300 have been detained, according to monitors.
His lawyer said they would appeal against the ruling.
Strong international reaction to the sentence came quickly, with the Council of Europe – the continent's leading human rights body – saying the judgement "defied all credibility".
"With this decision, the Russian authorities not only further exacerbate human rights violations as already established by the European Court of Human Rights, they also send a signal undermining the protection of the rights of all Russian citizens," said the council's human rights commissioner, Dunja Mijatovic, in a statement.
UK Foreign Secretary Dominic Raab described the ruling as "perverse", and German Foreign Minister Heiko Maas said the verdict was a "bitter blow to firmly established civil liberties and the rule of law".
US Secretary of State Antony Blinken called for Mr Navalny's immediate and unconditional release, and said he would work closely with allies to hold Russia accountable for "failing to uphold the rights of its citizens".
Russian foreign ministry spokeswoman Maria Zakharova responded by telling Western countries to focus on their own problems.
"You should not interfere in the internal affairs of a sovereign state," she said on Russian TV.
Mr Navalny has been accused of breaking the terms of a 2014 suspended sentence for embezzlement that required him to report regularly to Russian police. His lawyers say the accusation is absurd as the authorities knew he was recovering in Berlin from the nerve agent attack that nearly killed him in Russia.
SOURCE: BBC NEWS