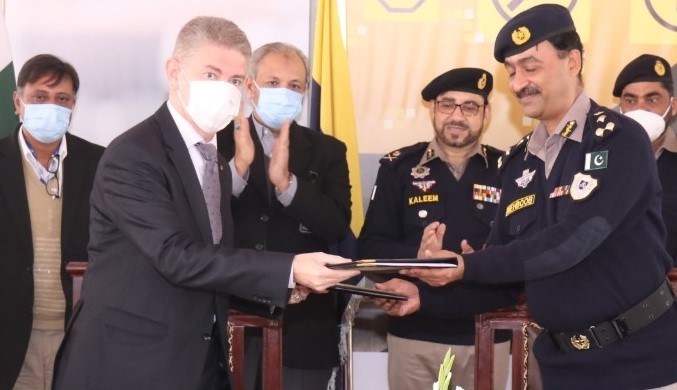 SHEIKHUPURA– A Virtual Training Centre will be established to spread road safety messages among masses through modern and effective mediums. It was revealed in an MoU signed between the National Highways & Motorway Police (NHMP) and Total Parco Pakistan in a special event held at the NHMP Training College, Sheikhupura today.
The memorandum was signed by Commandant NHMP Training College DIG Mehboob Aslam and CEO Total Parco Mr Mehmet Celepoglo in presence of IG NHMP Dr. Syed Kaleem Imam.
As per details of MoU, NHMP in collaboration with Total Parco will make virtual awareness videos on important road safety issues like bikers safety, dozing at wheel, distraction during driving, safe distance, driving in adverse weather conditions, blind spots, defensive driving etc. These videos will be shared not only general public but special steps will be taken to use them in training of drivers working in private companies.
The MoU also revealed that video games containing road safety messages will also be made for the children so that they may know the safety rules before they actually come to road. Total Parco will also cooperate with NHMP in organizing different seminars, road safety walks, briefing sessions and other activities to create road safety awareness among people.
Addressing at the occasion, IG NHMP Dr. Syed Kaleem Imam said that working on road safety is prime focus of this department and he considers it best service to humanity. IG further said that it is only with cooperation of institutions like Total Parco that this department can achieve excellence. IG NHMP Dr. Syed Kaleem Imam praised DIG Mehboob Aslam for his commitment in development work in NHMP Training College and road safety work. At the end of the ceremony, souvenirs were exchanged between Total Parco and NHMP.— PRESS RELEASE