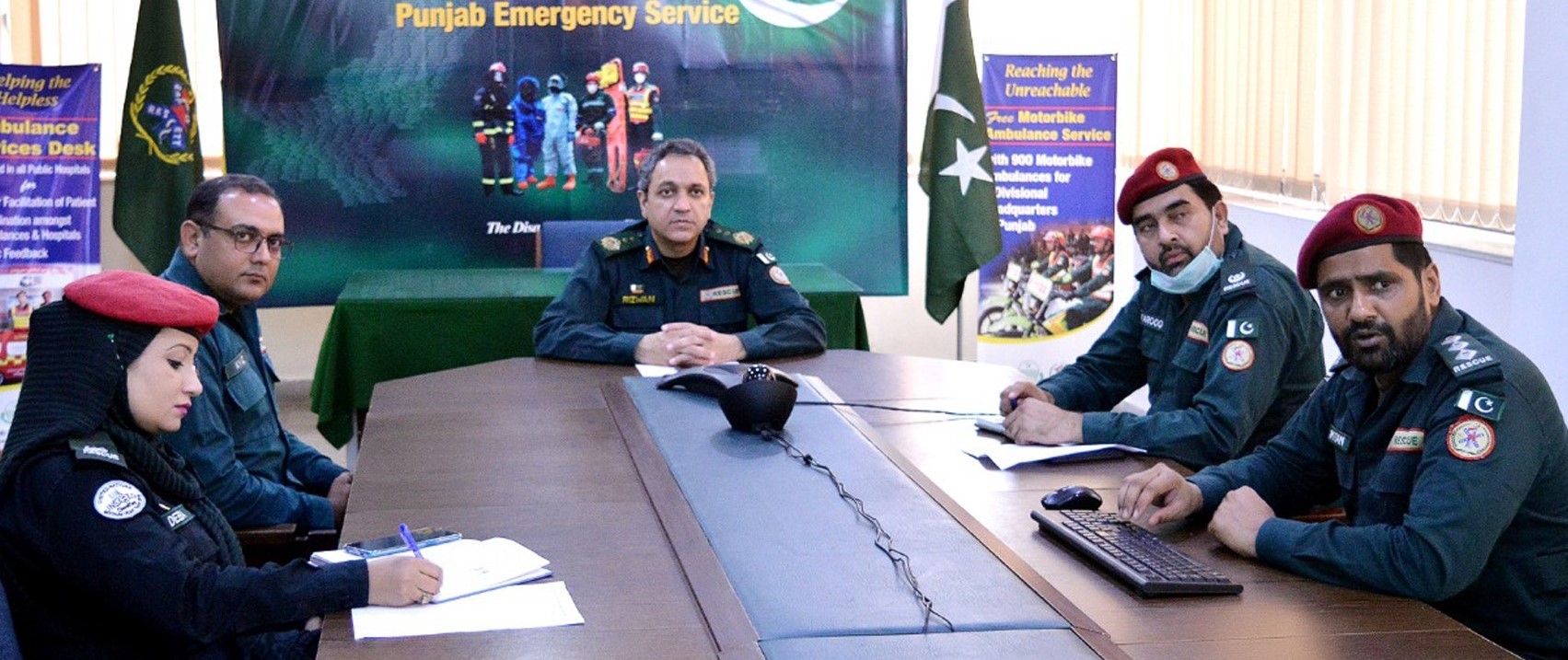 Rescue 1122 Saved 186 People From Drowning Since Jan 2020: Dr Rizwan Naseer
LAHORE– Director General Punjab Emergency Service Dr Rizwan Naseer Tuesday reviewed emergencies data and expressed concern over the increasing number of drowning incidents across Punjab. He said that Water Rescue Teams of Punjab Emergency Service responded to 1,046 drowning emergencies and rescued 186 drowning victims alive since January 2020.
He analyzed that the maximum drowning emergencies 63 occurred at district Lahore and minimum drowning emergencies were seven occurred at district Rajanpur. He expressed these views while presiding over a meeting at Rescue Headquarters here on Tuesday.
The Head of Operations Mr Ayaz Aslam, Head of Community Safety & Information Ms Deeba Shahnaz, Farooq Ahmad Spokesperson, and Imran Ahmad Emergency Officer Provincial Monitoring Cell attended the meeting.
DG Rescue was briefed by Head of Operations that dedicated Water Rescue Teams are deputed in all districts to provide a swift response to all emergencies. He said that out of 186 alive victims 101 victims were shifted to the hospital whereas 85 victims were provided first aid at the spot. He further apprised that a maximum of 41 deaths in drowning emergencies were reported in District Gujranwala, 32 in Sheikhupura, 29 each in Sahiwal & DG Khan, and 28 in Bahawalpur.
DG Rescue Punjab also observed that 62 % of drowning emergencies were associated with canals, 20% were related to rivers, 5.54 % were related to Sewerage/ Drains, and 12.8% in ponds & wells, etc. He said that this trend of especially increasing number of drowning emergencies in Lahore shows that people do not have dedicated places for swimming activities.
They tend to swim in random places where lifeguards are not available. These emergencies can be reduced by providing them dedicated places for swimming activities with necessary arrangements for Rescue Life Guards. Dr Rizwan Naseer said that Rescue is ready to provide Rescue Life Guards if District Governments can establish dedicated water re-creational & swimming sites on canals or rivers.
While expressing his grave concern over the loss of 599 precious lives in drowning emergencies, Dr Rizwan Naseer also said that citizens should avoid swimming at the most vulnerable/dangerous points and avoid going into deep water if they are not know swimming. Parents should never allow their children for swimming at high-risk areas to keep them safe from drowning emergencies.
He urged the citizens to avoid photography at such places and give a timely call on 1122 in case of any emergency as the only timely calls can ensure a timely response.— PRESS RELEASE