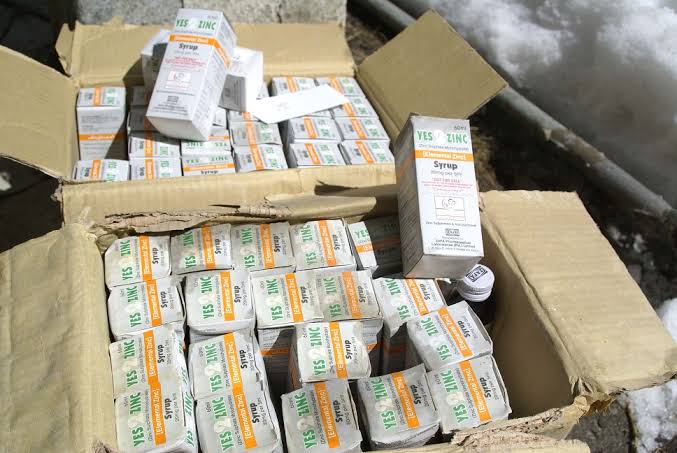 Recovery of 300,000 Expired Syrup Bottles From A Pharmaceutical Unit In Sundar Causes Stir
By Our Web Reporter
LAHORE– It may be an ordinary news for people if it's matter of an unknown manufacturing brand that is found producing fake syrups, but it's indeed shocking to hear if such situation happens at a place usually tagged with leading local and foreign ventures.
The recovery of a huge quantity of fake syrups from the warehouse and trucks owned by a leading local pharmaceutical manufacturing company at the Sundar Industrial Estate (SIE) by the health department teams is no doubt a welcoming step but side by side the seizure based on surveillance has bewildered citizens as to how a company is fearlessly indulged in the dirty business.
Regulated in more efficient way by certain government agencies, the SIE is generally recognized as a state-of-the-art industrial city in the outskirts of Lahore to house several local and foreign manufacturing plants.
The shocking episode came to surface on Friday when Primary and Secondary Healthcare Secretary Captain retired Muhammad Usman led an operation in the Sundar Industrial Estate and recovered huge cache of expired bottles. Officials sized the warehouse of the company, whose name has not been revealed, and a private godown in the presence of the Secretary P&S Healthcare.
The special team also got a case lodged against the culprits in the respective police station after recovering more than 300,000 syrup bottles of expired medicine.
Special operation team monitored the trucks and found counterfeiting syrup. All recovered items were confiscated and rushed to be discarded.
According to Muhammad Usman, the company had placed medicine to sell despite syrup bottles expired a year ago. Two trucks of expired syrups were sold in one million rupees while the rest of the trucks have yet to be sold.
The company's godown has been sealed situated in Sunder Industrial Estate, as well as its unit was sealed in Kot Lakhpat.

The secretary said according to law expired medicine must be discarded within one month of its expiry date. He added that expired bottles were being sold after changing its expiry date.
He said the expired syrup is used for liver-related disease.