Rawalpindi Police Shine Under CPO Faisal Rana, PTI Acknowledges on Facebook
RAWALPINDI– The Pakistan Tehreek-e-Insaf (PTI) has officially acknowledged Rawalpindi police fist time, saying it is following the footprints of Khyber Pakhthunkhawa police that not only brought revolutionary steps in policing but also improved police morale and public service in party's previous and current regimes.
In its official Facebook account, the PTI stated on Saturday that the change has begun from the Punjab and Rawalpindi police is taking lead in this regard.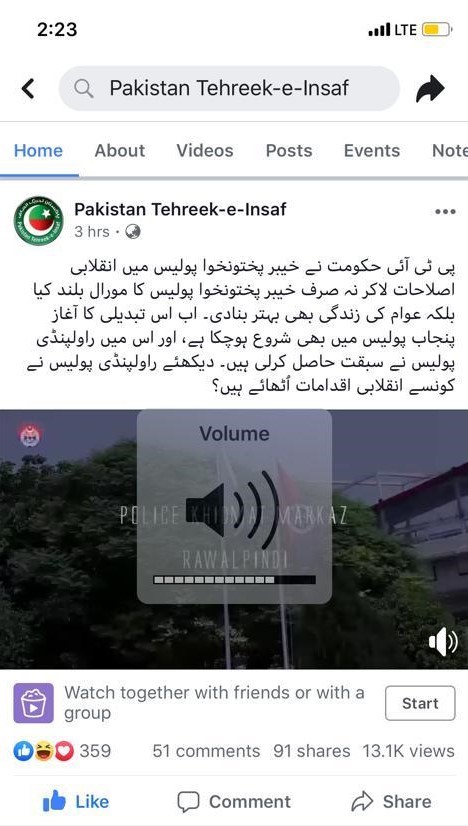 Rawalpindi police is currently being run by City Police Officer Captain (retired) Muhammad Faisal Rana who is considered one of the most dutiful, efficient, professional and upright officers in the Police Service of Pakistan (PSP).
Revealing details of the steps taken by Rawalpindi police, Mr Rana says they have set up service centres mainly district complaint cell at the CPO office, another on Murree Road and a Mobile Khidmat Markaz van which all are providing 14 multiple services including learner driving license, lost & found report, Character certificate.
He says another khidmat markaz has been set up in Murree that is providing help to tourists with the support of Dolphin Force.
Rana says the initiative of Khidmat Marazki taken by Punjab police chief is a good step towards public service delivery.
A dedicated police force named Tourist Protection Police has been set up to provide help and protection to tourists in Murree.— LAHORE MIRROR