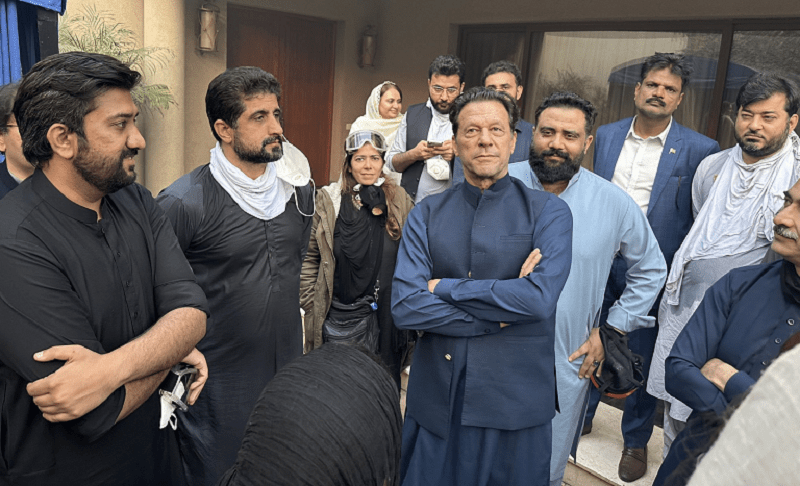 LAHORE (Lahore Mirror) – The deadlock between PTI supporters and law enforcement personnel continued for the second consecutive day on Wednesday near former prime minister Imran Khan's Zaman Park residence in Lahore.
Following the police's failure in arresting Pakistan Tehreek-e-Insaf (PTI) Chairman Imran Khan, a heavy contingent of Punjab Rangers has arrived at the former prime minister's Zaman Park residence to implement court orders.
Early morning today, Islamabad and Punjab police counterparts and Rangers made a fresh attempt to arrest the former premier in connection with the Toshkhana case early morning today.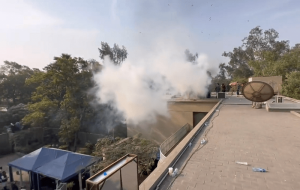 In response, police officials fired tear gas shells at the protesters. On the other hand, PTI supporters set fire to a water tanker of the Lahore Waste Management Authority, motorcycles and other vehicles in the vicinity. They also ransacked a warden's office on Mall Road.
At 10:30am, the armoured police vans, once again, began moving towards the entrance of Imran's residence.
چئیرمین عمران خان کی رہائش گاہ پر شیلنگ کا سلسلہ دوبارہ شروع #زمان_پارک_پُہنچو pic.twitter.com/stskK49va2

— PTI (@PTIofficial) March 15, 2023
A day earlier, at least 33 policemen were injured as PTI supporters clashed repeatedly with police overnight while he remained holed up in his Zaman Park residence, defying attempts to arrest him. Meanwhile, the law enforcers had also arrested the PTI workers.
Police fought pitched battles with supporters of Khan's PTI near his residence throughout the night, firing fusillades of teargas and dodging rocks thrown by angry crowds.
The police action to implement court orders started on Tuesday when a heavy contingent surrounded the area, however, a charged crowd denied the law enforcers any opportunity to arrest their leader.
The Islamabad High Court (IHC) will take up a PTI petition challenging the arrest warrants on security grounds. Khan's counsel filed the plea on Tuesday and requested the court to fix the matter before a bench for a hearing the same day.
The IHC Registrar's Office, however, raised the objection that the petition did not have the deposed prime minister's biometric verification. IHC Chief Justice Amir Farooq will hear the appeal and the objections raised on it.
After the deployment of Rangers, the PTI chairman, in a series of tweets today, claimed that the "real intent is to abduct and assassinate him" as the police have "now resorted to live firing".
Clearly "arrest" claim was mere drama because real intent is to abduct & assassinate. From tear gas & water cannons, they have now resorted to live firing. I signed a surety bond last evening, but the DIG refused to even entertain it. There is no doubt of their mala fide intent. pic.twitter.com/5LZtZE8Ies

— Imran Khan (@ImranKhanPTI) March 15, 2023
"My question to the Establishment, to those who claim they are 'neutral': Is this your idea of neutrality, Rangers directly confronting unarmed protestors and leadership of the largest political party when their leader is facing an illegal warrant and case already in court and when govt of crooks trying to abduct and possibly murder him?"
After our workers & ldrship faced police onslaught since yesterday morning of tear gas, cannons with chemical water, rubber bullets & live bullets this morning; we now have Rangers taking over & are now in direct confrontation with the people. My question to the Establishment,

— Imran Khan (@ImranKhanPTI) March 15, 2023
'London plan'
Khan in a video shared on PTI's Twitter account shortly before dawn, sitting in front of Pakistan and the party flags at a desk decorated with spent teargas canisters.
"I am telling the entire nation today that they are ready once again, they're going to come again," he said.
"They will teargas our people and do other such things, but you should know that they have no justification to do so."
"The way the police attack our people… there is no precedent for this," Khan said.

"Water canons, teargas… they shelled inside the house where there were servants and women."
چیئرمین عمران خان کا قوم نے نام اہم ترین پیغام!
pic.twitter.com/nrDmkIkYp2

— PTI (@PTIofficial) March 14, 2023
The PTI chief claimed that he was not appearing at the F-8 Katcheri as terrorists had targeted the facility twice.
"They know I did not appear because of security, now they are preparing again," said the PTI chief.
The former prime minister also claimed that in order to "avoid anarchy", he had signed an undertaking and his counsel Ishtiaq A Khan tried presenting the surety to the Islamabad police deputy inspector general (DIG) sent to arrest him.
"And as per code of criminal procedure's section 76 if a surety bond is given to arresting officer then he cannot make the arrest," said the PTI chief.
He further claimed that after this there was no reason for the police to arrest him. However, the PTI chief alleged that the DIG refused to take the bond on purpose as his arrest was part of the "London plan".
"In the London plan, it has been decided to put Imran Khan in jail, defeat PTI, and finish all cases of Nawaz Sharif. Putting me in jail is part of the London plan. This has no relation with the law and I have not committed any crime," said the PTI chief.
IGP warns of tougher action
Punjab Inspector General of Police (IGP) Dr Usman Anwar on Tuesday warned PTI activists of tougher action if they continued to resort to violence in their attempt to prevent the police from arresting their leader Imran Khan.
He said the violent protesters would be taken to task and apprehended with the help of CCTV footage as damaging public properties and setting police vehicles on fire came under the terrorism act and these protesters would be tried under that act.
The IGP said Islamabad police under the leadership of DIG Operations ICT Shahzad Bukhari reached Lahore to arrest former prime minister and PTI chairman Imran Khan for compliance with the non-bailable arrest warrant issued against him by additional sessions judge Zafar iqbal on Tuesday.
The Lahore police were told to accompany the Islamabad police team for compliance with the court orders, he added.
Dr Anwar said that as the police force reached the former prime minister's house situated in Zaman Park in Lahore, the protesters started pelting stones at the forces, which injured dozens of law enforcers of the Punjab police, including the DIG operations Islamabad.
Bloodied supporters
Video circulating on social media — much distributed by official PTI accounts — showed several bloodied supporters and others struggling to cope with tear gas.
A PTI official tweeted that there was "an urgent need" for first aid kits at the Zaman Park neighbourhood.
اب دے کچھ دیر بعد چیف جسٹس اسلام آباد ہائیکورٹ عمران خان کے وارنٹ کا معاملہ سنیں گے، عدالت جو بھی حکم دے گی اس پر عمل کریں گے

— Ch Fawad Hussain (@fawadchaudhry) March 15, 2023
A party account also showed video of teargas canisters landing inside Khan's garden, but police did not appear to breach the gate or the wall.
It is the second time in recent weeks that police have been sent from Islamabad to Khan's home in Lahore to serve an arrest warrant after he skipped several court dates citing security concerns.
"We are here basically to execute the warrants and to arrest him," Islamabad police DIG Syed Shahzad Nadeem Bukhari told reporters Tuesday outside Khan's residence.
Officers were met by hundreds of Khan supporters, some wielding sticks and hurling stones, draped in the red-and-green PTI flags.
Police fired a water cannon and tear gas on the crowds as they attempted to clear a path to Khan's house, holding signs plastered with the arrest warrant for the 70-year-old opposition leader.