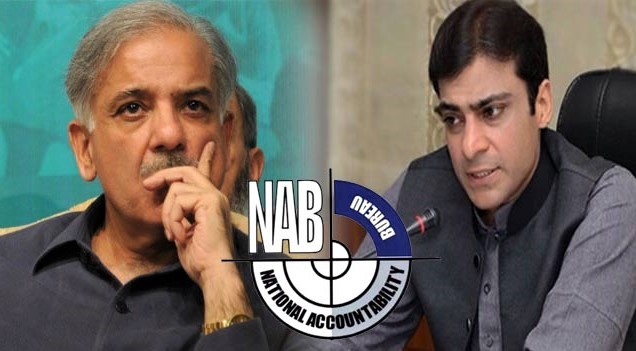 Ramzan Sugar Millls Case: Shehbaz Sharif, Son Hamza Indicted By An Accountability Court
LAHORE MIRROR (Monitoring Desk)– Opposition leader in National Assembly and PML-N President Shehbaz Sharif and his son Hamza Shehbaz, the leader of opposition in Punjab Assembly, were indicted on Tuesday in the Ramzan Sugar Mills case.
Former Punjab Chief Minister Shehbaz and his son appeared before an accountability court in Lahore earlier today in connection with the Ramzan Sugar Mills corruption reference and were indicted by the judge. 
Both Shehbaz and Hamza pleaded not guilty to the charges.
The National Accountability Bureau in February had filed a reference against the two alleging that the former chief minister of Punjab misused his authority by using public funds for the construction of a bridge to facilitate the Ramzan mills, owned by his sons.
As the hearing began, Judge Najamul Hassan asked the NAB prosecutor what the Ramzan Sugar Mills reference was, to which the prosecutor replied that public funds were used to build a nullah for the mills.
Shehbaz, in his defence, responded, "In 10 years, I have saved the country billions of rupees, and God knows that. I had nothing to do with this nullah, and no money was wrongfully used."
The Lahore High Court on February 14 had granted bail to Shehbaz in the Ashiana Iqbal Housing scheme and Ramzan Sugar Mills cases. The opposition leader was earlier indicted in the Ashiana scheme case.
Hamza Shehbaz was granted pre-arrest bail till April 17 by the LHC, which also restrained NAB from arresting him in cases pertaining to ownership of assets beyond means, until further notice.
Hamza was also directed to submit bail bonds worth Rs10 million.
Earlier, NAB teams carried out two successive raids on Friday and Saturday at PML-N President Shehbaz Sharif's Model Town residence to arrest Hamza, but faced resistance from private security and party activists.
The tense situation calmed down only after the Lahore High Court restrained the bureau from arresting Hamza and granted him protective bail until April 8.
SOURCE: GEO NEWS