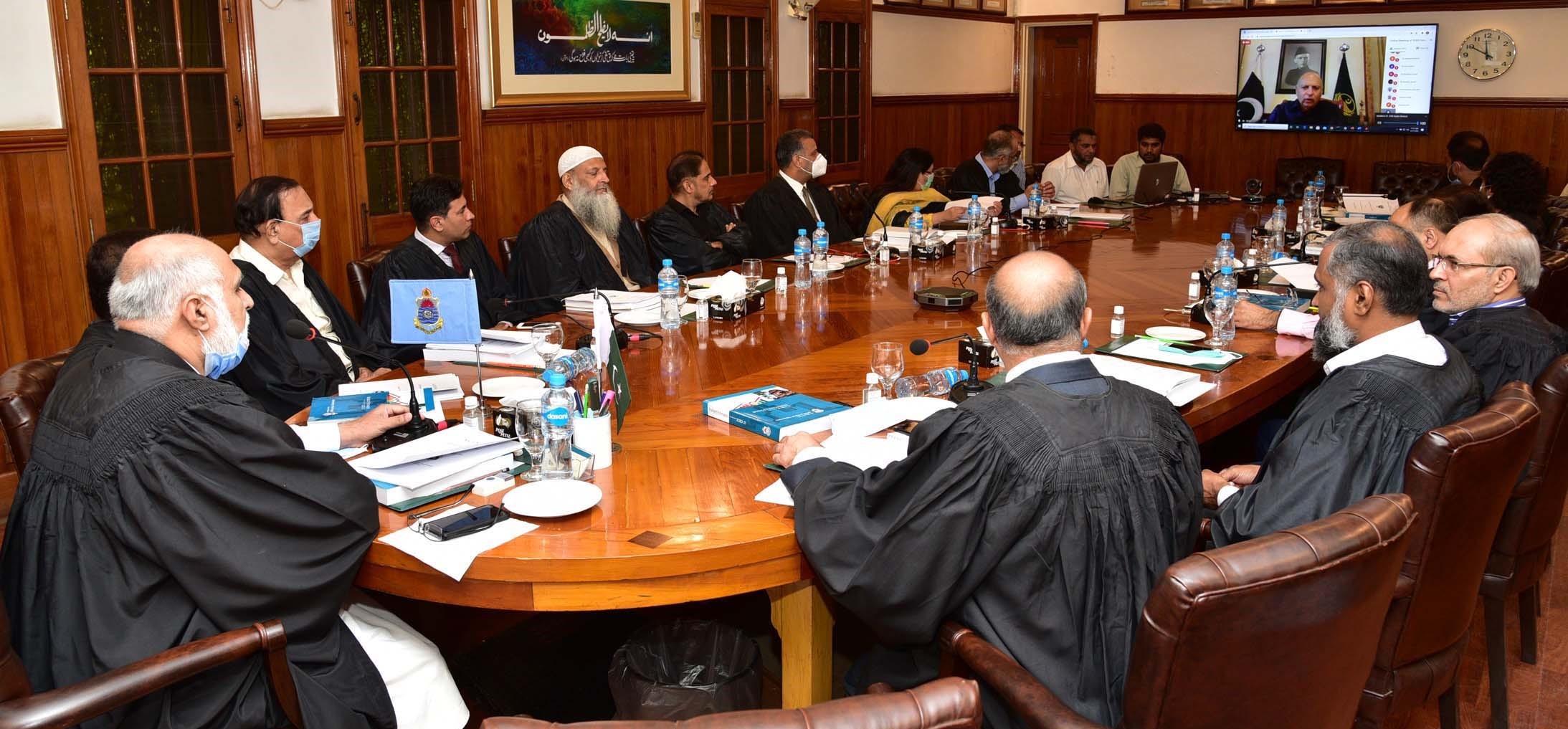 Punjab University Senate Approves Budget for Fiscal Year 2020-21
-- The varsity inks agreement for industrial growth with FIEDMC
LAHORE– Governor/ Chancellor of Punjab University Chaudhry Muhammad Sarwar on Thursday chaired 355th meeting of the PU senate through video link and said that he endorses the initiatives of PU Vice Chancellor to facilitate the academia".
He lauded the efforts made by the Vice Chancellor Prof Dr Niaz Ahmad during the pandemic COVID-19. Later on, the governor authorized the VC to chair the meeting on his behalf. It was the second online meeting of the Senate in which Punjab University Vice Chancellor Prof Niaz Ahmad Akhter, Pro Vice Chancellor Prof Dr Saleem Mazhar, Registrar Dr Muhammad Khalid Khan and more than 150 members of Senate including deans of faculties, heads of departments and others participated in the meeting.
In his address, Prof Niaz Ahmad said that PU had been giving facilities to the students as per international standards. He said that the administration had implemented the policy of merit and good governance as per its promise and now all the important decisions were being taken by the relevant forums. He said that due to peaceful environment of the country, foreign students and international faculty seeking opportunity to join Pakistani universities.
The VC said that the incumbent administration was promoting research and academic culture on campus. The meeting approved recommendations of the Syndicate regarding PU's budget for the fiscal year 2020-2021. By taking austerity measures, the university will save Rs 42 Crore to cope with deficit. PU has allocated Rs16.5 Crore for research endowment fund.
PU inks agreement for industrial growth with FIEDMC
Punjab University Vice Chancellor Prof Niaz Ahmed has said that PU is committed to play its role in the Industrial Development of Special Economic Zones being established in the second phase of China Pakistan Economic Corridor. He was  addressing a ceremony to sign an agreement between PU Institute of Quality and Technology Management and Faisalabad Industrial Estate Development and Management Company (FIEDMC). The Vice Chancellor said that Universities are the engines of Economic growth and CPEC Projects have a lot of potential of Industry Academia linkage for socioeconomic development of the Country. He appreciated Institute of Quality and Technology Management for conceptualization of 04 state of the art research centres. These research centres related to Standardization, Ergonomics, Supply Chain, project Management and Industrial Policy Analysis may change the Industrial landscape of the Country as envisioned in the long term plan of China Pakistan Economic Corridor.
Speaking on the occasion, Mian Kashif Ashfaque Chairman FIEDMC said that Prime Minister Imran Khan has assured him full support of development of Allama Iqbal Industrial zone in Faisalabad in stipulated time in a recent meeting with him. He said that all necessary steps are being taken to convert this special economic zone into an economic hub as directed by Prime Minister Imran Khan.
He appreciated the initiative taken by Vice Chancellor Prof. Dr Niaz Ahmad and Director Institute of Quality and Technology Management Dr Muhammad Usman Awan to integrate IQTM, FIEDMC and Chengdu Institute of Standardization China so that Technology transfer can also be possible.
Agreement has focused on development of state of the art Industrial research centre at FIEDMC, Standardization of products manufactured in the industrial area at par with international standards and customized trainings to be provided by IQTM faculty members to the industrial units at FIEDMC.— PRESS RELEASE