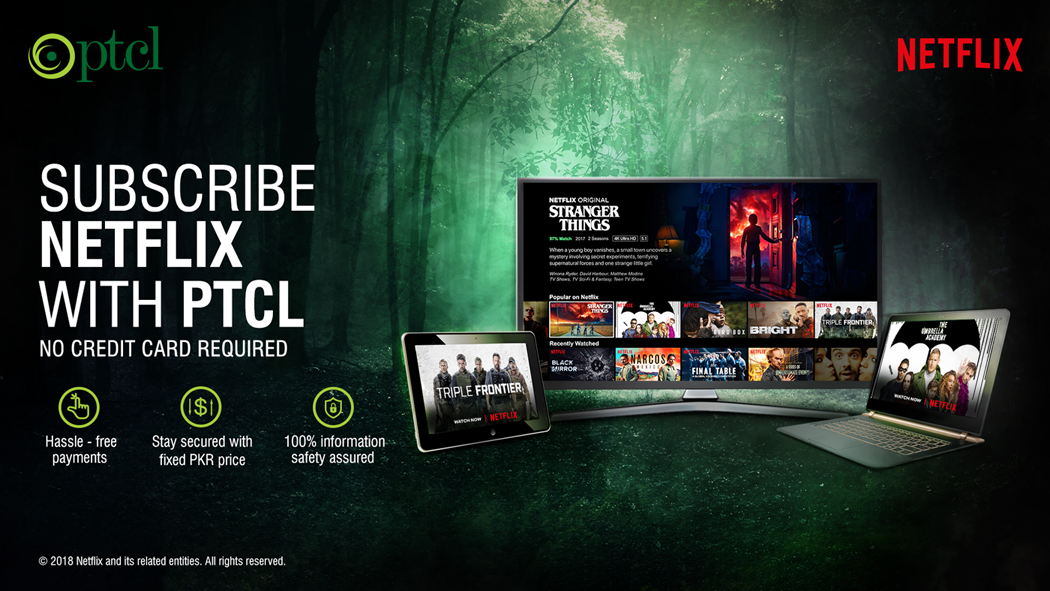 PTCL Customers Can Now Pay For Netflix Subscription Through Their Monthly Broadband Bills
KARACHI– Pakistan Telecommunication Company Limited (PTCL) has partnered with Netflix, the world's leading internet entertainment service.
This partnership will enable PTCL customers to easily pay for their Netflix subscription as part of their monthly PTCL broadband bills, eliminating the need to share additional credit card or debit card details.
New and existing PTCL customers can avail this service by simply registering at https://www.ptcl.com.pk/netflix.
Speaking on this collaboration, Moqeem ul Haque, Chief Commercial Officer, PTCL, said, "Many PTCL customers enjoy the stellar content catalogue of Netflix through our broadband service that offers seamless high speed internet connectivity. This encouraged us to offer them a convenient way to pay for their Netflix subscription through their monthly PTCL bills."
Speaking on the partnership, Tony Zameczkowski, Vice President, Business Development, Asia, Netflix, said, "The growing broadband internet ecosystem in Pakistan is fueling the rise of video consumption in the country. Our association with PTCL enables their customers to seamlessly pay for their Netflix subscription, and enjoy the wide breadth of content from across the world on any internet connected screen."
PTCL provides digital lifestyle to its customers through its vast array of products and services, including international collaborations like Netflix that bring ease and convenience to the subscribers.–PRESS RELEASE