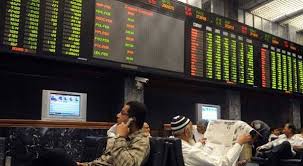 PSX Loses Over 1900 Points, Largest Weekly Fall In 67 Weeks
KARACHI- The capital market recorded a drop of more than 1900 points which was the largest weekly fall in last 67 weeks owing to more than expected rise in benchmark interest, fear of devaluation, shuffling in cabinet ministers and falling foreign exchange reserves hinting thick clouds hovering on country's economy.
According to an analyst from Topline Securities, the outgoing week was an unsatisfactory one for the benchmark index as developments like interest rate hike and rupee devaluation along with a lack of any triggers during the outgoing week kept the benchmark index under selling pressure.The index declined by 4.8% or -1934 points closing at 38,562 level. Market activity remained dull during the week with average traded value declining by 18 percent to $53 million in spite of 7 percent higher average daily traded volumes, reflecting concentration of activity in penny stocks.
OIl sector remained under pressure during the week, chipping away 279 points from the index. The sector was only second to Commercial Banks, who despite the 150 basis points interest rate hike, fell victim to the negative sentiments of the market as the sector ate away 343 points.
Cement stocks were down 5.6 percent during the outgoing week due to 14 percent decline in dispatches in November 2018 where local offtake has remained particularly dismal. After remaining depressed for the most part of the week, Cement stocks nonetheless recovered on Friday owing to news regarding beginning of construction work on Diamer-Bhasha and Mohmand Dams from Jun-19 and Mar-19, respectively.
Foreigners selling for the week stood at $2.5 million versus $51 million in the previous week. This was there 31st week of consecutive selling.An analyst from Arif Habib said in the coming week, PM Khan will be visiting Karachi to address macro-economic concerns and take businessmen into confidence. Albeit expect the market to be ranged bound next week. Attractive valuations could revive investor's interest.
While an analyst from Ismail Iqbal Securities said that market to turn positive in the coming week as the recent melt down has made valuations attractive. Moreover, E&Ps are likely to recover post OPEC+'s decision to cut oil production by 1.2 million barrels/day, which is higher than initial expected cut of 1 million barrel per day.