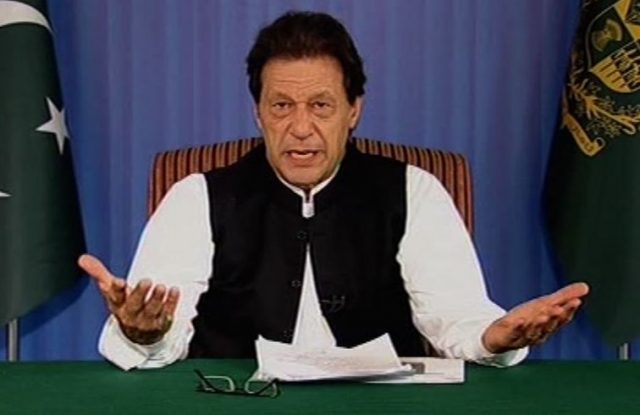 Prime Minister Imran Khan It's Time To Hold The Fort Against Gigantic Challenges
Comment by Faisal Ali Ghumman
LAHORE: Imran Khan, a cricket legend and now a rising powerful politician of the only atomic power-led Muslim country, is now the 22nd Prime Minister of Pakistan irrespective of the fact that how much transparent were the 2018 elections.
If we go back the previous elections' history, the scenario is not different as it is now talk of the town and perceived notion that the role of security establishment always matters in Pakistani's elections and pick and choose.
This time Mr Khan has been chosen predominantly by the establishment to give a lesson to two mainstream political parties PML-N and PPP to mend their ways as any other party can also be brought to the power corridors.
But one should also keep in mind that Mr Khan had managed to muster support of the country's dominating youth with the passage of time, an edge other parties didn't have in the past. And it is crystal clear that the joblessness among youth has grown in the last one decade. His other tough stance has been remained against the deep-rooted corruption at the cost of national kitty.
Khan's speech in the National Assembly again dominated his viewpoint of bringing a new era of accountability and prosperity.
He finally took oath at the President's House a day after newly-elected Members of the National Assembly voted on Friday last for Khan to be leader of the house, making him Pakistan's head of state.
Khan secured 176 votes, beating Shehbaz Sharif, president of the Pakistan Muslim League-Nawaz (PML-N), who got 96.
The Sunday's televised address by PM Khan has established up to the great extent that he wishes to spend very simple professional and personal life to be followed by his cabinet, civil servants and other organs.
The important thing is to be noted is his unnerved and consistent approach to bring a major change in the governance model on the pattern of Prophet Muhammad (SAW) and state of Madina.
The prime minister repeated the same points (he pressed in the first televised address) of improvement in public service, provision of justice, austerity in state expenditures, focus on export-driven sector, civil service and police reforms, domestic investment by overseas Pakistanis, priority to lift productivity of farming community, construction of water reservoirs on war-footing, discouraging loans from foreign institutions, across-the-board accountability etc.
The so far actions of PM Imran Khan reported to media and independent observers indicate he is determined to pursue his goals on multiple lines.
It seems that extra strong-nerved Mr Khan has thrown down the gauntlet to bring revolutionary societal change in Pakistan and sought help the people to help him in achieving his goals so nation should now gird up its lions to change their fate.
The writer is Editor-in-chief lahoremirror.com, Editor Daily The Business Pakistan and Ex-Reporter Daily Dawn.