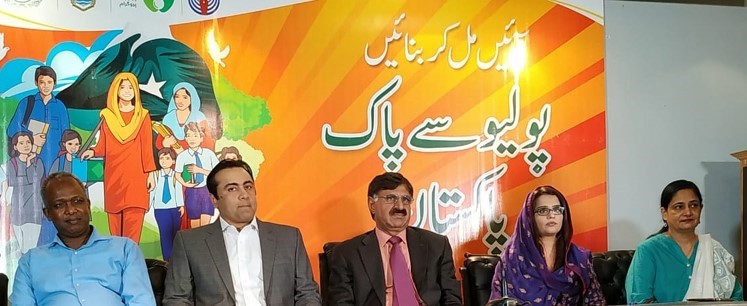 Polio Eradication a Must to Achieve Sustainable Development Goals'
LAHORE– Punjab University Institute of Social and Cultural Studies Director Prof Dr Rubina Zakar has said that polio is serious issue in Pakistan and we could not achieve sustainable development goals (SDGs).
She was addressing a seminar on polio free Pakistan in collaboration with UNICEF to mark world polio day.
Punjab University Pro Vice Chancellor Prof Dr Muhammad Saleem Mazhar, Senior Anchor Person Mansoor Ali Khan, Chief of World Health Organization in Punjab Dr Abdi Nasir, Chief of UNICEF Polio in Punjab Ms Attiya Qazi, faculty members and a large number of students participated in the event.
Dr Rubina Zakar said that the aim of the seminar was to sensitize students on polio problems in Pakistan and to mobilize them to create awareness in their respective communities. She said that it was our national responsibility to create awareness amongst our mothers to priorities polio vaccination for their children.
She emphasized that students can act as agent of change by positively contributing in data-driven, innovative, targeted and sustained communication strategies for polio eradication.
PU Pro Vice Chancellor Dr. Saleem Mazhar put emphasis on the awareness and participation in the polio campaign.
He said that for the development of the nation and to compete the world, we will have to make sure that our future generation is free of such diseases like polio. Senior Anchor Person Mansoor Ali Khan appreciated joint efforts by such a prominent educational institutions and UNICEF to eradicate polio. He said that university students should play their role in nation building, by creating awareness and promoting positivity in the society.
Dr Abdi Nasir encouraged the students to be part of the polio campaign and help the nation. While sharing his experience about Pakistan, he said that we need to send positive message to the people and counter misconceptions about such a serious issue.
He also shared with students his experiences of working on immunization in Pakistan. While presenting data on polio cases in Pakistan and specifically in Punjab, Ms Attiya Qazi described that our polio is a serious problem however, we are hopeful to tackle it soon with joint efforts. At the end a question and answers session was held to answer questions posed by the students on the issue related to the polio facilitation in remote areas.
Behavioral and psychiatric disorders should not be kept secret
Renowned Pakistani-American Adult / Child & Adolescent Psychiatrist Dr Rizwan Malik has said that behavioral and psychiatric disorders are as important to address as other medical illnesses and there is need to create maximum awareness about diagnosis and treatment of these disorders. Speaking at a seminar "A brief overview of psychiatric disorders in children and adolescents" at Punjab University's Center for Clinical Psychology (CCP) here on Thursday he further said in coming few years depression would be among the list of most widespread diseases of the world.

Dr Rizwan Malik further said there was a severe shortage of qualified child psychiatrists in Pakistan and there was need to create awareness amongst people, including those in the medical field, to identify and work on various resources that could help thousands of children in the country who were not either properly diagnosed and/or they were subsequently placed on medications or treatments that might not be suitable for their particular presentation.
He added this dearth of trained practitioners was also faced by the western world. He said for every 100,000 children facing behavioral and psychiatric disorders only one trained psychiatrist was available.
Dr Rizwan Malik, Diplomat American Board of Psychiatry & Neurology, also said there was need to remove taboos attached with mental illnesses to save precious human lives and provide healthy living conditions to those suffering from different psychological disorders.
He also said people suffering from behavioral and psychiatric disorders tended to keep such illnesses secret fearing family and social reaction which was quite unfortunate and dangerous for patients. This leads to more complex situation and add to the sufferings of those affected.
He said psychiatrists and psychologists needed to work together to provide coping skills to those suffering by organizing constant therapy sessions besides prescription of medicines.
Also an expert in treating autism in children, Dr Malik said it was his dream to initiate massive awareness of autism in Pakistan and added he planned to build an outpatient clinic and an inpatient facility/hospital in Lahore, Pakistan to treat children who have severe behavioral and psychiatric disorders.
Dr Malik who has been the medical director of a 200 bed psychiatric hospital in Washington DC, further said federal and provincial governments in Pakistan and other institutions including universities, colleges and schools needed to make concerted efforts to fight the menace of rising drug abuse among youth.
Punjab University's Center for Clinical Psychology's Assistant Professors Dr Aisha Sitwat and Humaira Naz, lecturer Rabia Dasti and a large number of students were present on the occasion. A question-answer session was also held in the end in which the students put pertinent questions to the guest speaker.
LLB results
LAHORE: (Thursday, October 24, 2019): Punjab University Examinations Department has declared the results of LLB Part-I, II & III annual examinations 2019 and LLB (5 years) Part-I, II & III annual examinations 2019. Details are also available at PU website www.pu.edu.pk.— PRESS RELEASE