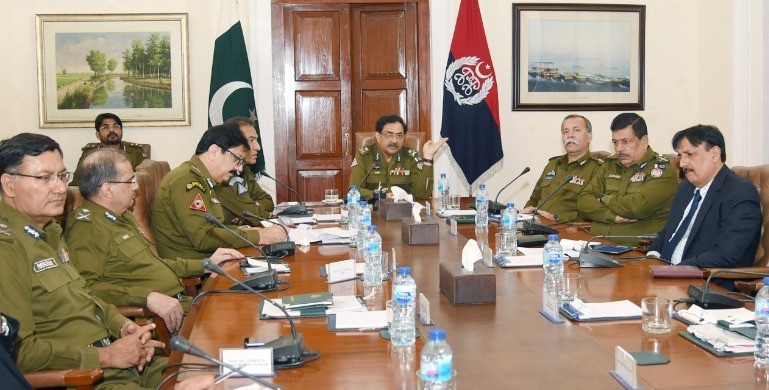 Police Chief Shows Displeasure Over Salahuddin's Custodial Death, Orders Inquiry
During video link conference with RPOs, Arif Nawaz Khan issues directives for Moharram security
LAHORE– Inspector General of Punjab Police Captain (retired) Arif Nawaz Khan Monday expressed displeasure over a custodial death in Rahim Yar Khan, making it clear to the circle police officer for strict accountability in case of any mishap.
He ordered the RPO Bahawalpur to conduct an inquiry into the custodial death of Salahuddin of Kamunki with ensuring a strict departmental and legal action against the persons responsible.
Khan further said lockup is for safe custody of the accused so it is the police responsibility to provide them good and timely medical care.
The IG said in sensitive districts in relation to Moharramul Haram, the DPOs should personally monitor the security arrangements in A category processions and snipers should also be deputed on the rooftops on the buildings in the vicinity of sensitive Majalis.
He further directed to utilize the drone cameras for the security of 9th and 10th Muharam A category processions and their routes should also be checked by Bomb Disposal Squad, Sniffer Dogs and Special Branch Teams while parking should be atleast 100 feet away from the Mosques and Imambargahs.
He also issued directions regarding the security arrangements for the devotees on the annual Urs of Hazrat Baba Fareed ud Din Ganj Shakar in Pakpattan, women officials should be deputed for the search and security of women devotees while commandos in civvies should also be deputed inside the shrine. The IGP also directed to ensure the smooth flow of traffic so that devotees can visit the shrine on Urs without any trouble.
He expressed those views while issuing directions to the CCPO Lahore and all RPOs in a video link conference held at the Central Police Office.
During conference, the IG Punjab directed officers to specially inspect the lock ups and video recording during their surprise visits to police stations and in case of any violation of the SOP a strict legal and departmental action must be taken without any delay.
He further said that RPO,s who require additional recourses or personals for Muharam security should contact with Addl IG Operations.
He further said that in sensitive districts search sweep and combing operations should continue in the vicinity of Imambargahs, Processions and Majalis ensuring a strict implementation of loud speaker act, ban on wall chalking, arms display and aerial firing.
In the conference, Addl IG R&D captain retired Zafar Iqbal Awan, Addl IG establishment Punjab captain retired Ahmad Lateef, Addl IG operations Punjab Inam Ghani, Addl IG D & I Azhar Hameed Khokhar, Addl IG training Punjab Tariq Masood yaseen, Addl IG welfare and finance, Rao Sardar, Addl IG PHP Manzor Sarwar Chaudary, Addl IG investigation Punjab Abu Bakar Khuda Bukhsh, Addl IG special branch Punjab Zaeem Iqbal sheikh, Addl IG CTD Punjab Muhammad Tahir Rai along with other senior officers were present.– PRESS HANDOUT