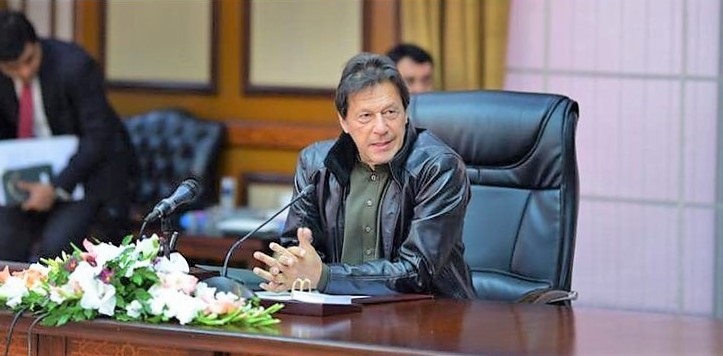 PM Imran Khan Announces Indian Pilot's Release Tomorrow As Peace Gesture
LAHORE MIRROR REPORT– Prime Minister Imran Khan has declared Pakistan would be releasing tomorrow the Indian pilot, who was captured after Indian fighter jet's crash in Azad Kashmir on Wednesday, as a peace gesture.
Pakistan Air Force had shot down two Indian aircraft when they crossed the Line on Control and captured Wig Commander Abhinandan. 
Addressing the joint session of Parliament and in a message, Mr Khan urged India not to escalate the situation. "Don't take this any further, Pakistan will be forced to retaliate."
"I hope the international community will play its part to ensure the situation does not escalate beyond this," the prime minister added.
Earlier, Foreign Minister Shah Mehmood Qureshi had said Pakistan would be willing to consider returning the Indian pilot if it led to de-escalation.
"If there is de-escalation with the return of this [Indian] pilot, Pakistan is willing to consider this," Qureshi said.
Pakistan Is Ready For Talks With India On All Issues Including Terrorism:PM
Pakistan is ready for talks with India on all issues including terrorism as dialogue is the only way for peace and stability in the region.
"I had made an offer to India to probe the Pulwama attack and hold dialogue on bilateral issues," the premier was quoted as telling cabinet members in a meeting in Islamabad today, media reports say.
Mr Khan took cabinet members into confidence regarding the plan of action as tensions with India escalate. A twelve-point agenda, including the current security situation, was discussed during the meeting ad the ministers of foreign affairs and defence briefed the cabinet members on Indian aggression, sources said.
Foreign Minister Shah Mehmood Qureshi also briefed the cabinet members on his conversations and efforts with diplomats and the international community.
The cabinet members said the entire nation is united and ready for Pakistan's defence. The cabinet members lauded Pakistan's diplomatic efforts in the wake of Indian aggression, sources added.
The cabinet also granted approved the decision to raise the issue of Indian aggression at the United Nations, OIC and with friendly countries.
Qureshi said Pakistan is willing to consider returning the Indian pilot if it means de-escalation of ties between the two countries.
The foreign minister further said, "Prime Minister Imran Khan is ready to talk to Narendra Modi on the telephone and ready to extend an invitation of peace. Is Modi ready?"
Asserting that Pakistan has been calling for peace since day one, Qureshi said, "If India wants to talk about terrorism then we are ready."
"You [India] want to risk regional stability for politics," he said and added that "it could be the need of politics but history will not forgive you".
Pakistan carried out air strikes and shot down two Indian military jets on Wednesday, a day after Indian warplanes "intruded" Pakistan airspace for the first time since a war in 1971, prompting leading powers to urge both of the nuclear-armed countries to show restraint.
Tension between the two countries has been aggravated since the Pulwama attack on February 14 in which over 40 Indian paramilitaries were killed in occupied Kashmir.
In a televised address on Wednesday, PM Imran had also called for talks with India.