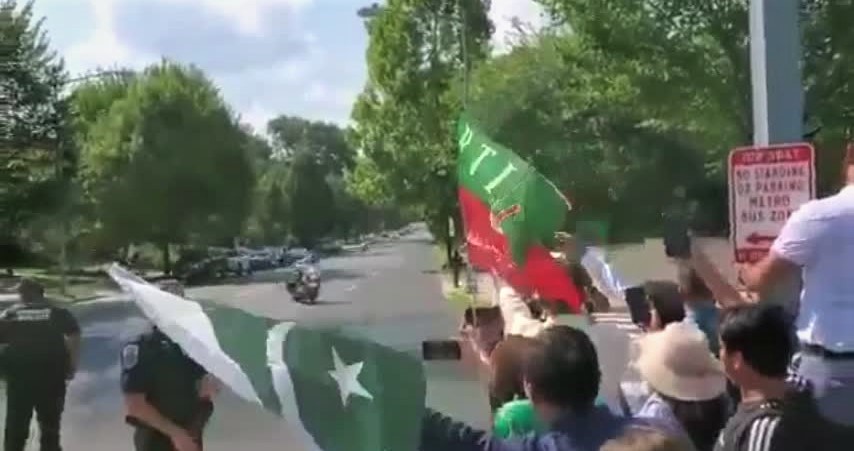 PM accorded warm welcome by overseas Pakistanis on arrival in US
WASHINGTON DC– A good number of Pakistanis living in USA thronged the federal capital- Washington DC on Sunday to give a warm welcome to Prime Minister Imran Khan on his arrival.
Carrying flags of Pakistan, they danced to the tune of drums and chanted slogans in favour of Pakistan and Prime Minister Imran Khan.
Among the crowds were PTI supporters who also carried PTI flags. An auto rally was also organized to express solidarity with Pakistan. The participants were carrying placards of PM Imran and COAS Qamar Bajwa.
Premier's activities in US
On July 23, Imran Khan will face editors of US newspapers besides meeting US Speaker of the House Nancy Pelosi.
The premier's official schedule will also include interaction with Pakistani business community, address to a business summit and visit to the US Institute for Peace.
The US government has placed Pakistan Prime Minister's visit in special category which means prolonged meeting with the US president, a number of feats, official residence and other expenses on Us expense.
Foreigner Minister Shah Mehmood Qureshi told media in Washington DC that Prime Minister Imran Khan will reach US around 3:30pm.
He said the premier will be given feast at the White House and two meetings with US's Trump have been scheduled.
Qureshi said the premier will meet US Secretary of State Mike Pompeo, economic experts and Pakistani businessmen.
To a question, he said Afghanistan's challenge is 18-year old.
"We shall move forward while making the premier's visit to US a strong base for improved bilateral relations," the FM said.
SOURCE: AGENCIES