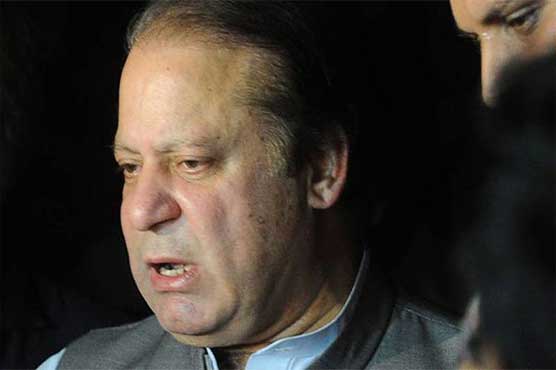 PIMS Board decides to provide medical facilities to Nawaz Sharif in Adiala Jail
RAWALPINDI (Lahore Mirror) – A four-member medical board constituted by PIMS administration has carried out medical checkup of former Prime Minister and Pakistan Muslim League-Nawaz supremo Nawaz Sharif in the Adiala Jail today (Monday).
The medical board comprising cardiologist Dr Naeem Malik, Medical Specialist Dr. Shaji Siddiqui, neurologist Dr Sohail Tanvir and Dr Mashood has taken blood samples of the ex-premier for tests while jail authorities have suggested to not shift him to the hospital yet.
PIMS team said that Nawaz Sharif is unwell as he is suffering from heart disease, glyceride, cholesterol and diabetes. Former PM's echocardiography and ECG will be conducted in the jail, stated medical board.
Nawaz Sharif reportedly fell ill at the Adiala Jail on Sunday. Sources said that he is facing multiple health issues as the former prime minister is suffering from heart, glyceride, cholesterol and diabetes.

Earlier, Dr Azhar Kiani and Dr Hamid Sharif Khan, who conducted the medical examination of the PML-N supremo, had requested the jail officials to shift Nawaz Sharif to a cardiology institute in Rawalpindi.
Caretaker Punjab chief minister Dr Hasan Askari Rizvi had also chaired a high level meeting to review application to shift ailing Nawaz Sharif to hospital.
It is to be mentioned here that PML-N President Shehbaz Sharif wrote a letter to the caretaker Punjab government seeking better facilities for them at Adiala Jail.
Shehbaz had asked the authorities to ensure continuous provision of medicines and medical examination to Nawaz Sharif from his personal doctor.
Nawaz was arrested along with his daughter Maryam Nawaz upon arrival and the Allama Iqbal International Airport from London on July 13 and was shifted to Adiala Jail where he is serving the sentence awarded to him in the Avenfield reference case by the accountability court.