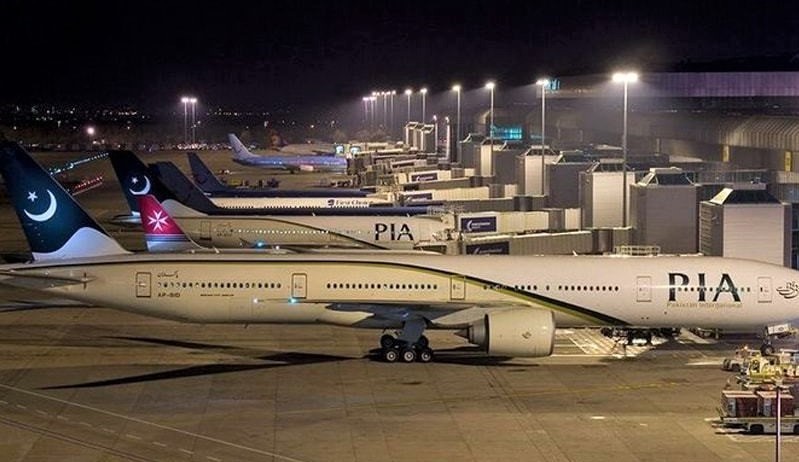 PIA On The Path of Recovery; Airbus A320 To Be Operational By June End
Our main focus is on improving customer services and increasing revenues, says PIA CEO Arshad Malik
KARACHI–  The Pakistan International Airline (PIA) is able to recover one of Boeing 777 aircraft which was abandoned and grounded for almost 1.5 years.
Recovery work on another year long grounded Airbus A320 is underway and In Sha Allah within the month of June it will also be airworthy and operational. 
"Certainly the hard work and sincere efforts of all employees are giving positive results," said Pakistan International Airlines Chief Executive Officer Air Marshal Arshad Malik in a statement Tuesday.
"This timely recovery of Boeing 777 aircraft will be of great help in Hajj operation which is just at the corner. Considering it as Eid gift we look towards more blessings of Allah Kareem in the days to come."
Mr Malik said their main focus is on improving customer services and increasing revenues.
The key factors for this improvement in revenue are aggressive sales and marketing both in passenger and cargo, increased scheduled reliability (around 90%), overall seat factor (above 85%), product development initiatives such as cabin refurbishment, vibrant cabin crew, improved food quality, proactive and efficient supply chain management and of course the increased synergy between engineering and flight operation.
To increase ancillary revenues we took an initiative for the first time to commercialize the leg space/bulkhead seats.
Alhamdulillah this niche met great success as we were able to earn an additional revenue of Rs10 million in less than a month. It is expected that the annual accumulation may soar between Rs220-250 million. Similarly we are focused on the cargo business which though usually forms a significant portion of the total revenue but was neglected. Alhamdulillah very positive developments are emerging as the outbound load factor has reached close to 80% which remained stagnant at 50-55% in recent past.
We are also in the process of acquiring new technology, fuel efficient aircraft to augment frequencies of flights and new destinations.
"It is my firm belief that we all have tremendous skills and if we keep contributing our best, there is no doubt that PIA will climb new heights."
Besides enhancement of revenues the initiatives towards cost saving without compromise on safety and quality have been encouraging.
"I am glad to tell you that whole PIA has welcomed our austerity drive and big objectives have been achieved."
Let us not get deterred by the negative and false rumors being spread by some rogue elements who don't want to change or work for the betterment of PIA. But we are moving in right direction and shall keep moving forward.
"I congratulate all of you for the improvements which are now visible and hope that we will continue to work with the same zeal and enthusiasm to do even better in future," the CEO passed wish to his subordinates.
"I wish the Pakistani nation and entire PIA family a very warm Eid Al-Fitr."— PRESS RELEASE