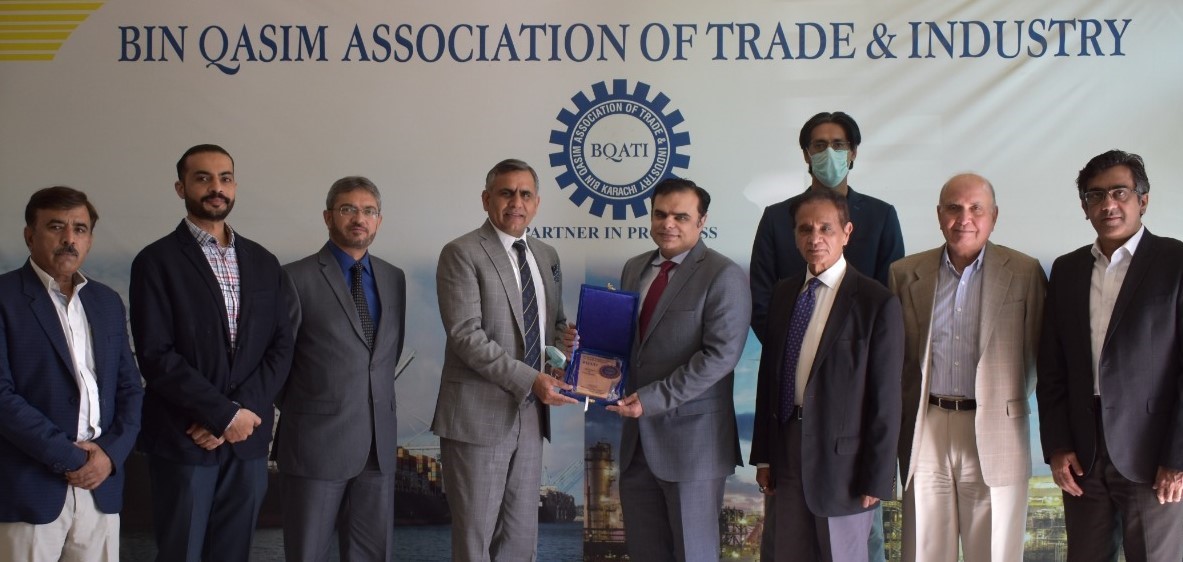 PIA, BQATI Ink MoU for Enhanced Facilitation to Business Community  
-- PIA, Hashoo group to jointly promote domestic  tourism in Pakistan
KARACHI–  Pakistan International Airline (PIA) delegation headed by CEO Air Marshal Arshad Malik along with team visited BQATI Secretariat today.
The CEO PIA, Air Marshal Arshad Malik was welcomed by the Patron in Chief/Founder President, BQATI, Mian Muhammad Ahmed, Founder Vice President Mr. Usman Ahmed, Senior Vice President Mr. Iftikhar Ahmed the meeting was attended by Office bearers, members Managing Committee of Bin Qasim Association of Trade & Industry.
Patron in Chief/ Founder President BQATI, Mian Muhammad Ahmed spoke about efforts of CEO PIA Air Marshal Arshad Malik, he also said that first of all, thank you for meeting with business community and taking a bold step to change the airline which was on the verge of closure, the change you have made is very positive and significant, it is a sign of growth of PIA.
Mian Ahmed said that the no doubt Pakistan Airlines is improving steadily and despite Covid-19 performed well among all other airlines in the world that is commendable however there are still many issues that need to be fixed. He said that the most important issue is the flight network Connectivity, Business Class fare and allocation charges from Business Class, Flight schedule. The award plus system also needs to be made online so that the customer himself can book his ticket based on his points.
CEO PIA Air Marshal Arshad Malik welcomed all the requests and suggestions of BQATI and assured that all his issues would be considered and resolved as soon as possible.
After detail discussion BQATI and PIA aim to build a cordial business relationship which will be of benefit to the business community of Bin Qasim Town. Taking a step forward, PIA and BQATI signed an MOU.
The points decided in the MoU here are some of them:
10% Discount on Economy & Economy Plus on PIA flights for International and Domestic sectors shall be offered to BQATI Members and their immediate family,
BQATI will extend support and will facilitate promotion of PIA products and services from all its platforms including Electronic, Print and Social media.
BQATI members will declare PIA as Official Travel Partner and PIA will be preferred travel airline for all their visits on both International and Domestic sectors.
Keeping in view the Commercial Interests of both Parties, all important decisions will be made according to rules and regulations of The Government of Pakistan.
The meeting was also attended by Bin Qasim Association of Trade & Industry, Iftikhar Ahmed Senior Vice President, Parvez Ghias , Shakil Ashfaq, Naveed Shakoor, Abdur Rehman Ismail among others.
PIA, Hashoo group to jointly promote domestic  tourism in Pakistan
CEO PIA Air Marshal Arshad Malik inaugurated the newly established counter by PIA and  destinations of the world (DOTW),  Hashoo group at  PIA Booking Office Karachi. CEO PIA was presented with Sindhi Ajrak and Cap by District Manager PIA Faisal Kharal.
Tariq Bin Yousuf General Manager,  Destinations of the World – Pakistan (DOTW), senior officials of PIA & DOTW were also present at the occasion.
A special counter has been set up at PIA booking office Karachi where passengers can now book their tickets and also avail instant hotel booking & packages Domestic / worldwide , A  joint promotion  by PIA and Hashoo group.
More Travel counters are expected to be opened at PIA booking offices throughout Pakistan and also also at Hashoo Hotels in Pakistan where one window Operation for hotel bookings , PIA  ticket purchases and packages jointly promoted by Hashoo Group and PIA. Later on CEO PIA Air Marshal Arshad Malik visited various sections of PIA booking office karachi and met with airline officers and staff.— PRESS RELEASE