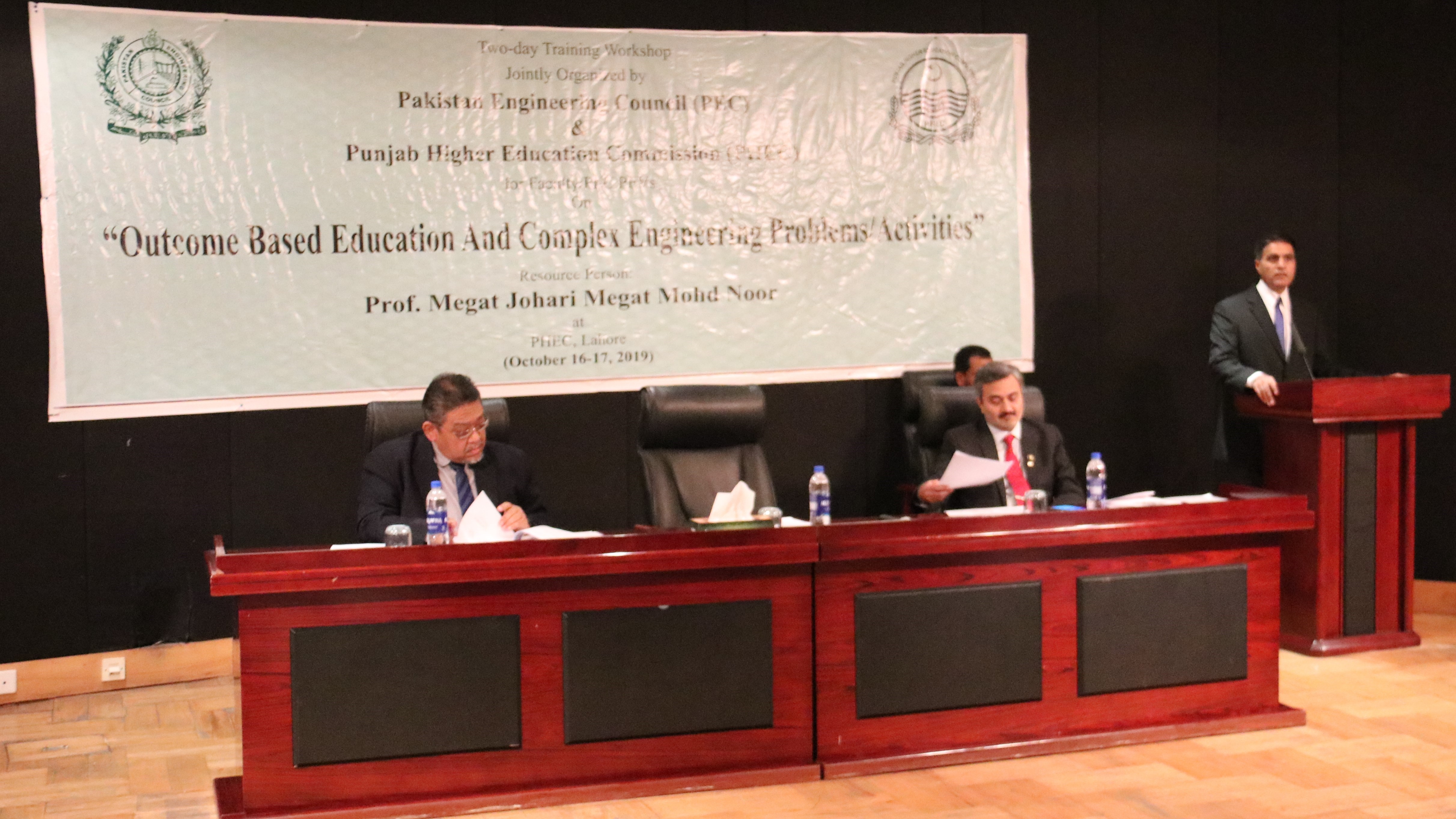 LAHORE– "Evidence suggests that outcome-based education increases student motivation, strengthens connections between theoretical and practical learning and increases employability prospects of graduates, " said Chairman Punjab Higher Education Commission (PHEC) Prof Dr Fazal Ahmad Khalid on Wednesday.
He was addressing the inaugural session of a two-day training workshop on "Outcome Based Education (OBE) and Complex Engineering Problems" jointly organized by PHEC and Pakistan Engineering Council (PEC).
The ongoing workshop at PHEC Head office is being attended by more than 50 engineering faculty members and industry experts who have been selected as PEC Program Evaluators (PEVs).
Prof. Megat Johari Megat Mohd Noor, member Board of Engineers Malaysia (BEM) and Malaysia Chair, Engineering Accreditation Council (EAC), is the resource person for the workshop. The two-day training will cover a range of areas including the need for OBE, accreditation policy and process, criterion of  OBE based accreditation and other related areas.
During his inaugural address, Dr. Fazal Khalid added that the workshop was important for the continuing professional development of  professionals and it would help them learn and adopt the best practices in line with global standards and quality benchmarks to enhance visibility of universities in global rankings.
Earlier, the Additional Registrar of PEC Prof. Dr. Nasir Mehmood Khan, also participating in the proceedings, said PEC always strives to ameliorate the quality of engineering degrees and will continue with its efforts to enhance the student learning experience in order to produce employable graduates and future leaders for this sector.
He also thanked Prof. Dr. Fazal Ahmad Khalid who is also the Vice-Chairman of Pakistan Engineering Council for his support in organizing the workshop.— PRESS RELEASE