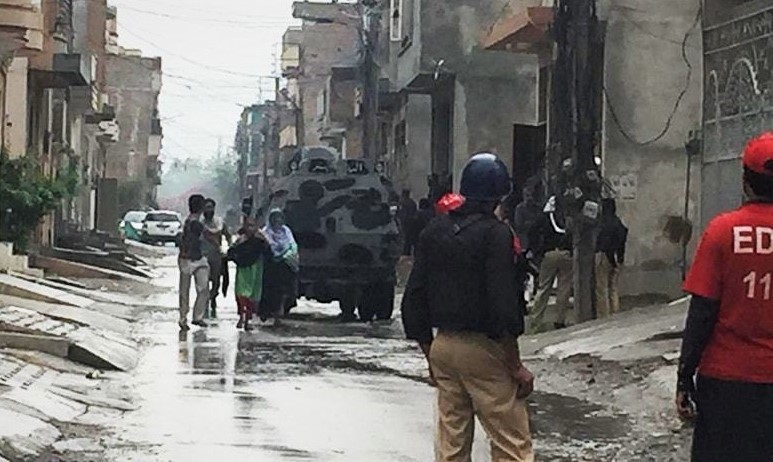 Peshawar: Five Terrorists Killed, Cop Martyred In Joint Army-Police Operation
PESHAWAR– Five alleged terrorists were killed and a police officer was martyred in a joint intelligence-based operation conducted by Pakistan Army and Khyber Pakhtunkhwa police in Peshawar's Hayatabad Phase VII, the military's media wing confirmed on Tuesday.
The operation, carried out against a terrorist hideout, began last night. During exchange of fire, five terrorists were killed while ASI Qamar Alam embraced martyrdom.
An officer and a soldier were injured, the Inter-Services Public Relations (ISPR) said. 
Forces are in the process of clearing the compound and search in adjacent areas is in progress. Dead bodies of the terrorists killed in the operation have been recovered, and their identification is in process, the ISPR added.
The terror suspects were wanted for attacks on a judge and additional inspector-general of police, security sources said.
Corps Commander Peshawar Lieutenant General Shaheen Mazhar Mehmood visited the site of the operation earlier today, where he lauded the professionalism of the security personnel.
Lieutenant General Mehmood told the forces that routine lives of the residents of the neighbourhood should not be disrupted due to the operation.
He further instructed that assistance from the Special Services Group might be sought if the need arose.
Speaking to the media earlier today, KP Chief Minister Mahmood Khan said there were reports about the presence of five to seven terrorists inside the Hayatabad house. Capital City Police Officer (CCPO) Qazi Jameelur Rahman, who led the operation, said that the killed militants were planning a terror attack in Peshawar.
Funeral prayers for the martyred ASI Qamar Alam were offered at the Malik Saad Shaheed Police Lines in Peshawar.
The prayers were attended by KP Chief Minister Mahmood Khan, Lieutenant General Mehmood and the IGP.
Intelligence-led raid followed recent terrorist attack on a judge and senior police officer 
Khyber Pakhtunkhuwa's Information Minister Shaukat Yousafzai told media on Monday night that the raid was conducted in view of recent terrorist attack on a judge and an additional inspector general in the area.
In February, A judge of the Peshawar High Court (PHC) Justice Ayub Khan Marwat was shot and injured in a deadly attack.
Justice Ayub Khan Marwat got injured when some unknown motorcyclists opened fire on his vehicle in Hayatabad area of Peshawar.
The police had said the justice was on his way to the high court when his vehicle came under attack.
SOURCE: NEWS AGENCIES