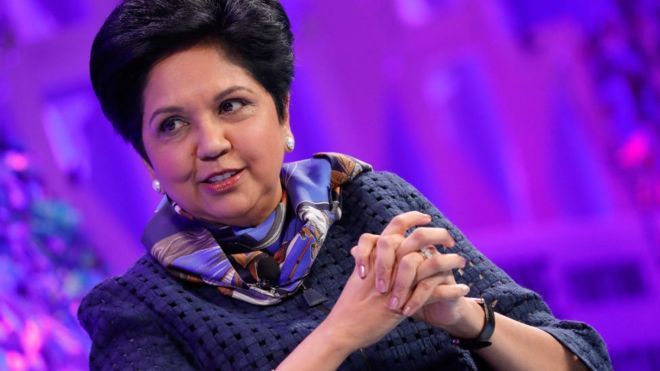 PepsiCo: Indra Nooyi will step down as Company's Chief Executive
LAHORE MIRROR (Monitoring Desk)– PepsiCo Chief Executive Indra Nooyi is going to step down after 12 years of reign of the company.
The 62-year-old lady is among the world's most prominent female business leaders and has consistently appeared on Forbes' list of the 100 most powerful women, ranking 11th in 2017.
PepsiCo shares have risen 78% since she took the job in 2006.
Mrs Nooyi has been with the company for 24 years. Current president Ramon Laguarta will succeed her.
In a series of posts on Twitter, the businesswoman referred to her upbringing in India and said she "never imagined" she'd have the opportunity to lead a company like PepsiCo.
She also described "mixed emotions" about leaving the role.
Mrs Nooyi was chief financial officer before becoming chief executive in October 2006, and has overseen significant revenue growth for the company.
"She has delivered a strong and consistent financial performance, managing with an eye toward, not only the short-run, but the long-run as well. As CEO, she grew revenue more than 80%, outperforming our peers and adding a new billion-dollar brand almost every other year." said a PepsiCo statement.
PepsiCo's board of directors unanimously voted in 54-year-old Mr Laguarta, who will take over on 3 October and will also join the board, according to the company.
A 22-year veteran of PepsiCo, Mr Laguarta oversaw global operations, corporate strategy, public policy and government affairs in his role as president.
Mrs Nooyi will continue as chairman of the board until early 2019.