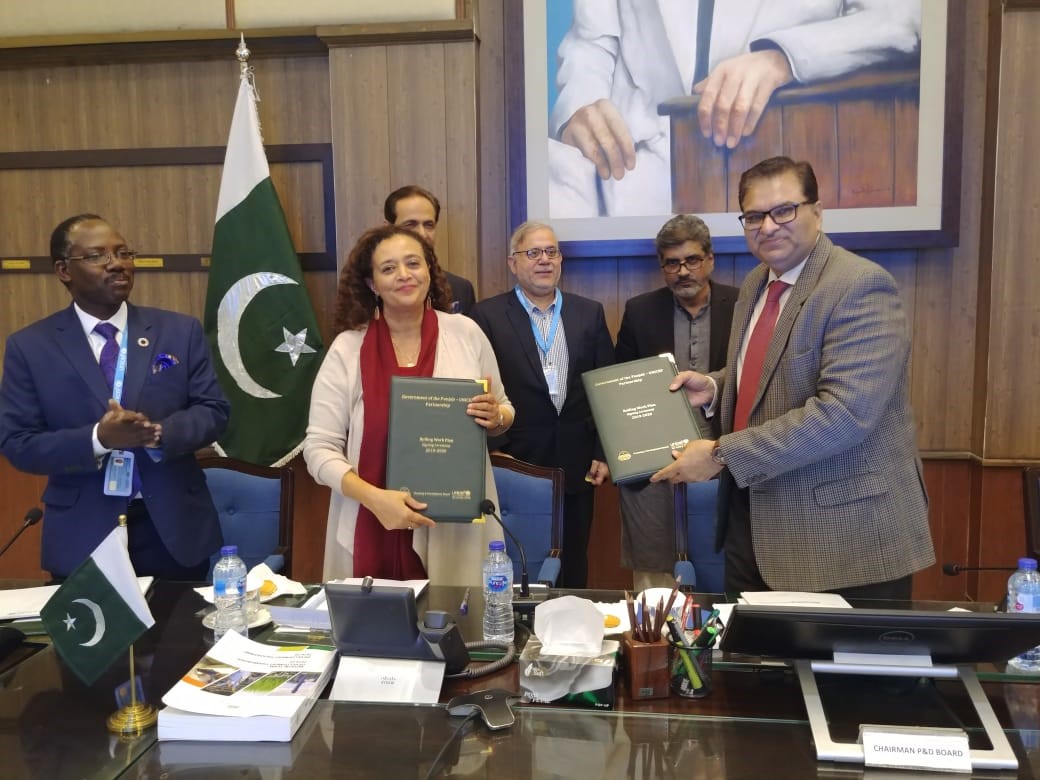 LAHORE– The Planning and Development Board Punjab under the chairmanship of Chairman P&D Hamed Yaqoob Sheikh Thursday hosted the signing ceremony for United Nations Children's Fund (UNICEF)'s Technical Cooperation Agreement 2020 with the Punjab government.
Chairman Planning and Development Board Hamed Yaqoob Sheikh, Senior Country representative Aida Girma, Member Health / Nutrition and Population Dr. Sohail Saqlain, Secretary Labour & Human Resource Department Sarah Aslam, Senior Chief (ECA) P&D Rana Azhar and relevant administrative departments representatives also attended the Ceremony.
There was high-level participation of key stakeholders and dignitaries of various departments of GoPb, representing sectors like Health, Nutrition, Education, WASH, Child Protection, Social Policy, and Planning, Monitoring, Evaluation and Reporting.
Chairman Planning and Development Board thursday signed the Agreement on the behalf of Punjab Government and Aida Girma Country Representative UNICEF on behalf of UNICEF in P&D Complex, Lahore. Hamed Yaqoob Sheikh, Chairman P&D, while addressing the ceremony, Government of Punjab considers human development very close to its development agenda and considers support of all development partners, including UNICEF crucial to meeting the goals of development.
He further added that sectoral plans will be aligned with the targets of the Punjab Growth Strategy 2023 and technical support from development partners like UNICEF will be instrumental.
He also appreciated Partnership with UNICEF in the areas of development of strategies, policies, sectoral plans, systems strengthening, and social behavior change communication.
Addressing the occasion, Aida Girma Country Representative UNICEF Pakistan reiterated UNICEF's commitment to partnering with the Government of Punjab to improve child survival and nutrition, access to quality education, safe water and sanitation and to enhance the protection of children from all forms of violence, exploitation and abuse.
She mentioned that UNICEF Pakistan will continue to work closely with the Government of Punjab all social sectors departments;- for policies, legislation, strategies, sectoral plans, systems strengthening and communication for development for effective implementation of UNICEF as per Country Program Document and Technical Cooperation Agreement for 2020 and beyond.
She also reiterated the global innovative and tested program models will be used as yardstick in all thematic sectors including budgetary analysis, secondary analysis, program reviews to improve the quality of social sectors programs.— PRESS RELEASE