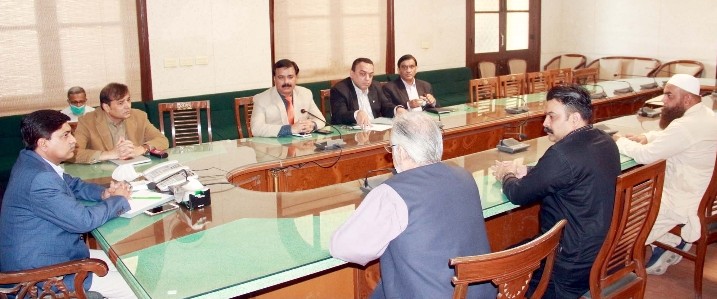 Partnership Between KMC and Business Community Should Improve To Make Karachi Attractive: Laiq
By Our Web Reporter
KARACHI–Administrator Karachi Laiq Ahmed has said that a partnership is being formed between KMC and the business community to improve the city. Economically, Karachi is an attractive city with vast potential for development, only the basics.
He said that the beauty of the city would be enhanced if the business community made their markets and shops beautiful and attractive.
He expressed these views while talking to a delegation of All Karachi Traders Union headed by Chairman Atiq Mir. The delegation called on the administrator at his office in Karachi. The delegation included presidents and other representatives of Aram Bagh, Cloth Market, Allahwala Market, Jamia Cloth Market, Karachi Admin Society, Sarafa Market, and other markets, while senior director anti-encroachment Bashir Siddiqui. Director State Imran Siddiqui, Director Media Management Ali Hassan Sajid, and other officials were also present on the occasion.
Chairman All Karachi Traders Union Atiq Mir congratulated Administrator Karachi Laiq Ahmed on assuming responsibilities in Karachi Metropolitan Municipality and the infrastructure in the city. Improvement measures.
Appreciating that the business community will fully support KMC in these works, he said that there are problems due to encroachments and stones in the markets while parking of vehicles in densely populated areas is also becoming difficult. Should be addressed on a priority basis, especially before the start of Ramadan.
A suitable place can be set aside for rocks and carts so that their employees can continue, said Administrator Karachi Laiq Ahmed. This will be considered as the whole family is involved in the employment of one individual, he said, adding that KMC is eliminating the shops that have been set up in the markets incorrectly and a system is being devised to reduce the rent of shops. Instead of going to someone else's pocket, he met the KMC.
He directed the Director of State to take steps to relocate the victims of the demolished shops who were KMC tenants in the direction of the Supreme Court.
Assuring the city wardens to provide traffic management around the two sides, he said that the market associations should state how many wardens they need to manage it, adding that the Civil Hospital on MA Jinnah Road The drain passing through the front will be repaired and repaired to make the sidewalk safe and clean, the Karachi administrator told the traders.
"Make sure to place at least one flower pot in front of the building to give a pleasant impression to the citizens, he said, adding that the recent Marie Gold Festival was a great success and it proves that if done in good faith. So it is possible to improve the city".
He thanked the representatives of various markets for their help and cooperation and said that whenever and wherever needed, business representatives would be contacted and their solutions to regional issues would be sought. Suggestions will be considered immediately.