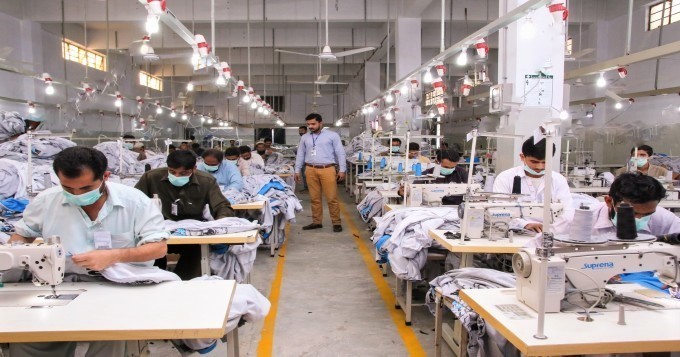 Pakistan's Knitwear Export Grows Despite Dull Textile Performance
Knitted garments post highest export share of $2.39bn in 10 months of FY19
LAHORE– Posting highest export share, Pakistan's knitwear apparel textile has shown a significant growth amidst poor performance of whole textile chain and overall declining exports.
Knitted garments' export during first 10 months of financial year 2018-19 has registered an increase of 8.76 percent to $ 2.39 billion against $ 2.20 billion of the same period of last year.
According to the latest data of Federal Bureau of Statistics, during the period under review, the export of woven garments was $ 2.18 billion showing an increase of 3.21 percent over the corresponding period last year.
On the other hand, the whole textile group was on decline with exports of $11.13 billion, 0.02 percent less than the exports of last year's corresponding period. Similarly Pakistan's total exports have reported a downfall of 0.11% against the export of the same period last year.
Pakistan Hosiery Manufacturers Association (PHMA) Chairman Adil Butt observed that by showing comparatively well performance the value-added textile category has proved that it has been the main driver of growth in the country's overall exports.
He said the value-added sector achieved growth because of preferential access to the 28-nation European Union under the GSP+ scheme which can further be enhanced with the government's support.
He said that Pakistan direly needed to establish an Aggressive Marketing Plan for garment export to get maximum benefits of GSP-Plus status.
He said that apparel sector can play leading role in earning foreign exchange and boosting exports. He suggested the government to establish a taskforce, especially at a time when Chinese garment industry, which has more than 30 percent share of world apparel market, is relocating.
He added that a regional taskforce needed to be established to determine issues being confronted by the industry and then to suggest measures to ensure its viability and competitiveness in the international market.
Adil Butt observed that the garment industry is less capital intensive, provides 4 times as many jobs for the same investment, uses less energy and adds more value. Bangladesh's knitwear share stands at $15.18 billion, which is 50 percent of their total textile exports of $30.61 billion. Knitwear sector provides millions of workers with jobs including poor females, who work on stitching machines like garment stitching unit.
"We should pinpoint what Bangladesh is doing to achieve this so it can be adopted here in Pakistan to achieve a level-playing field and attract new business opportunities.
He concerned that Pakistan is the largest producer of cotton regionally, but its garment exports are lagging behind.
"The taskforce will recommend solid steps to enhance textile investment, increase garment export and generate job opportunities in the country.
Textile exports are about 60 percent of total nation's export. Pakistan's textile export share in global market is about 2 percent, he said and added, knitwear industry is playing a vital role in value addition of textile sector.
There is a great potential of further development in this industry as there is substantial value addition in the form of knitwear apparel, sportswear, socks, gloves etc.
This sector has an export potential, despite remaining under pressure from its competitors mainly Bangladesh, India and the Far Eastern nations.
He added that knitwear sector, being the largest foreign exchange earner as well the largest contributor in the textile and total export of the country, demands deserving attention of the government to diversify knitwear products to bring more innovations and incentives to boost its exports," he added.
He asked the government to relax the import policy to allow the value added textile industry to get the maximum benefit of the GSP Plus scheme, as the country has no raw material, except for cotton.
Producing garments of generation III and IV is still a major challenge, as we are currently making just generation I or II garments, mainly because of the lack of raw material on account of high taxes on import, he said.
He claimed the government's restrictive import policies are blocking their access to new raw materials, which they require to diversify their product lines to take full advantage of the duty-free access under the EU's Generalized Scheme of Preferences Plus scheme.–PRESS RELEASE