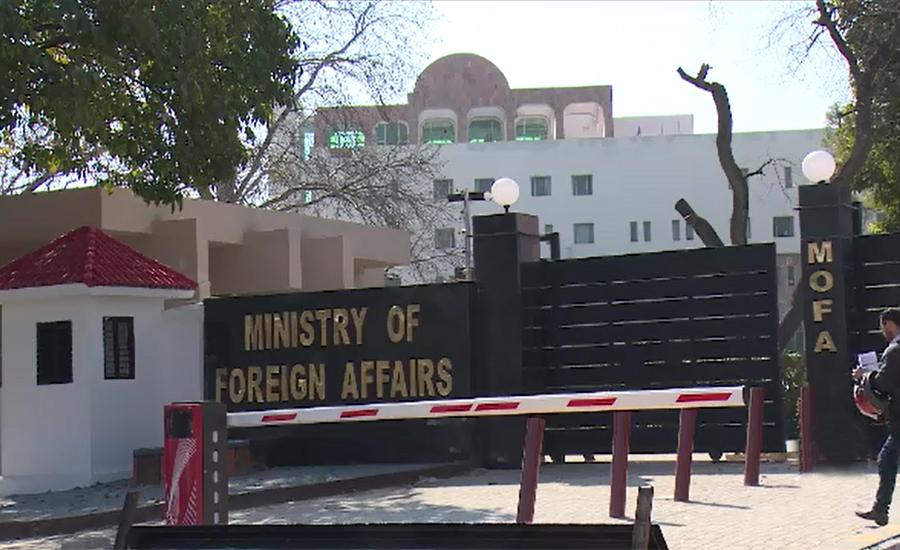 Pakistan's FO Summons Indian Deputy HC Over Baseless Allegations Linking Pulwama Attack
LAHORE MIRROR (Monitoring Desk)– Indian Deputy High Commissioner To Pakistan Gaurav Ahluwalia was summoned by Foreign Office on Friday to record strong protest over baseless allegations India leveled against Pakistan in the aftermath of Pulwama suicide attack in the Occupied Kashmir.
The foreign office has categorically rejected unproven India's allegations over Pakistan.
Ahluwalia was also handed over a demarche which strongly rejected any insinuation by elements in Indian government and media circles that seek to link the attack to State of Pakistan without investigations.
"Jaish-e-Muhammad is a banned outfit and has no links with Pakistan whereas their members were present in the area occupied by India," it added.
Indian High Commissioner Ajay Basaria also left Islamabad after being called back by India.
Earlier, Indian Foreign Secretary Vijay Gokhale also summoned Pakistani High Commissioner Sohail Mahmood and lodged diplomatic protest over the incident. The Indian government has blamed Pakistan for Pulwama attack and threatened to isolate it at international level. Indian Prime Minister Narendra Modi said those behind the terror attack would pay a "very heavy price" and had made a "huge mistake".
Union Minister Arun Jaitley said they will take all possible diplomatic steps to ensure "complete isolation" of Pakistan and has withdrawn 'Most Favoured Nation' status to the country.
At least 44 Indian paramilitary soldiers were killed on Thursday in Indian-occupied Kashmir in one the deadliest attacks. The attack saw explosives packed inside a van rip through buses in a convoy of 78 vehicles carrying some 2,500 members of the paramilitary Central Reserve Police Force (CRPF).
Two blue buses carrying around 35 people each bore the brunt of the massive blast, heard miles away, around 20 kilometres (12 miles) from the city of Srinagar on the main highway to Jammu.
Kashmir has been divided between India and Pakistan since independence. The Kashmiris have been fighting for an independent Kashmir, or a merger with Pakistan, for 30 years.
The year 2018 remained the deadliest in a decade as civil rights groups put the death toll of Kashmiri people up to 600, most of them civilians.  Thousands of others became the victim to pellet-firing shotguns used by Indian forces.
SOURCE: DUNYA NEWS