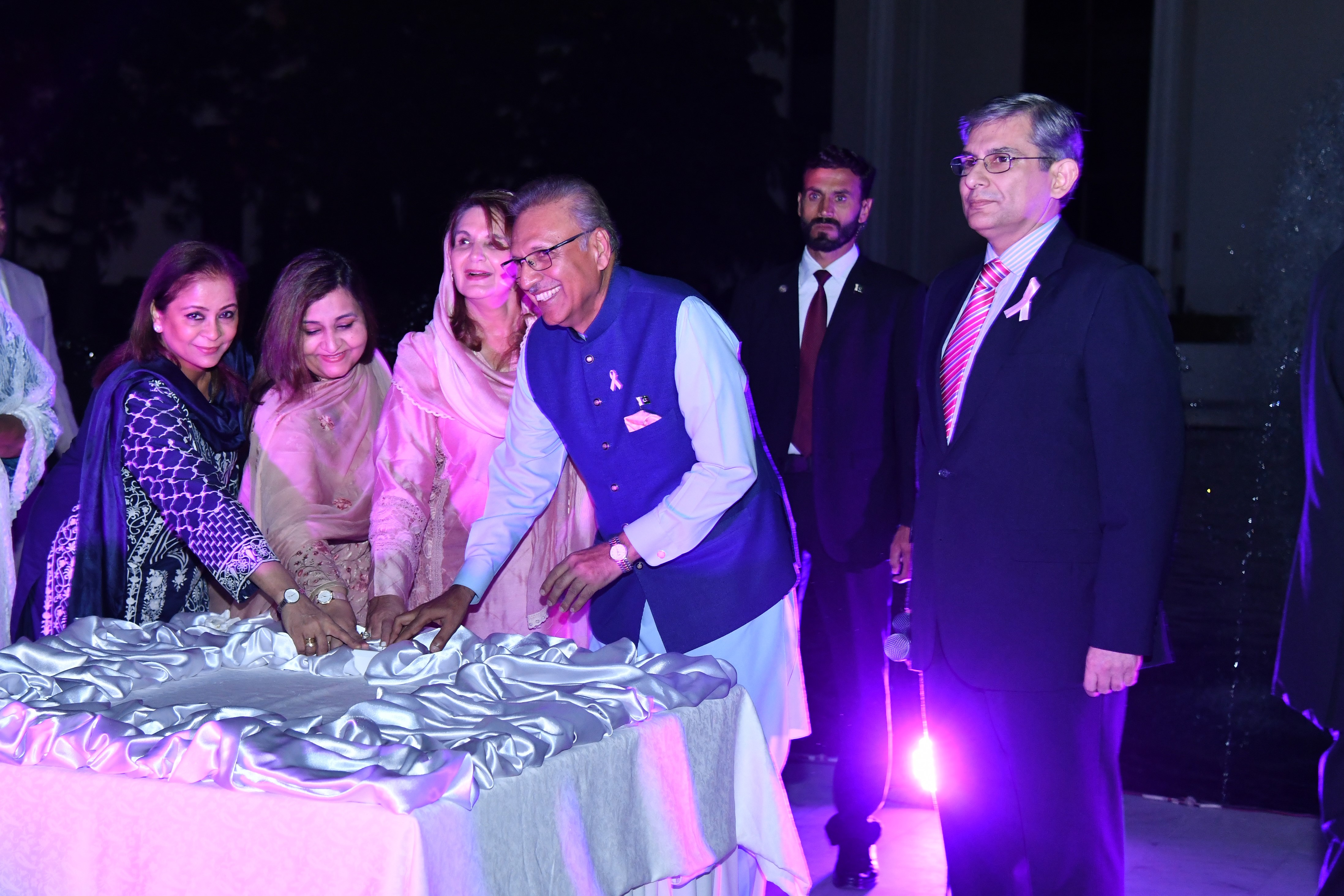 Pakistan's Capital Goes Pink in Support of Pink Ribbon
ISLAMABAD– Pink Ribbon Pakistan and the President House have created history by illuminating all the landmark buildings of Constitution avenue Islamabad.
The mega event was held in the capital city of Pakistan where all the government buildings went pink to raise the awareness of breast cancer. The event was arranged by the President House, Ministry of National Health Services and Pink Ribbon jointly.
This PINKtober Government of Pakistan and the ministry of health is playing an active role to raise awareness on this widespread issue of breast cancer.
Before the illumination, an event was organized in the President House for raising awareness on Breast Cancer.
President Dr Arif Alvi and the First Lady are showing special interest in this widespread issue. The president acknowledged the efforts of Pink Ribbon Pakistan in raising awareness and throwing light on this weighty issue.
While talking to the media he expressed his views over this extremely critical health issue of the Pakistani women and showed concern for more than 10.2 million Pakistani women with a high risk of breast cancer.
He offered his support to the Pink Ribbon for this life-saving cause and announced that the Government will do every possible thing to eradicate this fatal disease and reduce the resultant female mortality.
Samina Alvi the first lady was also present in the event. She said that the problem of breast cancer is alarming and creating awareness about it is a need of the hour. She urged women to use hygienic food and change their lifestyle for the prevention of breast cancer.
CEO Pink Ribbon Mr. Omer Aftab extended his gratitude to the President of the Islamic Republic of Pakistan, Dr. Arif Alvi and first lady for extending their invaluable support for the cause of breast cancer through organizing the national launch ceremony from the President House.
Talking to the media he said "this initiative will create noise at a massive level which is much needed at this critical time.
Since the gravity of the issue of breast cancer is growing at an alarming rate, events of similar magnitude are needed to create awareness in the society. He vowed to continue his struggle to eradicate breast cancer incidence from Pakistan. It is indeed an honour for us to illuminating the most important buildings in Pakistan at once.  He added
He said with the support of the Government of Pakistan, President House, and other organizations we are committed to spreading its outreach in the society.— PRESS RELEASE