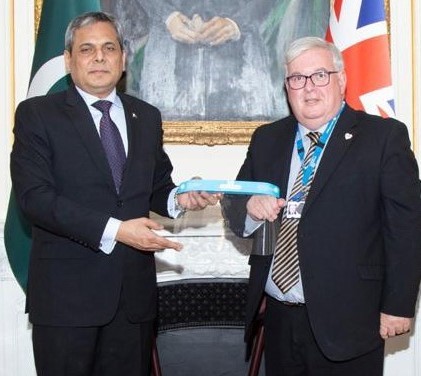 LONDON– Pakistan will help contain coronovirus and fatalities effectively as it has successfully developed a niche in foreign markets with better products to meet ever increasing global demand of personal protection equipment (PPE) of international standard especially in United Kingdom.
According to a message received on last Friday from London it was stated by Pakistan High Commissioner Muhammad Nafees Zakria while talking to a high level delegation led by Neil Carr ,Chief Executive , Midlands Partnership NHS Foundation Trust at high commission. Briefing the delegation, he said Pakistan's well developed textile sector came handy in this regard.
He said country is now producing better quality masks including N95 masks,gloves,goggles,SPEL face shields (visor),gowns,shoe cover,hand sanitizers,contactless thermometers and hospital bed sheets of international quality for export. Pakistani products including export quality ventilators and EU certified CE SPEL face shields were shared with potential buyers in the UK.
Neil Carr thanked the High Commissioner for his efforts to promote bilateral cooperation and assured better result oriented working relationship between Trust and Pakistan health sector. Carr was optimistic for more expertise sharing at the institutional level in future for the mutual benefits of the two countries.
Julian Hamilton Barans, Chairman Pak Britan Business Council breifly speaking on the occasion said there is a vast scope of increasing PPE category exports of Pakistan to the world particularly to the UK.
Founder Chairman Pak US Business Council Iftikhar Ali Malik recipient of this message appreciated the sincere endeavours of the Pak High Commissioner for promoting and introducing pak products and hoped that his contributions will yield lejapositive result and help boost pak exports which promise better liasion with the private sector of both countries.
Earlier two sides discussed the situation arising from pandemic covid 19 and further collaboration between the health sectors of either countries.Muhammad Nafees Zakaria welcomed the ongoing cooperation of the trust with Pakistan health sector particularly continued collaboration with the medical corps of the
Pakistan armed forces .While concluding he said in order to address global challenge close cooperation is dire need of the hour.He said pandemic could be controlled with better management like Pakistan.
Later the High Commissioner on this occasion gifted SPEL face shields to all members of delegation and also served them with delicious mangoes.— PRESS RELEASE