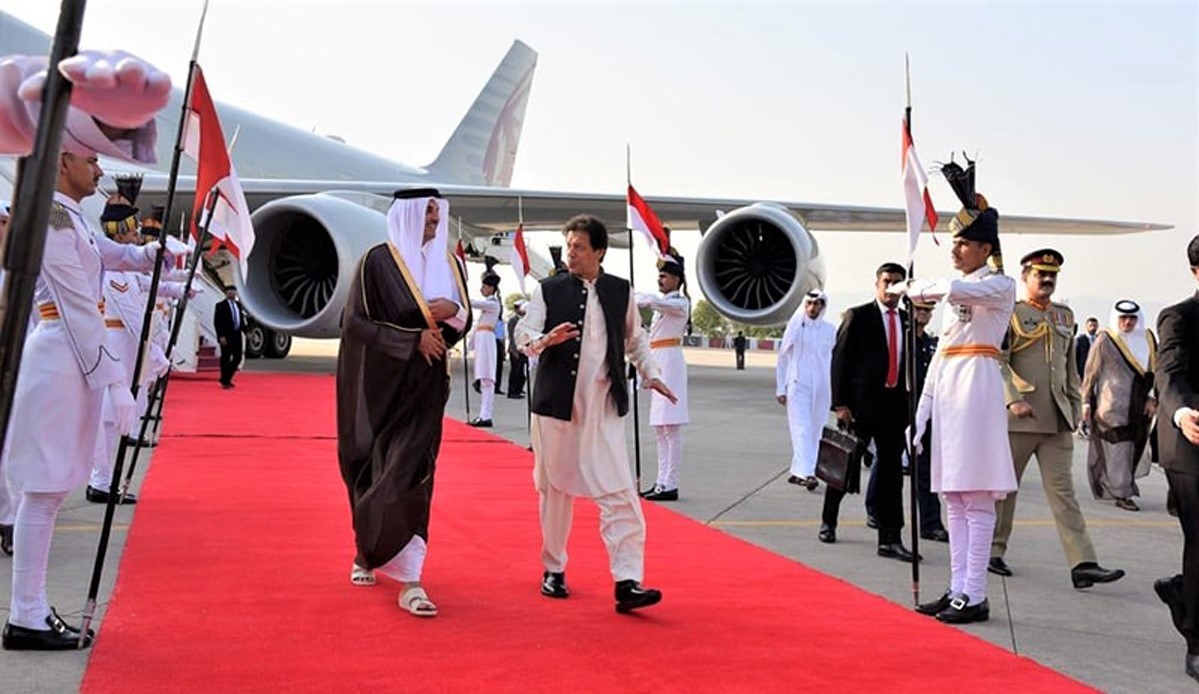 Pakistan, Qatar Ink MoUs To Further Cement Cooperation In Trade, Investment
ISLAMABAD– Pakistan and Qatar Saturday signed three different memorandums of understanding (MOUs) to further enhance the mutual cooperation in areas of trade, business, tourism and investment.
Prime Minister Imran Khan and Amir of the State of Qatar Sheikh Tamim bin Hamad Al Thani witnessed the signing ceremony held here at the Prime Minister House.
The memorandum of understanding on the establishment of Pakistan and Qatar Joint Working Group (JWG) on trade and investment was signed by Finance Minister of State of Qatar Ali Shareef Al Emadi and Advisor on Commerce Abdul Razak Dawood.
Secretary General of Qatar National Tourism Council Akbar Al Baker and Minister for Inter-Provincial Coordination (IPC) Dr Fehmida Mirza signed the MoU for cooperation in the field of tourism and business events between Qatar and Pakistan.
Another MoU on the establishment of cooperation in the field of exchange of financial intelligence related to money laundering associated predicate offences and terrorism financing between the Financial Information Unit of State of Qatar and the Financial Monitoring Unit of the Government of Pakistan was signed by Sheikh Ahmed bin Eid Al Thani, Head of Qatar Financial Information Unit and Muneer Ahmad Acting Director General Financial Monitoring Unit.
Qatari Amir given guard of honor at PM House
Amir of the State of Qatar Sheikh Tamim bin Hamad Al Thani Saturday was accorded warm welcome at
a formal reception held here at the prime minister's house.
On his arrival at the PM house, the prime minister received the guest arrived here earlier on a two-day visit on the former's invitation.
Prime Minister Imran Khan and Qatari Amir Sheikh Tamim bin Hamad Al Thani warmy shook hands.
The Amir of Qatar reviewed the guard of honor presentedby the smartly turned out tri-services guard. The national anthems of the two countries were played.
Later, the two leaders introduced their delegations to each other before proceeding for one-on-one meeting.
Two formations of JF-17 Thunder aircraft presented the aerial salute to the foreign dignitary in a spectacular fly past.
Banquet hosted in Amir's honour
Prime Minister Imran Khan hosted a banquet in honor of Amir of the State of Qatar Sheikh Tamim
bin Hamad Al Thani and his delegation on Saturday evening at Prime Minister's House.
The reception was attended by the members of the federal cabinet, Chairman Senate Sadiq Sanjrani, Speaker National Assembly Asad Qaiser, Chief of Air Staff Air Chief Marshal Mujahid Anwar Khan and Naval Chief Admiral Zafar Mahmood Abbasi.
The Amir of Qatar is visiting Pakistan on the invitation of Prime Minister Imran Khan.
A high level delegation comprising key ministers and senior officials are accompanying the Amir of Qatar.
SOURCE: APP