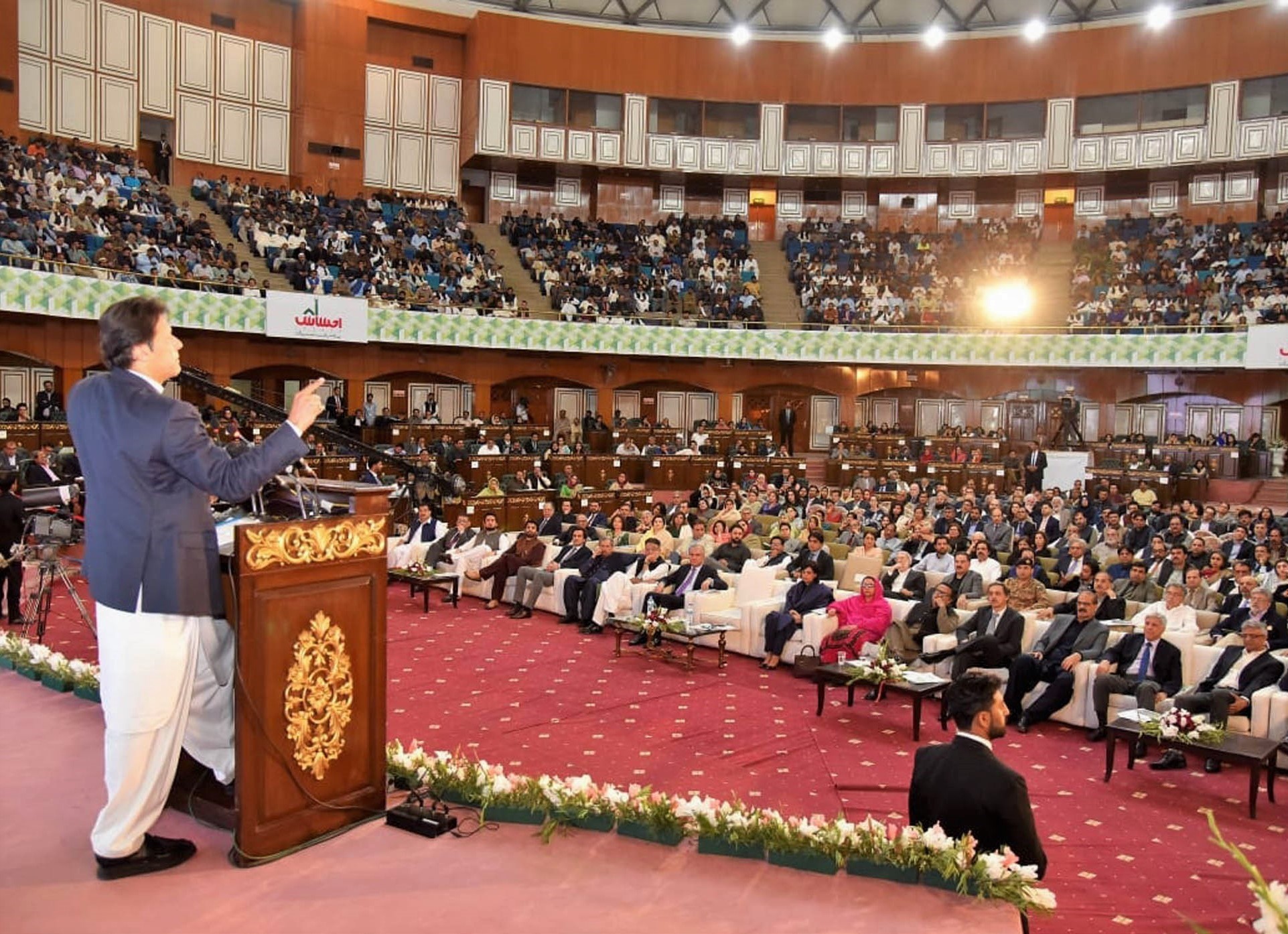 Pakistan: PM Imran Launches Rs80 Billion Poverty Alleviation Programme 'Ehsas'
The programme will protect vulnerable segments of society
ISLAMABAD– Prime Minister Imran Khan Wednesday launched a Rs80 billion comprehensive poverty alleviation programme "Ehsas", aimed to help the downtrodden and vulnerable segments of the society, including the poor, orphans, widows, homeless, disabled, undernourished, jobless etc.
Unveiling the salient features the poverty alleviation programme here, he said the government would allocate an additional amount of Rs80 bn in the country's social protection spending in backward areas from the current year, which would be raised to Rs120 bn in 2021.
The Prime Minister also announced the establishment a new Ministry of Social Protection/Poverty Alleviation to address the current fragmentation. Various institutions likes the BISP, PBM, Zakat, PPAF etc would be working under that ministry, which would develop a one-window operation for social protection of the poor and to facilitate citizens, he added.
He said the government would introduce a new constitutional amendment to move Article 38(d) from the "Principles of Policy" section into the "Fundamental Rights" section.
The change would make provision of food, clothing, housing, education and medical relief for the citizens, who could not earn a livelihood due to infirmity, sickness or unemployment, a state responsibility, the Prime Minister said and described it first step towards the creation of a welfare state.
Khan while realizing that 25% to 40% of people in Pakistan were suffering from poverty, the government wanted targeted subsidies, adding, the government would have a new survey of poverty to be completed by December this year.
He said the government was also launching a new program "Kafalat" under the Benazir Income Support Program (BISP), adding, the new program would have fives pillars.
The prime minister said under the new program which was aimed at economic empowerment of women, 5.7 million women would be given savings accounts under the "one woman one bank account plan".
He said 500 BISP and Pakistan Bait ul Mal (PBM) offices would be transformed into digital hubs where the government's IT, technology and innovation resources would be pooled.
The government's digital resources, such as access to the labor information system, online curricula, and one window social protection interface would be accessible and create opportunities for BISP families to graduate out of poverty, he added.
The prime minister said the government would not just give money to the poor but link it with health, and nutrition-related assistance, which would help address stunting of children.
He said, under Kifalat, the government would raise the current cash transfer of Rs5,000 to Rs.5,500.
He said the government was launching a precision safety net, called "Tahafaz" to protect individuals from catastrophic risks—a transparent and trackable digital system of cash transfers through which the government would give legal aid, education grants and health assistance to those without Insaf card entitlements.
He said the government also had plans to graduate BISP beneficiaries out of poverty for the most backward districts, adding, a program for asset transfers worth Rs5 billion in five districts had additionally been launched through Kifalat.
The prime minister said the government would use the social mobilization skills of the rural support programs and their network of community organizations for this purpose.
In Tahafaz, he said, the government would provide assistance to poor widows who had no source of income and no earning children.
To help the most marginalized segments of the society, he said, his government would partner with organizations that support street children, seasonal migrants, transgender, victims of child and bonded labor and daily wage workers who do not find daily work.
He said, in order to provide a secure future for the orphans, the PBM would expand its network of Ehsas homes for children to provide decent living, food, education and health facilities to 10,000 children in four years.
The prime minister said the government would also help upscale reputed private institutions for orphans, so that the government could fulfill its objectives of serving the poor.
He said the government had already committed to launching the Insaf Insurance Card in 38 districts for 3.3 million people over a four-year period and had committed Rs33 billion for this.
In addition, he said, through "Tahafaz" the government would cater to additional needs of those requiring financial access to treatment.
The government would make sure every poor and deserving person approaching public hospitals had access to treatment and surgery, he added.
Prime Minister Khan said as the stunted growth was linked with malnutrition and poor sanitation, he had directed that de-worming drugs, iron folic acid and micro nutrient supplements of quality should be made available at all government hospitals and BHUs (Basic Health Units). Awareness about breast-feeding should also be created in rural areas, he added.
He referred to a survey and tests of unpacked milk conducted in a city and said it showed 75% adulteration. The government would launch a pilot programme to ensure the availability of pure milk initially in Islamabad and Lahore, he added.
The Prime Minister said with an aim to help poor village women to earn their livelihood, the government would provide them with buffaloes, cows, goats and hens. It was a worldwide tried and test method of poverty alleviation, he added.
He said asset transfer of goats could be both income-generating as well as nutrition boosting.Similarly, he said a kitchen gardening initiative would also be introduced where subsidized certified seed and seedlings would be promoted both through the entrepreneurial model as well as CSR (Corporate Social Responsibility).
The Prime Minister besides urging the edible oil companies to give seed packets along with oil cans, also directed the Utility Stores to do likewise, as such small things used to make difference.
He regretted that during the last ten years of democracy the country's debt swelled to Rs30,000 bn from Rs 6,000 billion, saying Rs6 bn was spent per day as interest of those loans.
SOURCE: APP