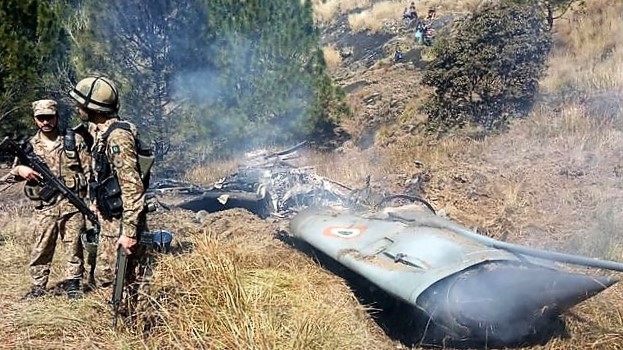 Pakistan Is Ready For Dialogue With India, Had No Choice But To Retaliate: PM Imran Khan
Air Force has shot down two Indian fighter jets; one pilot captured alive: ISPR
LAHORE MIRROR REPORT– Asking its eastern neighbour India to exhibit prudence and sanity, Prime Minister Imran Khan has said Pakistan and India could not afford any miscalculation and dialogue was the only option to address their issues.

"I ask India that with same weapon power, can we afford any miscalculation? We cannot, neither I, nor Prime Minister Modi," Imran said in his address to the nation hours after the Pakistan Air Force
shot down two MiG-21 aircraft of the Indian Air Force.
The premier after taking the nation into confidence over PAF's operation invited India for dialogue and repeated Pakistan's wish for lasting peace in the region.
"I had warned you (India) that if you opt for aggression, we will have no choice but to retaliate, I warned you don't become the judge, the jury and the executioner. We didn't take any action against you yesterday because we didn't know how much damage had been done in Pakistan . Any action without such knowledge would have been irresponsible," said PM Imran.
He added that PAF chose their targets wisely as Pakistan didn't wish collateral damage or to harm any civilian.
The premier again invited India for dialogue by saying that Pakistan also feels the pain of February 14 Pulwama attack victims but peace remains the only way to heal their wounds.
He urged the Indian side to think and answer, keeping in view that both sides are nuclear-armed, if Pakistan and India can afford miscalculation if they go for a war.
A while ago, PM Khan concluded the meeting of National Command Authority (NCA) — which supervises the operational command and control of nuclear warheads. The meeting was attended by the Chairman Joint Chiefs of Staff Committee (CJCSC), the services chiefs and other officials to discuss the recent security situation.
How Pakistan responded to India's violation of LoC ?
Addressing media earlier today, Director General Inter-Services Public Relations (ISPR) Major General Asif Ghafoor explained the ongoing activity at the Line of Control (LoC) and shared, "PAF engaged six targets across LoC from within Pakistani airspace."
Pakistan's armed forces have capability, resolve and nation's support. But, since "we are a responsible state and we want peace, therefore, we first decided not to attack any military targets."
"Secondly, we decided that there be no loss of life or collateral damage in our engaging of targets," he added. "Our planes locked targets, then in open air, we carried out strikes," he continued.
"We locked all targets with accuracy, and when we had option to fire, we acted responsibly from a safe distance. We have capability to do anything, but we don't want escalation. We don't want to go towards war," the DG asserted.
"After PAF decided on targets, two Indian jets entered Pakistani airspace and the PAF faced them. The two planes were shot down — one fell in our space and the other on their side. Two pilots were arrested — one of them was injured and has been taken to CMH and will be given proper care. Another is in our custody."
Refuting Indian media reports that a Pakistani F-16 jet was shot down in the eastern neighbour, DG ISPR clarified, "Pakistan did not use F-16 in any activity today."
No intention for escalation: Foreign Office The Foreign Office (FO) on Wednesday said Pakistan had no intention of escalation, but was all ready to do so if forced into that paradigm, ARY News reported.
"We have no intention of escalation, but are fully prepared to do so if forced into that paradigm. That is why we undertook the action with clear warning and in broad daylight," said the FO in a statement.
China urges dialogue to defuse rising tensions 
China has called on Pakistan and India to exercise restraint and seek dialogue, to defuse rising border tensions.
"What we are concerned about is that India and Pakistan, as important countries of the South Asian subcontinent, can maintain good neighbourly and friendly relations," foreign ministry spokesman Lu Kang said at a regular press briefing.
Detained Indian pilot thanks Pakistan Army for dignified treatment
Wing Commander of Indian Air Force, Abhinandan, captured by Pakistan Air Force (PAF) has thanked the Pakistan Army and armed forces personnel for their hospitality and treating him with respect, ARY News reported Wednesday.
In a video footage, Abhinandan can be seen sharing his views and thanking the Pakistan armed forces for saving his life from the mob at crash site. The PAF had shot down two Indian jets after they intruded into Pakistan's airspace – Abhinandan, the Wing Commander of Indian Air Force, was detained while another was moved to hospital for treatment.
Parliamentary leaders briefed on Indian aggression, Pakistan's response
Foreign Minister Shah Mehmood Qureshi and military spokesman Maj Gen Asif Ghafoor gave an in-camera briefing to parliamentary leaders on Indian aggression and Pakistan's response to it.
The briefing, held at the Parliament House in Islamabad, also had Chief of Army Staff (COAS) General Qamar Javed Bajwa in presence.
Opposition Leader in National Assembly Shehbaz Sharif and Pakistan Peoples Party co-chairman Asif Ali Zardari attended the session along with party delegations.
Pakistan Muslim League-Nawaz (PML-N) delegation included Shahid Khaqan Abbasi, Khawaja Asif, Ahsan Iqbal, Raja Zafarul Haq, Mushahidullah Khan, Ayaz Sadiq, Rana Sanaullah and Marriyum Aurangzeb.
Flight operations partially restored
Flight operations in Pakistan were partially restored on Wednesday evening, the Civil Aviation Authority (CAA) said, after they were suspended in the wake of escalating border tensions between Pakistan and India.
The CAA said the Pakistani airspace has been restored partially, starting from Jinnah International Airport in Karachi. It said two flights, WY324 KHI MCT and EK601 KHI DXB, departed after the partial restoration of flight operations.