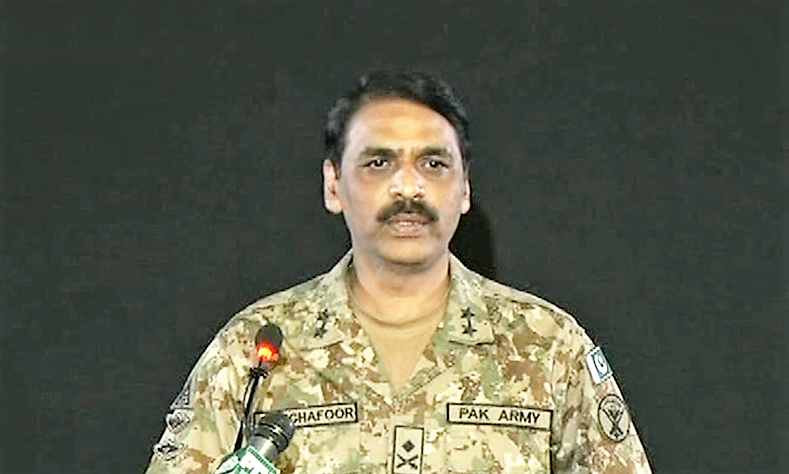 Pakistan Army's Spokesperson Warns India To Be Ready For Different And Surprised Response
LAHORE MIRROR REPORT–  Pakistan Army's central spokesman Maj General Asif Ghafoor has denounced the Indian claim that its fighter jets remained present inside the Pakistani airspace for 21 minutes during their Line of Control breach today. 
"Almighty Allah is all powerful. Let India come and stay in Pakistani airspace for 21 minutes. We will see what will happen next," Mr Ghafoor affirmed while speaking to media in Rawalpindi. 
The director general of Inter-Services Public Relations said Pakistan forces repulsed the four to five nautical miles breach of the Indian Airforce.
"Not even a single brick or debris is present there. They are claiming 350 deaths. Had there been 10 casualties, there would be blood, funeral prayers, injuries," the spokesperson said.
"We will respond differently and we will surprise you (India)," warns the Pakistan Army spokesperson.
The army spokesperson said the Indian forces flew away after dropping four bombs inside Pakistan's territorial space.
"The Indian forces wanted to target the civilian areas," he said.
In an earlier tweet, DG ISPR said Indian military aircraft violated the LoC as they "intruded" from the Muzaffarabad sector and were forced to return owing to the timely response of the Pakistan Air Force.
"Indian aircraft intrusion across LoC in Muzafarabad Sector within AJK was 3-4 miles. Under forced hasty withdrawal aircraft released payload which had free fall in open area. No infrastructure got hit, no casualties. Technical details and other important information to follow," Major General Ghafoor wrote on Twitter.
He also tweeted images of the "payload of hastily escaping Indian aircraft" which "fell in [the] open".