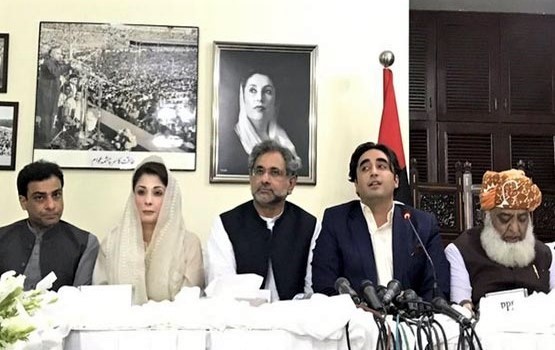 Opposition Parties Announce Anti-Govt Protest After Eidul Fitr
ISLAMABAD– The joint opposition in Pakistan on Sunday agreed to summon an All Paties Conference (APC) after Eidul Fitr to initiate a protest movement against the PTI's government. 
Speaking at a press conference in Islamabad after hosting an Iftar dinner, Pakistan Peoples' Party (PPP) chairman Bilawal Bhutto Zardari said a single party cannot resolve issues of the country.
He said all political parties have announced to hold protest movement against the government after Eidul Fitr, adding that protest would be lodged inside and outside the parliament.
Bilawal said that the opposition would devise a joint strategy regarding the protest movement in the all parties conference.
Jamiat Ulema-e-Islam-Fazl (JUI-F) chief Maulana Fazalur Rehman said, "I would like to thank Bilawal Bhutto Zardari and Asif Ali Zardari for inviting all opposition parties on the iftar dinner and providing an opportunity for everyone to sit together and devise a joint strategy over the issues."
He said that the date for the APC would be announced after Eidul Fitr.
Speaking on the occasion, PML-N leader Shahid Khaqan Abbasi said that Moulana Fazalur Rehman will summon a meeting of the all parties conference to devise a joint strategy against the government.
Earlier, the PPP chairman invited opposition leaders, including PML-N vice president Maryam Nawaz Sharif, to an Iftar dinner.
The opposition parties' meeting also includes delegations from Awami National Party (ANP) and Jamaat-e-Islami. Pakistan Muslim League-Nawaz leaders Maryam Nawaz and Hamza Shehbaz are also attending the meeting.
Among other leaders attending the Iftar dinner are Aftab Sherpao, Liaquat Baloch, PTM leaders and Shah Awais Noorani.
Akhtar Mengal and Mahmood Khan Achazkzai have excused from attending the meeting due to prior personal commitments.
The opposition rejected the recent proposed hike in the prices of oil and gas.
The opposition leaders during a meeting also expressed their concerns over NAB actions what they claimed politically motivated.— LAHORE MIRROR REPORT