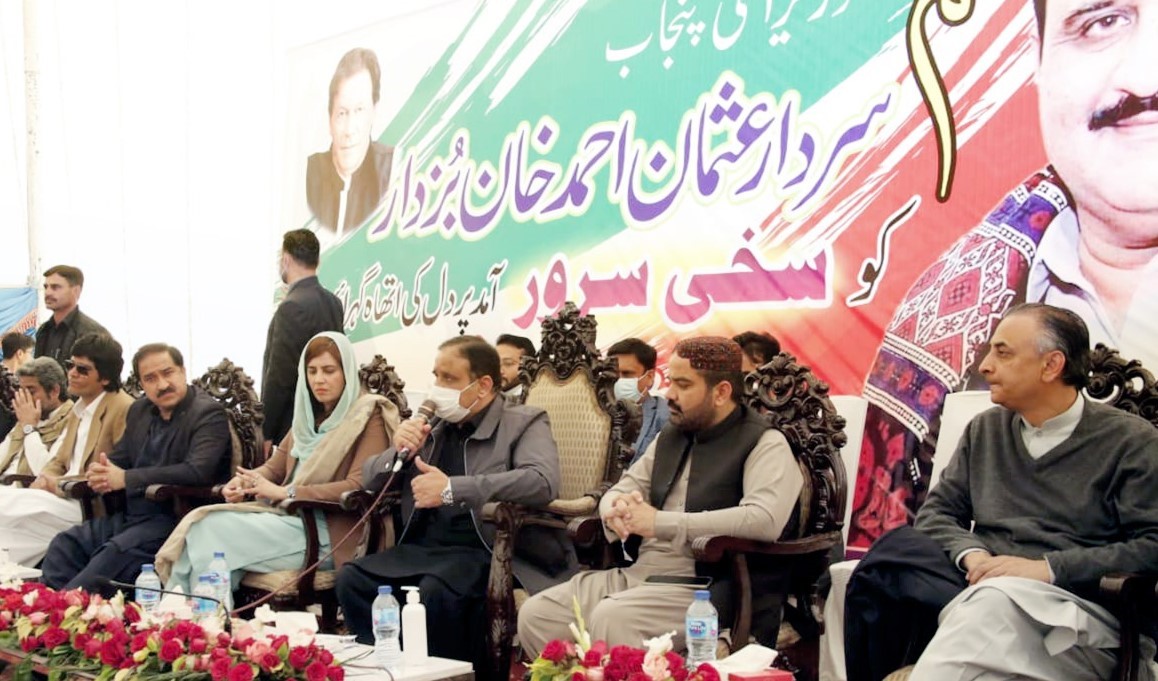 SAKHI SERWER– An agreement has been signed between NESPAK and Irrigation department for setting up small and intermediate dams in the Punjab. A special MoU signing ceremony was held in this regard in Sakhi Serwer DG Khan. Punjab Chief Minister Sardar Usman Buzdar was the chief guest of the ceremony. Head of Water and Agriculture NESPAK Tajmal Shah and Project director of Punjab Barrages Ijaz Kashif signed the MoU.
Under this agreement feasibility study will be conducted for the construction of intermediate and small dams on 13 hill torrents. State-of-the-art drone survey technique will be used in this regard. Construction of these dams will enhance the capacity to store maximum water after Mangla and Tarbela. Usman Buzdar, while addressing the function, said that the pilot project for the construction of the first dam will be started in the June of this year.
The construction of small and intermediate dams will irrigate more than 200,000 acres of land. Water of 13 Dara of DG Khan and Rajanpur will be stored besides minimizing the flood risks and losses. Initially, reservoirs will be set up at Hathimore, Jalebimore, Khar Monro and Thalang. Modern design will automatically reduce slit in water reservoirs.
Federal State Minister Zartaj Gul, Provincial Minister for Irrigation Sardar Mohsin Khan Leghari, Health Advisor Hanif Patafi, Chairman Punjab Land Record Authority Sardar Ahmad Ali Dareshk, Former District Nazim Sardar Abdul Qadir Khan Khosa and senior officials were also present on the occasion.
Zain and Bharthi visit
Punjab Chief Minister Sardar Usman Buzdar today visited Zain and Bharthi. He sat down on a rocky ground with locals. He also visited boarder military police station and Nadra Registration and land record center. He talked in Balochi language with the tribal people and inquired about the problems. Usman Buzdar said that the incumbent government working round the clock for the development of backward areas. Former government paid no attention.
He informed them about the various development projects being carried out in their areas. Later, Usman Buzdar reached Bharthi and visited boarder military police station. He talked with the officials in the police station and inquired about the problems.
Usman Buzdar also visited Nardra registration and land record centre and reviewed the facilities being provided there. He also visited tourist point in Bharthi and rescue 1122 centre. Usman Buzdar said that he is determined to bring backward areas at par with developed one.
Under construction Institute of Cardiology DG Khan visit
Punjab Chief Minister Sardar Usman Buzdar today visited the under construction Institute of Cardiology in DG Khan and inspected the construction works and expressed satisfaction over the progress made in this regard. The Chief Minister was briefed by the authorities on the progress of construction work. Usman Buzdar directed to further expedite the construction work and said that Institute of Cardiology is a gift for the people of DG Khan.
State-of-the-art medical treatment facilities will be provided in this institute. Quality and standard is being maintained in the construction work of the institute. There will be no compromise on the quality in public welfare projects, he warned. Usman Buzdar said that he himself will monitored the development projects and check the construction work.
This hospital will also provide treatment facilities to the people from Baluchistan and Sindh. He said that the Institute of Cardiology will be completed in time. He said that people in Southern Punjab were deprived from the quality medical treatment in the past. Former rulers increased the miseries of the people of Southern Punjab. Health Advisor Hanif Patafi, Chairman Land Records Authority MPA Sardar Ahmad Ali Dareshek and concerned officials were also present on the occasion.
Almonry at the shrine of Hazrat Syed Ahmad Sultan Sakhi Serwer inaugurated

Punjab Chief Minister Sardar Usman Buzdar has formally inaugurated the almonry at the shrine of Hazrat Syed Ahmad Sultan Sakhi Sarwar in Sakhi Sarwer DG Khan. Khawaja Jalaluddin Rumi President DG Khan Chamber of Commerce & Industry will not only cooperate in providing food in the almonry of shrine but help in arranging food to the needy and passenger in Wahwa and Fazla Kuch. The Chief Minister expressed satisfaction over the arrangements made in almonry.
He said that serving the devotees is a matter of pride for us. He said that the scope of almonries is being extended to other cities of Punjab as caring the poor is a great virtue. He further maintained that former rulers did nothing for the welfare of the deprived segment of the society. The poor and helpless people deserve attention of the society.
Feeding poor is a Sunnah and also in our traditions. Ensuring food and shelter to those who sleep on the roads, sidewalks and parks is the responsibility of the government. The government will not overlooked from its responsibility.
Federal State Minister Zartaj Gul, Advisor Hanif Patafi, MPA Sardar Ahmad Ali Dareshek, Commissioner DG Khan, Deputy Commissioner, RPO and other officials were also present on the occasion.
CM meets with legislators
Chief Minister Punjab Sardar Usman Buzdar during his daylong visit to Sakhi Serwer met with assembly members, PTI office bearers, workers, notable and other delegations. Chief Minister did Haal Ahwal with notables of tribe. Notable of the area apprised him about the problems, needs of Sakhi Sarwar and its surroundings and gave their suggestions.
The Chief Minister listened their suggestions and issued instructions to the concern authorities for their immediate redressal. Usman Buzdar addressed the dignitaries and notables in Balochi and Seraiki language and announced a special development package for Sakhi Sarwar. He said that the problems of the people of Sakhi Sarwar will be solved and their needs will be fulfilled.
He said that development package is being devised according to the needs of every district of Punjab. He Announced the funds of Rs. 125 crore has been released for preparing the feasibility report of constructing small and intermediate dams on 13 Dara. Under a phase-wise programme 4 Intermediate dams will be constructed in Koh-e-Suleman. Construction Work on the first dam will be started in June.
Sakhi Sarwar Hospital is being upgradated at a cost of Rs. 11 crore 70 lakh. All emergency services will be provided in the emergency ward. Recruitment in Border Military Police and Baloch Levies has been approved. New police stations will be set up in the area besides providing new vehicles to the police. He also announced to give relaxation as per rules for the youth of backward and tribe area for the recruitment in Punjab Police.
He also announced relaxation in educational qualifications for the recruitment of teachers of border area in local schools. Usman Buzdar said that one billion rupees would be spent on the completion of Cadet College Fort Monroe. He announced to turn Fort Monroe into a tourist resort and said that instructions have been issued to Tourism Development Corporation Punjab in this regard.
He also announced the construction, expansion and renovation of Darbar Sakhi Sarwar. Pannahgah and almonry at Darbar Sakhi Sarwar has been formally inaugurated. He said that all tribal areas connected with Ronghan to Sakhi Sarwar Road would be provided electricity. Power projects in the areas of Sakhi Serwer, Ronghan, Barthi and Koh-e-Suleman will be completed at a cost of Rs. 17 crore 70 lakh. The tribal areas will be connected to the border areas of Balochistan by roads.
A road from Sakhi Sarwar, Ronghan, Barthi and Taman Qaisrani to Balochistan will soon be started. He further disclosed that government is in touch with the federation for the construction of road from Beuwatay to Kharar Buzdar. Construction of road from Fort Monro to Kharar Buzdar will provide batter transport facilitate the people of the area.
Rescue 1122 Center to be set up in Sakhi Serwer at a cost of Rs. 4 crore besides providing 4 ambulances to transport patients to hospitals in Koh-e-Suleman area. Livestock mobile clinics and dispensaries will also be established for the remote areas of DG Khan. Usman Buzdar also announced to approve Rs. 5.5 crore for the water supply scheme for Fort Monro and said that every citizen of DG Khan including Sakhi Sarwar will be provided free of cost treatment facility under Universal Health Care Programme.
He said that PTI is the first government in Punjab which do not believe in political victimization. The incumbent government is focusing on the real development of the province. Usman Buzdar asserted that he will not allow anyone to exploite poor adding that he will solve peoples' problems. Serving every citizen of Punjab is his mission, he added.
Umsan Buzdar said that DG Khan and Koh-e-Suleman is his second home and he will continue to come here to meet people. The notables thanked the Chief Minister for constructing the Cadet College and hospital and said that Usman Buzdar  announcing to provide electricity in Tamman Laghari has won our hearts. Zartaj Gul, Advisor Hanif Patafi, MPA Sardar Ahmad Ali Dareshek, Additional Chief Secretary South Punjab, Commissioner DG Khan, Deputy Commissioner and other officials were also present on the occasion.— HANDOUT