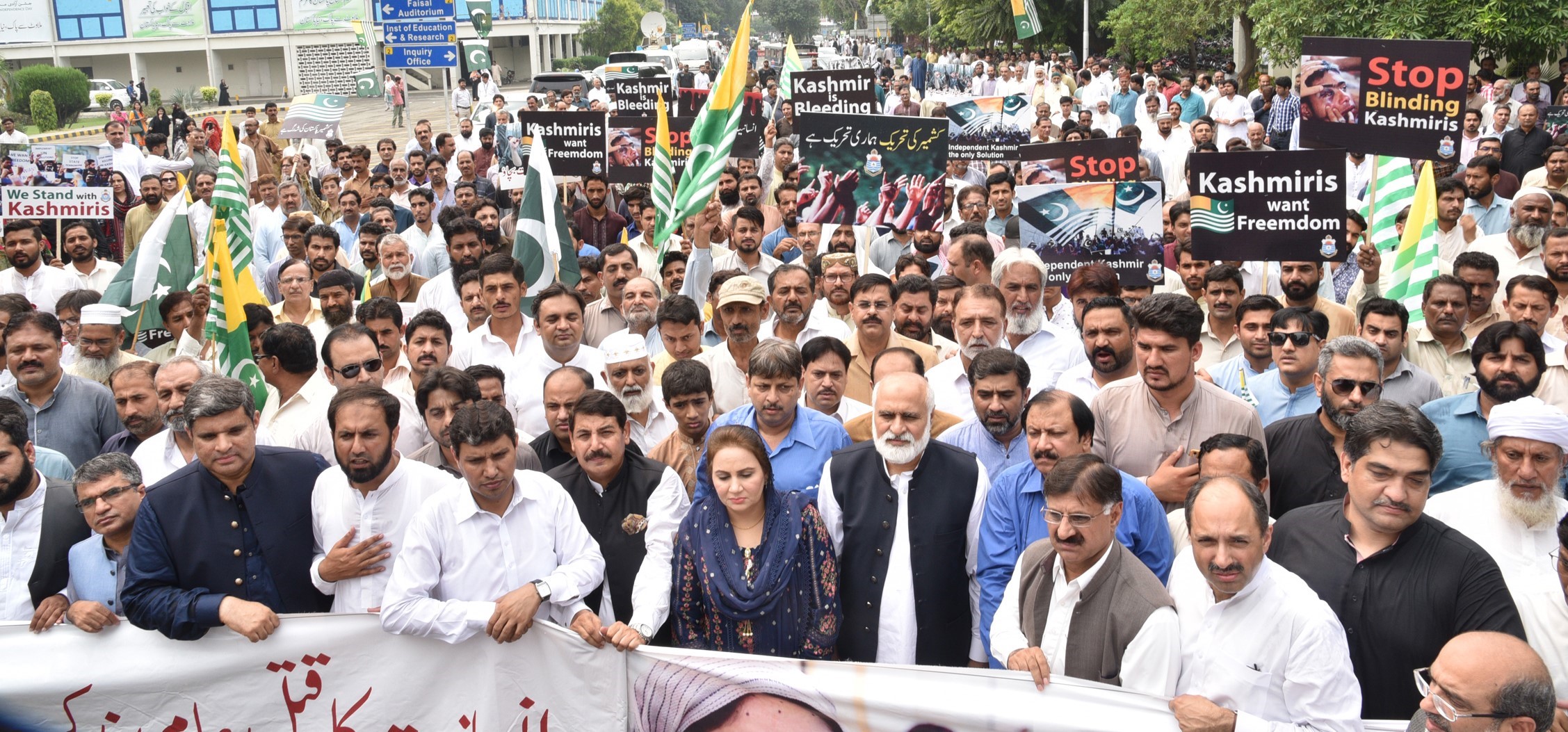 Nation Awaiting Prime Minister Imran's Call for Occupied Kashmir: PU VC
Prof Niaz Ahmad Akhter addresses Kashmir rally
LAHORE– Punjab University Vice Chancellor Prof Niaz Ahmad Akhter has said the whole nation was awaiting Imran Khan's call as the nation stand along with the people of Kashmir and it would act upon the decision taken by the government.
He was addressing a massive rally taken out by PU teachers, employees and students here on Friday.
Member Punjab Assembly Mussarat Jamshed Cheema, a large number of teachers, employees and students participated in the rally. Especially, Chinese students participated in the rally to express solidarity with the people of Kashmir.
Addressing the participants, PU VC Prof Niaz Ahmed demanded UN Secretary General provide protection to the people of Indian Occupied Kashmir. He said that Kashmir issue must be resolved as per the desires of Kashmiris.
He said that the whole valley had been cut from the rest of the world since more than 50 days and even Indian media, politicians and independent observers could not get access to the area. He said that PU would continue to play its role in national issues.
He said that Pakistani nation was ready to sacrifice their lives for Kashmiris and we stand with the government and Pakistan Army.
MPA Mussarrat Jamshed Cheema said that Khalistan and a new Islamic country would emerge in the map of India soon. She said that Modi had given a message to India that what he was going to do with other minorities in India. She said that all the minorities in Pakistan including Christians, Sikhs and Hindus expressed solidarity with the people of Indian Occupied Kashmir.
The rally was taken out from Faisal Auditorium to Gate No 2 and through Khaban-e-Jamia Punjab, reached gate No 1 and ended outside Faisal Auditorium. Meanwhile, Punjab University Centre for South Asian Studies (CSAS) has organized a seminar on 'Kashmir and Pakistan'.
Brig (r) Nadir Mir was the keynote speaker while Director CSAS Prof Dr Umbreen Javaid, faculty members and MPhil/PhD scholars attended the seminar. In his address, Brig (r) Nadir Mir explained the historical background of the Kashmir Issue, highlighted the oppression and massive abuse of human rights in the Indian held Kashmir.
The speaker emphasized on launching a proactive political campaign that will keep the issue alive and force the political elite of the world to realize the gravity of the situation and solve this long standing issue. He also urged the audience to use social media platform to extend their support and express their sympathies with the oppressed people of Kashmir.
5-day co-curricular competitions end
Punjab University Vice Chancellor Prof Niaz Ahmad Akhter emphasized upon teachers and parents to focus on the character building of the students while addressing the prize distribution ceremony of 5-day co-curricular competition at Faisal Auditorium on Friday.
Punjab Higher Education Commission Dr Fazal Ahmad Khalid, renowned journalist Mujeeb Ur Rehman Shami, Prof Dr Shafiq Jallandry, Incharge ICS Dr Nosheena Saliem, Dr Shabbir Sarwar, faculty members and a large number of students were present on the occasion.

The Vice Chancellor praised The Educationist management for organizing a successful at PU. PHEC Chairman Dr Fazal said that besides education co curricular competitions are very important to polish the talent of students.
In his welcome address Dr Shafiq said that competitions of Qirat, Naat, Urdu, English, Punjabi declamations, Photography, Essay Writing, Poetry, Painting, National Songs, Videograpy, Cartoon Drawing and Theaters were held. He said a total 1980 students from all parts of Pakistan participated in the event.
GCU Faisalabad won team trophy and Rs Hundred Thousand prize while PU clinched the runners up trophy and Rs five hundred thousand prize. In School category The Punjab School, Daanish School and Garrision Junior Academy's performance was remarkable.— PRESS RELEASE