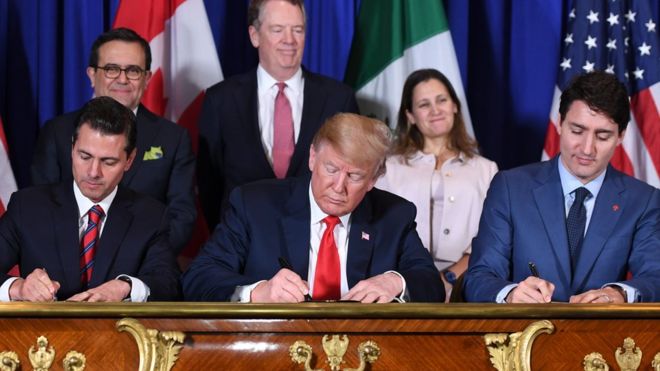 LAHORE MIRROR (Monitoring Desk)– US President Donald Trump, Canadian Prime Minister Justin Trudeau, and outgoing Mexican President Enrique Pena Nieto have signed an updated free trade agreement, aimed at replacing NAFTA, on the sidelines of the G20 summit in Argentina.
Trump said on Friday the trade pact was "model agreement that changes the trade landscape forever."

The US has spent more than a year pushing the leaders of Canada and Mexico into agreeing to a rewrite of North American trade rules.
Trump had vowed to revamp NAFTA during his 2016 presidential election campaign. He threatened to tear it up and withdraw the US completely at times during the negotiation, which would have left trade between the three neighbors in disarray.
The publicly aired frustrations had been a source of tension between the states, but Canada welcomed the signing of the new agreement.
"The modernized agreement preserves Canada's preferential access to the US and Mexican markets, ensuring that the vast majority of trilateral trade remains duty-free—something that is vital to the continuing prosperity of Canadians," a statement issued by the country said.
Legislators from the three countries still have to approve the pact, officially known as the United States-Mexico-Canada Agreement (USMCA), before it goes into effect and replaces the North American Free Trade Agreement (NAFTA).
If ratified, most of the new agreement's provisions are expected to go into effect in 2020.
SOURCE: AL JAZEERA AND NEWS AGENCIES