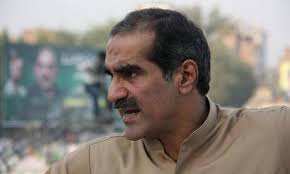 NAB Arrests Saad, Salman Rafique In Paragon Housing Scam Case
LAHORE: The National Accountability Bureau (NAB) on Tuesday arrested Pakistan Muslim League-Nawaz (PML-N) leader Khawaja Saad Rafique and his brother Salman Rafique in connection to the Paragon Housing Society scam.
The PML-N leader and his brother were arrested after the Lahore High Court (LHC) rejected their request for an extension in their pre-arrest bail in the case pertaining to the housing society scam, a NAB spokesperson said.
"The court's decision confirmed substantive evidence against NAB suspects," the accountability watchdog spokesperson said. Earlier today, a two-judge bench headed by Justice Tariq Abbasi heard the petition of the brothers seeking an extension in their pre-arrest bail. Initially, the court extended their bail till December 13, however, the bench later rejected their petitions.Following the LHC's decision, NAB took the brothers into custody.NAB had summoned the former railways minister and his brother on October 16 in the case related to the Paragon Housing scam. The two brothers had moved the Islamabad High Court to provide protective bail but it had rejected their request and advised them to approach the LHC. The LHC had earlier granted the brothers pre-arrest bail and they had appeared before NAB multiple times for questioning in connection to the case.
Rafique brothers' petition against NAB DG Lahore
Further, the two-judge bench also heard Rafique brothers' petition to transfer their case from NAB DG Lahore Saleem Shahzad.Last month, the PML-N leader had requested NAB chairman Justice (retd) Javed Iqbal to transfer their case to another bureau as Shahzad was "no longer an independent person" and could not be trusted to conduct a transparent inquiry.During today's hearing, the NAB prosecutor informed the court, "NAB chairman has rejected their petition.