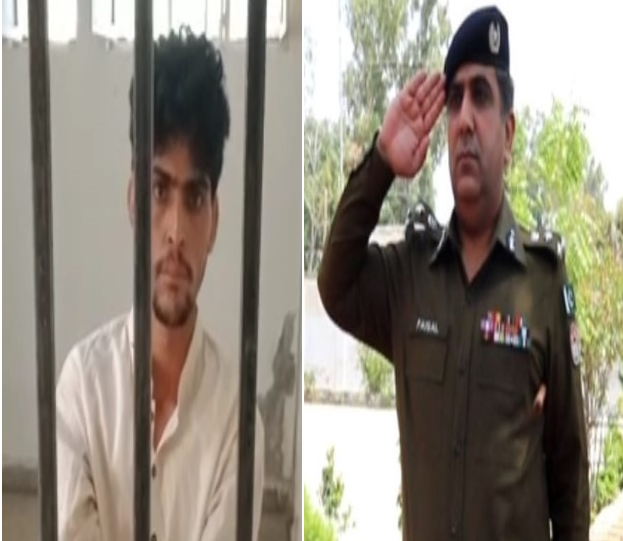 MUZAFFARGARH– Muzaffargarh police have arrested notorious gang leader Shabbir alias Shabbira ladi who was leading Ladi gang in Dera Ghazi Khan.
In an interesting development, an ill-famed gang leader responsible for many killings have been apprehended by the police. Shabbir Laddi is named in 22 cases and has committed numerous criminal activities in whole South Punjab especially DG Khan and Muzzaffargarh.
As many eight FIRs were registered against under Anti Terrorism Act (ATA), 8 more FIRs of murders/attempted murder along with six other FIR's of various sections have also been registered against the gang leader.
Moreover, the apprehended gang leader and his accomplices had also martryed a policeman in the past.
Furthermore, the Ladi gang has played a major role in spreading lawlessness in all four districts of the region for which the CM Punjab had given special instructions to the police command regarding the arrest of gang members.
In continuance to a/m purpose, Regional Police Officer Captain (retired) Muhammad Faisal Rana had constituted special teams consisting of experienced police officials from all four districts of the region equipped with modern technology ,which ultimately succeeded in apprehending leader of the ladi gang.
Few days ago, Shabbir ladi alias shabbira got his leg injured in an exchange of fire with the police and hide himself in Layyah district.
Following special instructions from the CM and IG Punjab, the RPO himself supervised the operation for the arrests of the gang members 24/7. On taking notice of the triple murders in Kot Addu Muzaffargarh, special police teams were busy in raids to arrest accused persons when they got hint about the whereabouts of the ladi gang leader. On which the RPO instructed the police party to immediately arrest the notorious gangster.
On this occasion, people of South Punjab have also lauded police efforts and attributed the arrest of the dangerous gangster to the professional policing capabilities of regional police chief Faisal Rana.
The RPO in his briefing also assured that other members of the Ladi gang would be arrested ultimately.
More, he instructed the head of the districts police in the region to destroy safe heavens of such gangsters with in the ambit of law.
The CM Punjab and IG Punjab have commended the police efforts and professionalism of RPO Faisal Rana on the arrest of Ladi gang leader.— PRESS RELEASE