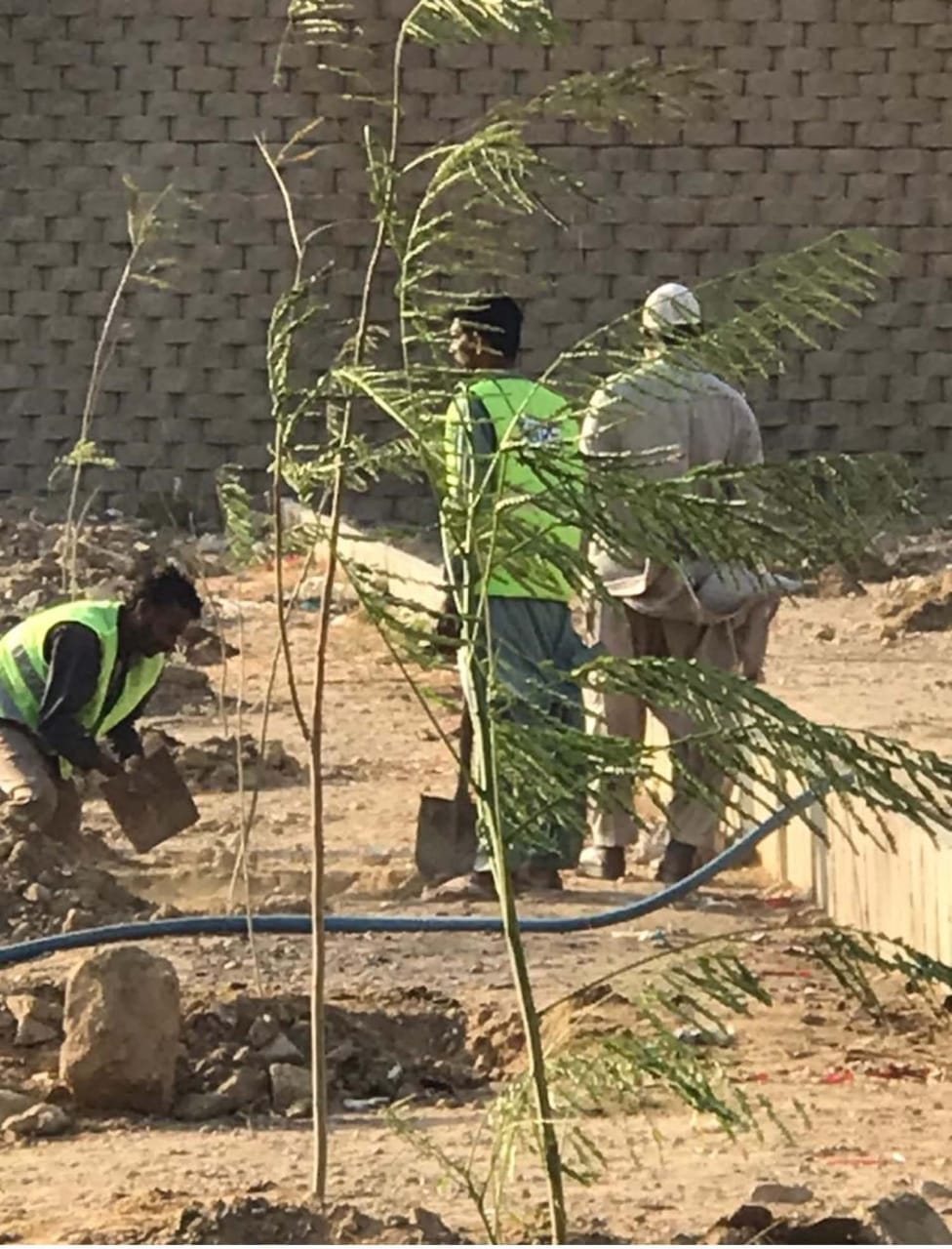 More Than 1000 Saplings Are Planted During Pakistan Navy's Peacekeeping Exercises
By Our Web Reporter
KARACHI–In the first phase of the tree-planting drive under the Parks and Horticulture Department of the Karachi Metropolitan Municipality, five major roads of the city Rashid Minhas Road, University Road, Shahra-e-Pakistan, Malir Halt Road, and Korangi Industrial Area Road will be constructed in the first phase. Excavation has been done for planting green belts. The tree planting process will start on all these roads simultaneously next week. During the tree-planting campaign, 600 saplings have been planted in Gulshan-e-Jinnah (Polo Ground) and 500 saplings in Moin Akhtar Park. During the Pakistan Navy's peacekeeping exercises, more than 1,000 saplings were planted on various roads and highways in the West Wharf area, 3,000 saplings were planted inside Lake Park and 2,000 saplings were planted in Safari Park. Apart from this, other roads and highways in the city which are in the process of tree planting include Jinnah Avenue, Sohrab Goth to Nagan Chowrangi Corridor II, Manipur Road, Metropole Chowk, and other areas, according to the Parks and Horticulture Department.
According to Director General Taha Saleem, after the selection of roads in the initial phase, Green Belts and Chowrangio Pits are being prepared and fertile soil is being poured on it and all this work is being done simultaneously. Immediately after its completion, the planting of various plants will be started including local trees including Gul Mehr, Amlatas, Totapri, Pomegranate, Palm, Mini Plant, Bogel Villa, U Forbes, Red Exora, Bottle Brush, Tabi Bola, Yuka, and Creepers. These charming and colorful plants and flowers help to make the city streets and highways look beautiful and attractive. He said that on the special directive of Administrator Karachi Laiq Ahmed, importance is being given to the local trees of Karachi including neem, papaya, almond, and flower seal in the tree-planting campaign. In this regard, the Parks and Horticulture Department With the advice and guidance of botanists, they have selected places to grow different plants, and their protection and irrigation is also being completed so that these plants can be transformed into tenacious and shady trees to make the city green, he said.
He said that eco-friendly plants are being planted during the tree planting campaign, along with KMC, civil society and various welfare and social organizations. Various welfare and social organizations have undertaken the responsibility of irrigating the plants planted during tree planting for 4 months. 70 of the KMC's own nurseries have taken responsibility for irrigating the plants planted during tree planting.
Thousands of local plants have been prepared while a large number of civil society organizations are also providing plants for the tree planting campaign and an estimated one lakh plants will be planted in the city during the campaign which will improve the environment of Karachi.