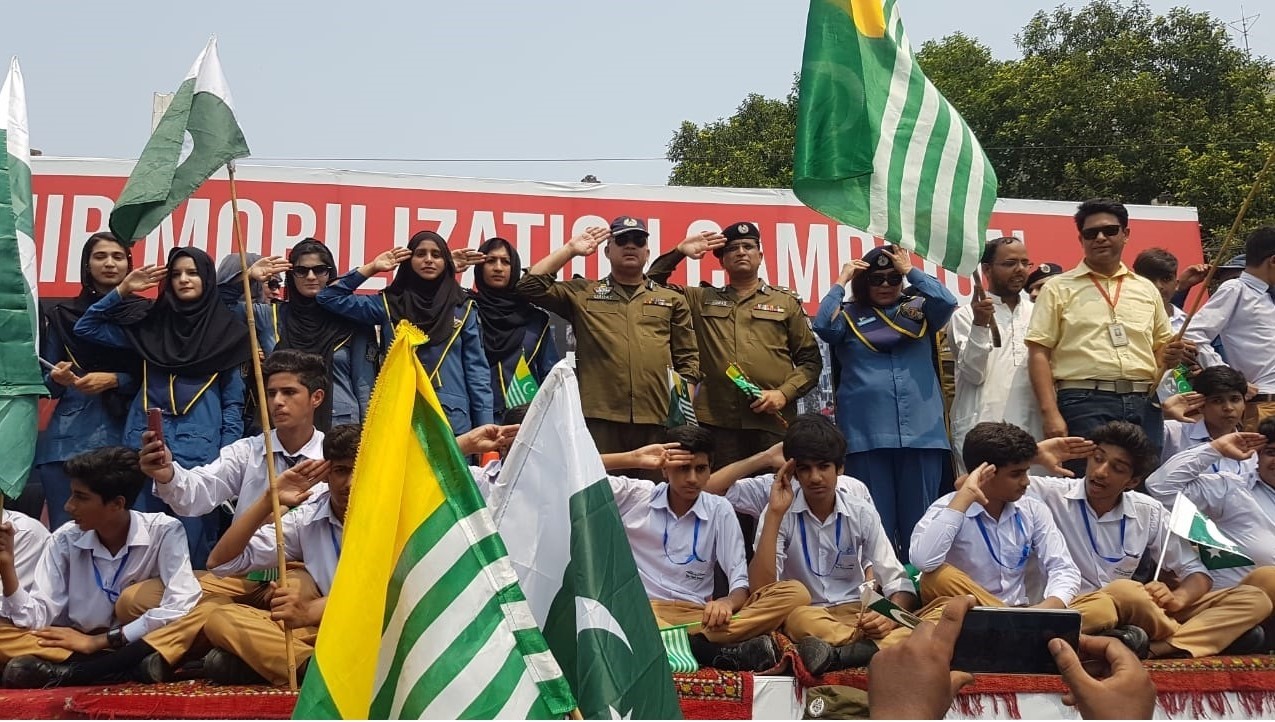 Lahore Police Express Kashmir Solidarity Day With Kashmiris
LAHORE– Lahore police observed Kashmir Solidarity Hour with great zeal and passion along with all the other Government departments, private institutions, traders, lawyers, teachers, politicians, religious leaders and people from all walks of life.
Lahore police expressed their heartiest gratitude to the untiring struggle of Kashmiri people for their independence, right of self determination.
All the officers and officials of Lahore Police expressed their peaceful protest against the violation of human rights and brutalities of Indian government in occupied Kashmir in a peaceful manner.
They were wearing black ribbons on their arms as tokens of protest and were holding flags of Azad Jammu and Kashmir as well as Pakistan to express solidarity with Kashmiri people.
Deputy Inspector General of Police (Operations Wing) Lahore Ashfaq Khan also participated in the main rally of Kashmir Solidarity Hour at Faisal Chowk along with thousands of Police Jawans who were raising slogans against Indian fascist oppression in occupied Kashmir.
Lahore Police observed Kashmir Solidarity Hour in all its main and divisional offices as well as Police Stations expressing their strong stand with their Kashmiri brothers and sisters. Lahore Police provided foolproof security to all the rallies on Kashmir Solidarity Hour.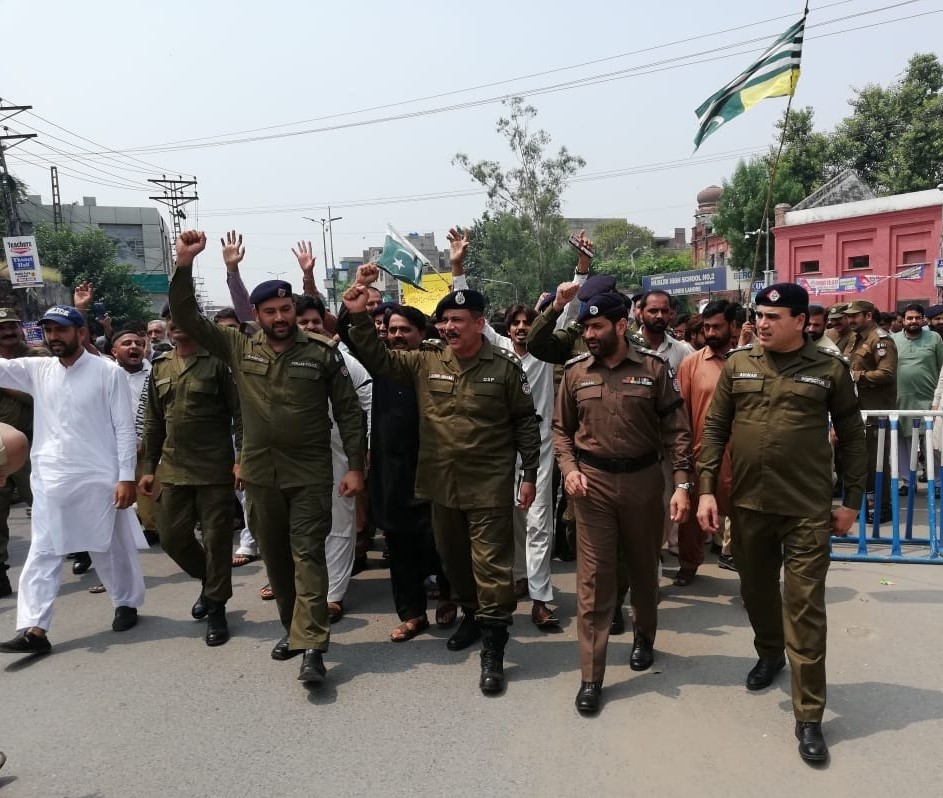 More than 02 thousands Police officers and officials were deputed to perform security duty at different points of Mall Road Lahore from Istanbul to Faisal chowk. All the rallies were provided foolproof security in the city.
The participants of Kashmir Solidarity Hour rally were provided three layers security and teams of Dolphin squad, Police Response Unit and vehicles of Police Stations ensured continues and effective patrolling on the routes of rallies and surrounding areas.
Snipers were deputed on the roof tops of high-rise buildings on the routes of Kashmir Solidarity Hour rally.
Staff of DIG Operations office also conducted rally from DIG Operations office to District Courts. All the officers and officials from different branches of DIG Operations office participated in the rally.
Foolproof security for Friday Prayers
Security of the mosques and other religious places including Imam Bargahs remained tightened on the eve of Jummat-ul-Mubarik today in the metropolis, as DIG Operations Lahore Ashfaq Khan has issued directions to all the divisional SPs, DSPs and SHOs to ensure foolproof security arrangements.
All SPs, DSPs and sub ordinate officers personally reviewed and ensured tight security arrangements at all these religious places. Police officers and officials along with members of the Dolphin Squad and Police Response Unit remained alert at all the sensitive Mosques and Imam Bargahs. Police checked all the vehicles including suspicious persons at Entry and Exit points of the city.
Moreover on the instructions of DIG Operations Lahore Ashfaq Khan were conducted around sensitive areas of the city along with Chinese Consulate Lahore and other important offices and public places.
Heavy contingents of Dolphin Squad, PRU, Elite force, security agencies and Lahore Police participated in the search operations. Lahore Police checked all the suspicious persons in various parts of the city with the help of biometric and latest android devices.
According to the spokesperson of Lahore Police, the ongoing search operations were to create a sense of security among the citizens and maintain law and order situation in the provincial capital.— PRESS HANDOUT