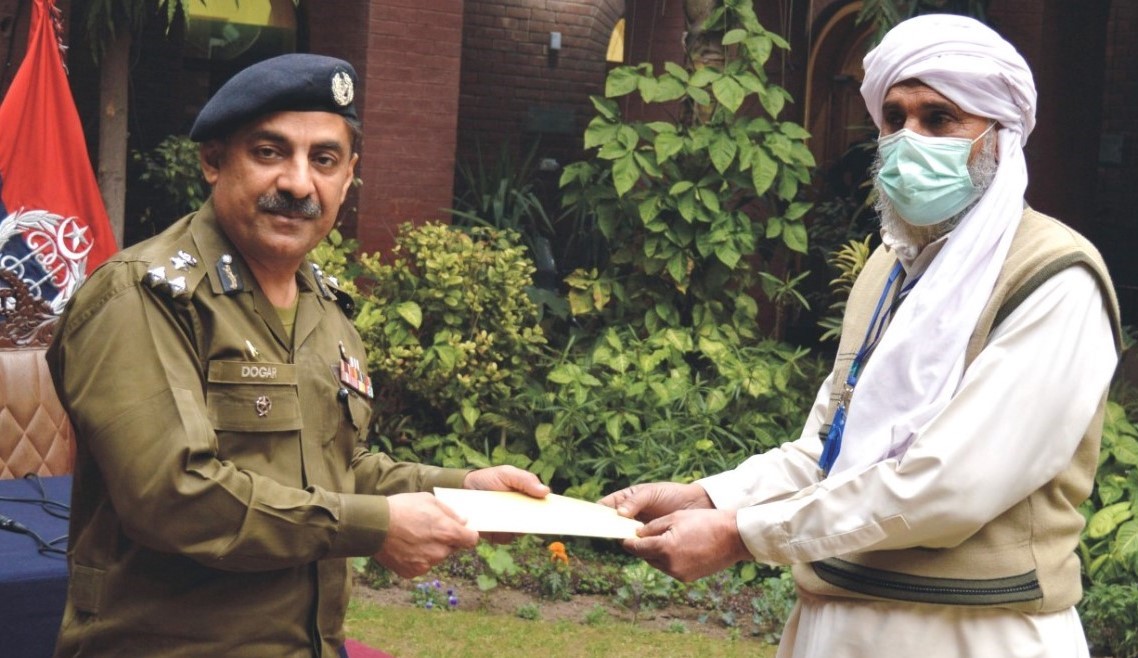 Lahore Police Chief Distributes Cheques Among Serving and Retired Cops
-- Lahore police hunt down 44 proclaimed offenders in January 
LAHORE–  Capital City Police Officer Lahore Ghulam Mehmood Dogar has said that police officers and officials during service and after retirement are like one family and welfare as well as betterment of their family members is our top priority.
He was talking to the participants of cheques distribution ceremony held here today. Cheques of financial grants were distributed among in service and retired police employees as well as their family members.
SSP Admn Waqar Qureshi, SP Legal Sheikh Asif and other senior police officers were present on this occasion.
Cheques amounting to rupees 28 lac were distributed among as many as 48 different families of police officers and officials as welfare grant for education and dowary purpose of the children of police employees.
CCPO Lahore Ghulam Mehmood Dogar informed that an amount of rupees 35 crore has already been distributed till now among families of police officers and officials as welfare grant during this year.

Moreover another amount of rupees 01 crore has also been distributed among the police officers and officials who were affected by pandemic of Coronavirus.
Ghulam Mehmood Dogar said that doors of his office are always open for the retired employees and their families for any help and guidance. CCPO Lahore said that there has been great contributions of retired police officers and officials for the country during serving police department and we will continue to look after them.
Lahore police hunt down 44 POs in January
Capital City Police Officer Lahore Ghulam Mehmood Dogar has said that Lahore Police have continued its crackdown against culprits to arrest the proclaimed and targeted offenders and court absconders as most of them have been found involved in day today as well as heinous crimes including illegal possessions, harassment, murders, attempt of murders, kidnappings for ransom, extortions and narcotics.
Lahore Police during its crackdown have arrested as many as 44 Proclaimed Offenders during the month of January.
According to the details issues by Lahore Police, as many as 455 Proclaimed Offenders belonging to category 'B' whereas one PO of category 'A' was arrested during the action of both Operations Wing and Investigation Police.
Moreover a total number of 46 Court Absconders and 49 habitual criminals have also been arrested during this month. CCPO Lahore Ghulam Mahmood Dogar has further directed concerned police officers to take strict action against persons involved in violation of Tenant Registration Act.
All the divisional SPs, SDPOs and SHOs have been directed to meet the target of the arrest of these POs and TOs and speed up crackdown against these criminals.— HANDOUT