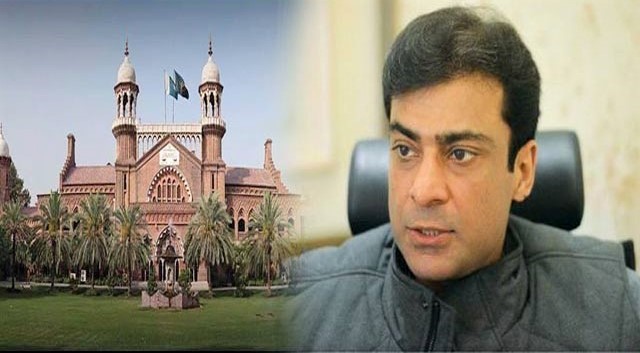 Lahore High Court Bars Accountability Bureau from Arresting Hamza Till Monday
LAHORE: The Lahore High Court Saturday barred the National Accountability Bureau (NAB) from arresting Pakistan Muslim League-Nawaz leader Hamza Shehbaz, the son of party's central president Mian Shehbaz Sharif, till April 8.
The LHC chief justice issued the order on a separate petition filed by Hamza's lawyer requesting the court to bar the NAB from arresting the leader of the opposition in Punjab Assembly.
The chief justice held a brief hearing in his chambers and stopped the anti-graft body from arresting Hamza till Monday.
A NAB team this morning once again reached and cordoned off PML-N President Shehbaz Sharif's Model Town residence to arrest Hamza.
Contingents of police, Rangers and anti-riot force surrounded Shehbaz's residence, 24 hours after the NAB first raided the PML-N president's family residence to arrest his son.
Police were stationed outside the main gate of the house with contingents of female police officers also present.
A large number of PML-N workers staged a sit-in outside the residence. Earlier, police and party workers clashed as they attempted to reach the entrance of the PML-N president's family residence.
Hamza says NAB should respect court orders
Speaking to Geo News via telephone, Hamza said,  "Why should I surrender when the court has provided me legal protection. The LHC has ordered that I be informed 10 days before arrest."
"NAB should implement the orders of LHC's divisional bench," he said and added that nobody challenged the order in the Supreme Court.
Hamza continued, "This raid has refreshed memories of October 12."
Stating that he is present at his father's 96-H Model Town residence, Hamza when asked what will happen if NAB teams scale the wall and enter the house said, "The world will see what will happen if they do that."
"Workers should show solidarity peacefully. Peaceful protest is the democratic right of workers. We condemn the dictatorial tactics of this undemocratic government and the baton charge on unarmed workers," he added.
Hamza shouldn't hide behind workers: NAB additional director
Additional Director NAB Chaudhry Asghar while speaking to PML-N lawyer Atta Tarrar outside the Shehbaz family residence said, "We are here to arrest Hamza and should be allowed to go inside the house."
"We have Hamza's arrest warrant," the NAB additional director said.
Later speaking to the media, the NAB additional director said, "We are not being allowed inside the residence to arrest Hamza and no one is cooperating with us."
"Hamza is a renowned politician and should behave like one. Hamza should not hide behind workers," he asserted. "The whole Pakistan is watching that a renowned politician is hiding from arrest."
The NAB additional director said, "I do not have any weapon on me and I am not a terrorist. I am here to arrest Hamza as per the law. There are multiple cases against Hamza — he was involved in money laundering and the country is not moving forward but we all can see who is moving ahead."
NAB ignoring LHC orders: Malik Ahmed Khan
Further speaking to Geo News, PML-N leader Malik Ahmed Khan said, "NAB is ignoring LHC orders and misinterpreting Supreme Court's directives."
"The government has made a NAB state and these raids are being carried out on Imran Khan's orders," he added. "NAB officers are issuing political statements and it seems that they prepared what to say after sitting down with Shahbaz Gill."
The PML-N leader further said that they have appealed to party workers to remain peaceful.
Will not let Hamza get arrested: secretary
NAB is independent: Punjab CM spokesperson
Regarding the raid, Punjab chief minister's spokesperson Shahbaz Gill while speaking to Geo News said, "NAB is independent and not bound to inform us regarding inquiries."
"The accountability bureau has also arrested Pakistan Tehreek-e-Insaf leaders," Gill added. Criticising the PML-N's reaction to the raid a day earlier, the Punjab CM's spokesperson said, "PML-N's reaction has always been shameful and they manhandled the NAB team yesterday.
A day earlier, NAB conducted a raid at Shehbaz's residence to arrest Hamza.
NAB issues press release about second raid
A press release by NAB said a team had gone to the residence to arrest Hamza on the basis of evidence against him in the assets beyond means and alleged money laundering case. The press release added that NAB officials were manhandled by Hamza's guards, their clothes were torn and death threats were given.
"NAB officials had gone to the residence with an arrest warrant and the Supreme Court had stated that the accountability bureau did not require to inform any accused prior to arresting them," read the press release. The press release added that Hamza had violated the law and the bureau on the basis of evidence against and in light of Supreme Court directives would arrest him.
Earlier today, a first information report (FIR) was lodged at the Model Town police station against Hamza's guards on an application filed by NAB.
According to FIR, Hamza's guards manhandled and threatened NAB team members during raid.
SOURCE: GEO NEWS