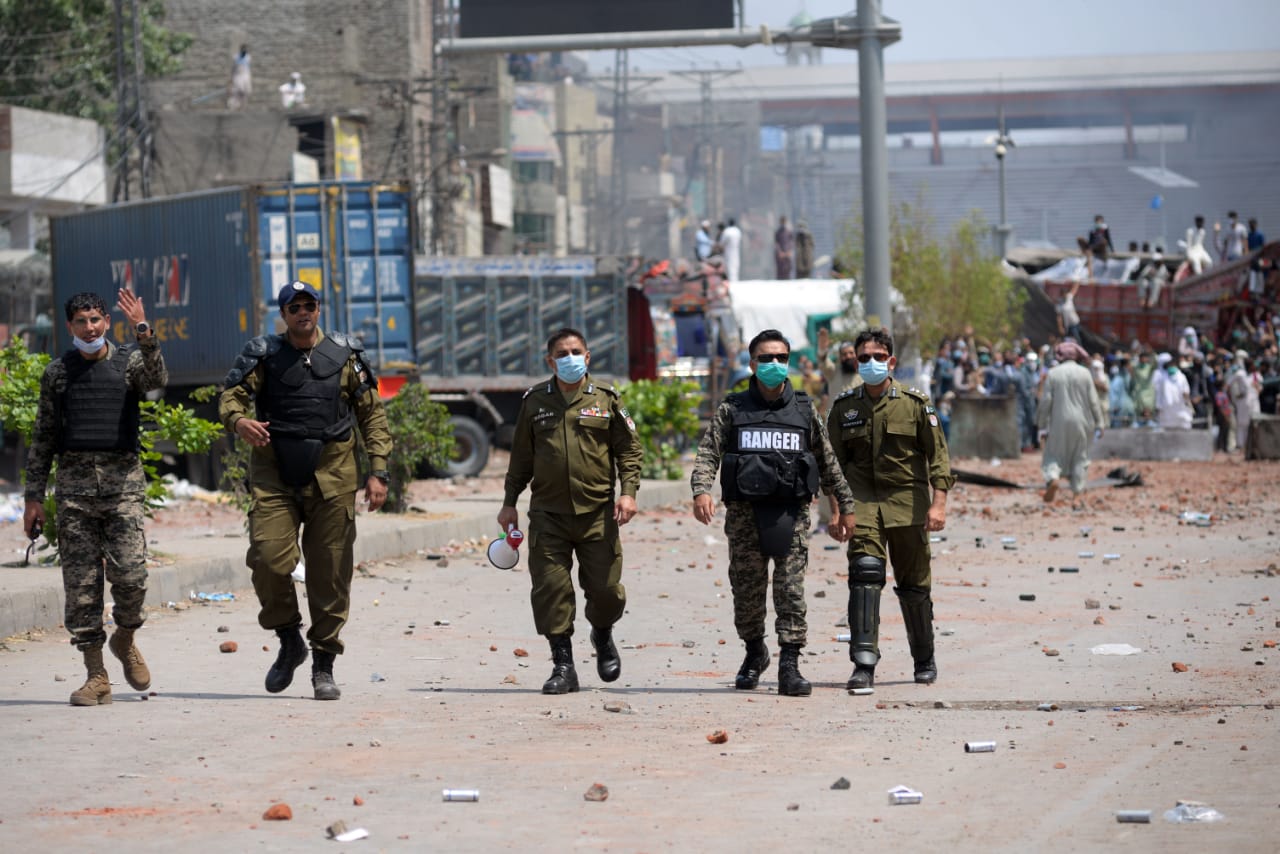 By Our Web Desk
LAHORE– Workers of the recently proscribed Tehreek-i-Labbaik Pakistan (TLP) "brutally tortured" a deputy superintendent of police (DSP) and took him, as well as four other officials, hostage on Sunday, spokesperson for Lahore CCPO Rana Arif tweet a post.
Police said the violence occurred after "miscreants" an apparent reference to TLP workers attacked a police station and abducted the DSP, adding that it acted only in "self-defence".
"Today in the early morning, miscreants attacked Nawankot Police Station where Rangers and Police officers were trapped inside the police station and DSP Nawankot kidnapped and taken to the markaz," the Punjab police said in a statement, referring to the TLP headquarters. It added that "at least one oil tanker with 50,000 litres of petrol has been taken by the miscreants to the markaz."
According to the statement, which was tweeted by Punjab police the miscreants were armed and attacked Rangers/police with petrol bombs. "Police and Rangers pushed them back and took back the possession of the police station," it said, adding that police did not plan or conduct any operation against the mosque or the madressah. Arif said 11 police officials were injured after "brutal torture" by TLP workers and were under treatment at different hospitals in the city.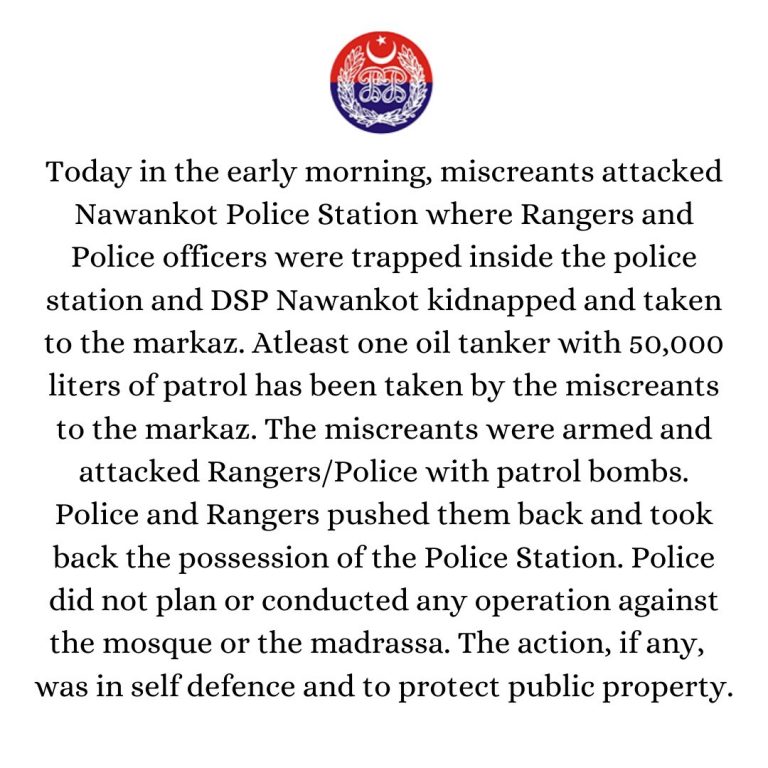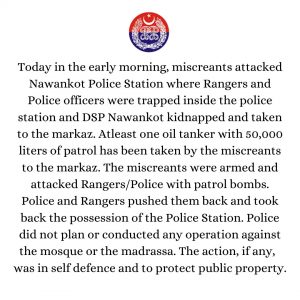 Meanwhile, at least three protesters were killed and several others injured during the clash, according to the party's workers.A TLP spokesperson said the clash started when police launched an operation to clear the area around Lahore's Yateem Khana Chowk, where workers of the banned party have been staging a protest since earlier this week.
In a video message, TLP spokesperson Shafiq Ameeni said that "We will bury those killed when the French ambassador exits the country and our agreement (with the government) is implemented."
Videos on social media showed people carrying away the injured and tending to them. However, some users pointed out that the videos were old and were shared without context.
TLP workers wielding sticks and stones also climbed atop the Orange Line Metro Train, while speeches were being made through the area mosque to call people for support, according to the city police spokesperson. He said the protesters were pelting stones at police and Rangers personnel.
The TLP also shared a video of a senior official of Punjab police, who was allegedly abducted by its workers on Sunday. The injured police official, ashamedly under duress, said that an operation was being carried out to clear the area outside a police station when he was "captured" by the "enraged" crowd.
Security of the City remained tightened on First Juma of Ramazan
Overall Security of the city including mosques, Imam Bargahs and other religious places remained highly tightened on the eve of first Juma of Ramazan ul Mubarak as per directions of Capital City Police Officer
Lahore Additional IG Ghulam Mahmood Dogar. CCPO Lahore had issued directions to DIG Operations Lahore, SSP Operations and all the divisional SPs to ensure foolproof security arrangements in wake of present situation of the country.
CCPO Lahore Ghulam Mahmood Dogar personally
visited different areas of the city including mosques and religious places to check the security arrangements. All SPs, SDPOs and related officers also reviewed and ensured tight security arrangements throughput the city particularly at masajid and all these religious places.
Police officers and officials along with members of the Dolphin Squad and Police Response Unit remained alert and conducted effective partrolling at all the sensitive mosques and Imam Bargahs. Police checked all the vehicles particularly suspicious persons at the entry and exit points of the city.
CCPO Ghulam Mahmood Dogar leads Flag March for consecutive 4th day
Lahore Police, in wake of the present law and order situation of the country and to instil confidence and sense of security among the citizens on the eve of first Juma of Ramzan, consecutively on fourth day, carried out joint flag march in collaboration with Rangers troops, in different areas of the city.
Capital City Police Officer Lahore Additional IG Ghulam Mahmood Dogar led the flag march whereas DIG Operations Sajid Kiani, CTO Lahore Syed Hammad Abid,SSP Operations and other senior police officers also participated in the flag march. Contingents of Pakistan Rangers, Dolphin Squad, Elite Force, traffic police, Anti Riot Force, Police Response Unit and Ababeel Force were part of the flag march.
Police March started from District Police Lines Qila Gujjar Singh, went through different important roads and areas of the city including Empress Road, Mall Road, Kalma Chowk, Shinghai Bridge, Ghazi Road, Bhatta Chowk, Lahore Ring Road, Karol Ghatti,Shahdara Chowk, Imamia Colony Railway Crossing, Bund Road, Babo Sabo Chowk, Thokar Niaz Baig, Canal Road and ended at Police Lines Qila Gujjar Singh.
CCPO Lahore Ghulam Mahmood Dogar addressed with the deputed police officers and officials at Babo Sabo Chowk and said Lahore Police is round the clock alert and ready for the protection of life and property of citizens.
The purpose of the flag march and other security arrangements is to create sense of security among citizens as our prime duty, he added. Ghulam Mahmood Dogar said Lahore police will not compromise on the safety and security of the citizens at all and will not let anyone disturb the peace of the city at any cost.