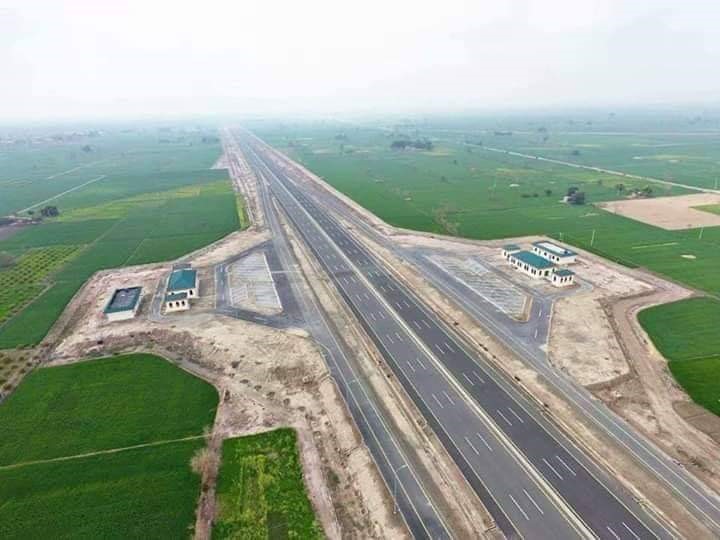 By Faisal Ali Ghumman
LAHORE– The citizens of Punjab in particular and people of Pakistan in general will be able to travel on a newly-built 230 kilometers stretch of Motorway-3 (M-3) between Lahore and Abdul Hakeem section from coming Monday.
The Governor Punjab is much expected to inaugurate M-3 on Sunday (tomorrow), another road infrastructure project going to link major towns of Punjab with rest of the country as a part of national and economic corridor. 
The road with six lane and 120km/h peed limit will reduce the travel time between Lahore and Multan from five and half hours to three hours and reduce burden on the national highway between the two cites.
"The M-3 section between Lahore-Abdul Hakeem, which is just 28 kilometers away from Khanewal-Multan section of M-3, will be open for public from Monday evening while the entire stretch between Lahore and Multan will be completed in coming two to three months," said Deputy Inspector General Motorway 4 National Highways & Motorways Police Riffat Mukhtar Raja while speaking exclusively to lahoremirror.com today.
He said Governor Punjab Ch Muhammad Sarwar would inaugurate the newly-built road on Sunday (tomorrow) at Jaranwala Inter-change.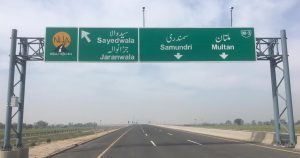 The DIG said two Sector Commanders SSP Rana Ayyaz Saleem (In-charge of M-3) and SP Jawad Shah (In-charge of M-4), who is on acting charge basis, would assist him in regulating the traffic.
He said a considerable chunk of ordinary, commercial and passenger vehicles would switch from N-5 to M-3, adding number of accidents and traffic rush would reduce on the national highway.
"In approximate estimates up to 20,000 vehicles will ply on M-3 per day while time will reduce to two hours between two destinations," Mr Riffat said, adding a considerable chunk of goods transport will shift from N-5 to M-3 only after 28-km under-built section between Abul Hakeem to Khanewal will complete after two to three months.
The vehicle operating cost saving will be around Rs30 billion per year(average over 25 years).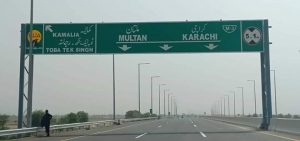 He said travellers of M-3 would be able to reach Sheikhupura, Sharaqpur, Nankana Sahib, Jaranwala, Tandlainwala, Satyana, Sammundri, Mamu Kanjan, Muridwala, Gojra, Toba Tek Singh, Rajan, Kamalia, Pir Mahal, Chichawatni, Shorkot and Kot Islam.
Motorists will also be able to use connecting road linkages to Okara, Sahiwal, Chichawatni, and Faisalabad from six inter-changes.
The 230-stretch will have six inter-changes and three service and rest areas each. It will cater to the need of 10 million population

The DIG said around 500 officials in different ranks have been taken from the Punjab police on deputation and some officials have been promoted within the department to be deployed on M-3.
He said initially as many 382 patrolling officials equipped with 30 cars, four single cabin, an ambulance and one coaster will perform duties in five beats.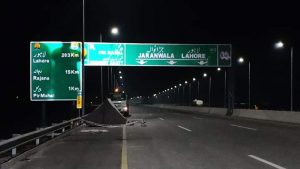 'Integral part of National Trade & Economic Corridor'
The project is component of Pakistan Motorway network planned to provide a national trade and economic corridor and to reduce traffic congestion on major highways, particularly GT Road (N-5) that has reached its maximum capacity with resultant decrease in level of service.
Its primary focus is to link major cities of Pakistan, industrial and commercial hubs and sea ports through a high-class and state of the art transportation facility for efficient transportation of freight and passengers.
The project will link multiple cities, towns and its adjoining areas with the motorways network to stimulate economic growth and contribution to national development.
An intelligent transport system is installed with a practical advancement in road network.
Latest digital system is deployed at M-3.
'Over-loading and road damage will minimize on-N-5' 
The shifting of heavy vehicles to M-3 from heavily used N-5 will minimize road damage as transporters are seen violating rules and regulations on the national highways as it is not possible for the patrolling officials to check the number of vehicles because of multiple problems. Traffic accidents are most common on -N-5 because of haphazard traffic flow.
DIG Riffat says trucks carrying extra load will be disallowed to travel on M-3 from the starting point.He adds less traffic on N-5 will also help reduce road mishaps.
Transport companies announce timings for M-3
The renowned companies like Daewoo Express and Faisal Movers have already announced to run their AC buses on M-3 from April 1.
The companies have announced travel time between three hours and fifteen minutes to three and half hours.— LAHORE MIRROR