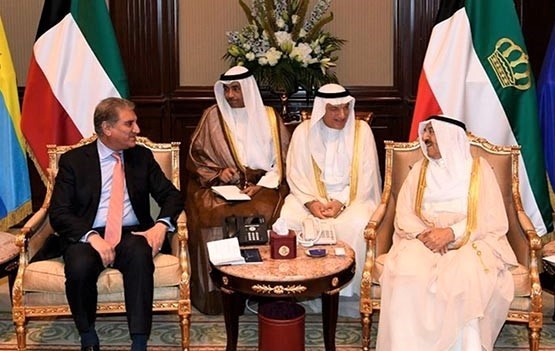 LAHORE MIRROR (Monitoring Desk)– Emir of Kuwait Sheikh Sabah Al-Ahmad Al-Jaber Al-Sabah met Pakistan's Foreign Minister Shah Mehmood Qureshi on Sunday to assure making personal efforts in resolving visa restriction issues Pakistani community is facing.
Qureshi called on Emir in Kuwait and apprised him about reservations and difficulties of Pakistani community in Kuwait due to visa restrictions.
He also presented special letters from President Dr Arif Alvi and Prime Minister Imran Khan to the Emir of Kuwait.
The Emir of Kuwait expressed best wishes for the Pakistani leadership, especially Prime Minister Imran Khan.
Shah Mehmood Qureshi thanked the Emir of Kuwait for raising voice against human rights violations in Indian Occupied Kashmir by the New Delhi regime.
He also thanked the Emir for supporting Islamabad s stance during recent tension between Pakistan and India.
The foreign minister said over 100,000 workforce and experts of Pakistani origin are playing an important role in the development and progress of Kuwait. He said Pakistan attaches high importance to its bilateral relations with Kuwait.
Earlier, Foreign Minister Shah Mehmood Qureshi his meeting with Kuwaiti Interior Minister Khaled Al Jarrah Al Sabah urged the Kuwaiti authorities to soften its visa policy for Pakistani community.
He said the members of Pakistani community living in Kuwait for last many years are confused about the visa restrictions and are finding it hard to invite their families to the country.
The number of Pakistanis was 115,000 in 2015 which has now reduced to 105,000 due to this reason.
The minister urged the Kuwaiti Interior Minister to review the visa policy for Pakistanis and exempt Pakistan from visa restrictions in place since 2011.
Khaled Al Jarrah Al Sabah assured the Shah Mahmood that government of Kuwait will sympathetically look into the issue and will take serious steps to resolve it.
FM meets Abu Shaibah Group, assures help in foreign investment
FM Qureshi while talking to a delegation of Abu Shaibah Group of Companies led by its Chairman Sayyah Abu Shaibah in Kuwait reaffirmed PTI government s determination to increase foreign investment in the country and provide all out assistance to investors.
He said there are vast investment opportunities in Pakistan in the fields of energy, agriculture, health, education and construction for foreign investors.
The minister said investment of Kuwaiti companies in Pakistan will be welcomed.
The Kuwaiti delegation indicated their willingness to bring massive investment in Pakistan in near future.— LAHORE MIRROR