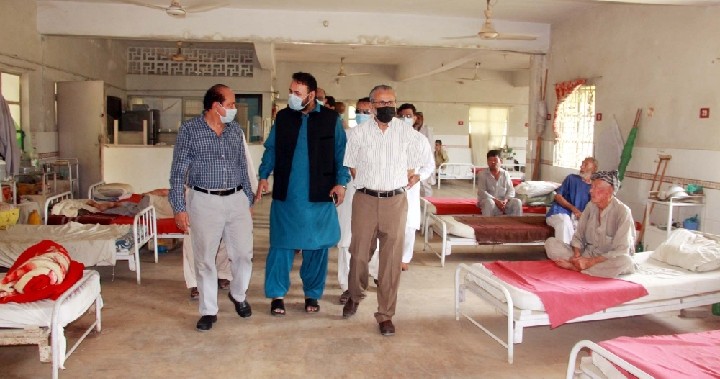 KMC Established Health-city In Manghopir To Facilitate Locals, Laiq Says
By Our Web Reporter
KARACHI– Administrator Karachi Laiq Ahmed has said that the dream of establishing a health-city on an area of ​​30 acres in Manghopir will surely come true. Civil society has provided various health facilities in the health-city with the cooperation of various social and welfare organizations. He said this while talking to officials of civil society and KMC.
Representatives of civil society and these officers had paid a detailed visit to the Leprosy Hospital in Manghopir and its adjoining lands yesterday. The meeting was chaired by Faiz Qadwai from Karachi. Senior Director Coordination Khalid Khan, Senior Director Media Management Ali Hassan Sajid, Director Land Tariq Siddiqui, Director City Wardens Raja Rustam, Director State Imtiaz Abro and other officers were present on the occasion.
They have decided to set up various medical facilities here In addition to basic health facilities, there are various facilities including diagnostic laboratory, X-ray, CT scan, blood bank, operation theater so that all the medical facilities are available to the sick people in one place, the administrator Karachi said. Institutions that are already doing this kind of work are requested to provide services at this place as well and play their role in providing medical facilities to the poor and needy citizens, said the Administrator Karachi.
KMC will provide all kinds of facilities to such institutions and after the establishment of Health City, Sakhi Hassan, North Nazimabad, New Nazimabad, Manghopir, Sarjani, New Karachi, Hub River Road, Baldia Town areas of West District and Central District residents of Orangi Town and other adjoining areas will be provided with accessible medical facilities and the burden of patients on major hospitals of the city will also be reduced, he said, adding that treatment centers for heart and kidney diseases will also be set up here. So that people suffering from these diseases on a large scale can benefit from Health City, Administrator Karachi. He said that this is a huge project and it will be completed on priority basis in the best interest of the citizens.
He said that provision of better medical facilities to the citizens is not only rewarding but also maintains high quality of service. He said that good health is the first issue of the citizens and therefore it needs full attention. Administrator Karachi Laiq Ahmed said that KMC is running 14 major hospitals in spite of its limited resources which benefit millions of citizens.
These hospitals include Abbasi Shaheed Hospital, Karachi Institute of Heart Diseases, Subhraj Maternity Hospital, Sarfraz Rafiqi Shaheed Hospital, Landhi Medical Complex, Spencer Eye Hospital, Karachi Institute of Kidney Diseases, Guzri Maternity Home and other hospitals on daily basis.
"Thousands of citizens turn to us and we do our best to provide all possible facilities within our means," he said. "These institutions need to be further improved and upgraded so that these medical institutions can better serve the citizens." To provide better services, Administrator Karachi said civil society and social And welfare agencies are requested to go ahead and collaborate with KMC in establishing Health City.